It's coming up a year ago, 20 April 2020, when the much vilified Artania left Fremantle Port.
When she left, she had pretty much a skeleton crew, many passengers having been flown out of Perth on mercy flights to Europe.
Artania's departure was actually quite poignant as Freo locals bid her a heartfelt goodbye.
Here's our story from last year on the day she left.
It all comes back to mind today with news about the cargo vessel Aquagenie which is anchored off Port Walcott near Karratha and has a question mark hanging over her status after one ill crew member tested positive to covid late last week and was then flown to Perth for hospital treatment.
The Premier Mark McGowan, consistent with his approach to covid affected shipping one year ago, has made it clear he doesn't want the Aquagenie to berth at Port Walcott. He wants her gone.
Here's the Aquagenie's location as of Monday night.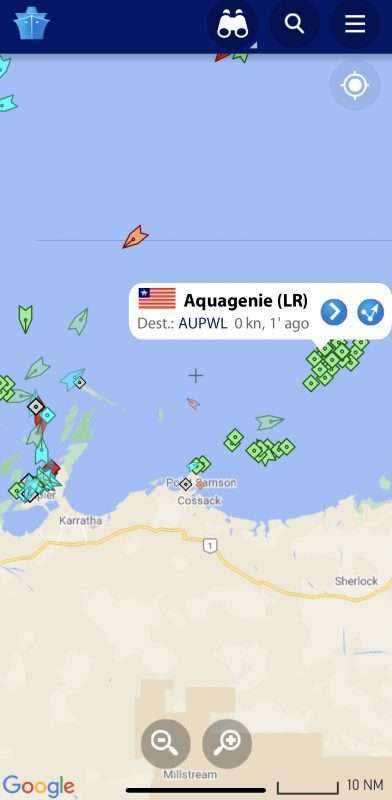 The question is where did the sick seafarer pick up the illness?
The vessel flies under the flag of Liberia, which isn't much help. Ships don't actually pass through Liberia very often!
The only other possibly relevant information is that the Aquagenie's last voyage, to Port Walcott, was from the Chinese port of Jiangyin.