One of the more interesting by-products of the ongoing pandemic revolves around the choices we make when we are suddenly confronted with unusual circumstances – circumstances that affect our employment, our freedom to travel when and where we want, and upon our capacity to interact with other humans. How we react or respond to the resultant stress is important, both for us as individuals and for the communities in which we live. We have seen how crucial it is to have strong and clear leadership, and for information to be conveyed in ways we can understand and accept. Some countries have managed this far better than others. Here in Australia we have done pretty well but still there is a significant number of people who baulk at what they perceive are unnecessary restrictions and dispute or ignore pleas that their behaviour will impact upon how and when the nation's health will return to equilibrium.
These choices, whether major or minor, personal or collective, have a moral or ethical foundation. This is not always articulated by our leaders or within the media. But if you dig down you will find an ethical bedrock that cannot be easily ignored.
Novelists often create scenarios and characters that are designed to set us thinking. Why did this person choose to do that rather than this? Gosh, what would I do if I was faced with the same situation? I don't like that character – his values are so far removed from what I hold dear. But I can see why he did what he did. His background and what he faced is miles different from my own experience. And so on …
I was thinking about choices and the notion of 'morality' as I selected three female authors, all of whom were born in Australia. Each differ in the way they write and the subjects they tackle. But they raise key questions about human behaviour and how we negotiate a path through life, sometimes ploughing on without much apparent thought, but mostly weaving our way through the slings and arrows of misfortune and the bounteous, often brief moments, where fortune appears to favour us, and we feel blessed.
Anna Funder grew up in Melbourne and Paris. She was an international lawyer, working for the Australian Government, with an emphasis upon human rights, constitutional law and treaty negotiation. Her writing career took off as the twentieth century came to a close. Fluent in both French and German, Funder has taken a deep interest in German society and politics. Her first major work, Stasiland, came out in 2003. After revealing true stories of East Germans who lived under Communist rule, she wound the clock back with her next book – All That I Am, published in 2011.
If we need to categorise, All That I Am could be described as historical fiction. Oscillating between the 1930s and the first years of the new millennium, the book deals with the insidious rise of the Nazis and the dilemmas and upheavals faced by those who opposed them. Employing a not-uncommon novelistic device, Funder brings forth the memories and reflections of an older person to give the book a contemporary feel, and to fix the context for what has gone before and what must be now assessed. The opening sentence is succinct:. 'When Hitler came to power I was in the bath.' An elderly Ruth Becker lives in Sydney. She has received a package from America – the author being her long deceased friend, Ernst Toller. His journal of those pre-war days jolts Ruth back in time – and we learn what happened for her and those around her.
Toller was an actual person. When the First World War began, he joined up – a patriotic Jewish-German. But the horrors of that conflict turned him around. In 1919 he briefly headed the 'Bavarian Socialist Republic' – also known as the 'regime of the coffeehouse anarchists' – and later achieved fame as a playwright. Exiled in 1933 when the Nazis came to power, Toller finished up in the United States. It was in New York he wrote his autobiography, I Was a German. Funder draws from this rich source, and from her friendship with another refugee from that era, Ruth Platt, upon whom the character of Ruth in the novel is based.
Central to the story is Ruth's cousin, Dora – Toller's former lover. As part of a clear-eyed coterie of Germans who had little doubt about Hitler's intentions, Dora's actions – and her fate – occupy a pivotal place in Toller's writing and in Ruth's memories. But it is not instant gratification for the reader. We need to exercise patience before the true nature and extent of Dora's heroism emerges.
Many books have been written about the struggles of ordinary Germans between the wars. Even more books have attempted to analyse the political, economic and social consequences for the German nation in the aftermath of the so-called 'Great War'. To her enormous credit, Funder is able to paint on that canvas – the broad backdrop against which citizens of various persuasions – Jewish, Aryan, Catholic, Socialist, Communist, and Nazi – pursued their ambitions and ideologies and faiths, and tried to make sense of their lives, and of the country into which they had been born. She, the author, uses Ruth and Toller as first-person witnesses to reveal their family ties, their friendships and loves, their commitment to truth and justice – and their bravery in combating tyranny and treachery. You feel for these characters, and although you know – because we have been versed in Holocaust stories – there will be terrible outcomes for some, you also know there have been survivors who have borne witness. It is through the power of their stories the motif 'lest we forget' becomes even more embedded in our psyches.
True, the account is a reconstruction of actual events, but Funder has integrated the many facets of her research into a cohesive and coherent narrative. Her writing contains an emotional depth that draws the reader into the hearts and minds of Ruth and Toller, and into the reality of an existence where fear and courage could be one and the same – and yet so different. Ruth, approaching the end of a long life, continues to be wry and occasionally caustic; a photographer by profession and with a photographer's keen ability to view the world and its inhabitants through a flinty and inherently accurate lens. Funder must consider herself fortunate to have found her real-life Ruth – but she has translated that fortune into a wonderful, moving tale.
I place this book in the same category as that classic – All Quiet on the Western Front. Erich Maria Remarque, as a former German soldier, constructed his narrative from his actual experiences in World War I. When the book came out in 1928 it was an instant success but unsurprisingly, it was banned by the Nazis. Toller's conversion from patriot to anti-war and anti-totalitarian mirrors Remarque's protagonist, Paul Baumer. But it is one thing for me to say that, and it is another for the force and courage and complexity of that kind of attitude to arise in great strength and impact from the pages of a novel. Though she was not there in body, Funder has done a remarkable job of recreating the spirit of the times; a veritable Zeitgeist where human hope and horror are exposed under a relentless searchlight.
Geraldine Brooks grew up in Sydney, the daughter of an Australian mother and American father. For many years she was a foreign correspondent with the Wall Street Journal. Between 2001 and 2015, Brooks produced five novels – all based on historical events. I first came across her writings as a journalist and remember being impressed. But not every journalist – even the very good ones – can translate their skills into creating fiction. Many have tried but often the results seem to be an extension of a journalistic mindset: concise, lacking emotion, overly analytic and often linear in structure. The story gets told but the skeleton lacks flesh; the characters lie dormant on the page and do not leap up and grab the reader by the throat. Happily, Brooks is an exception. Not only does she have great command of her subject matter but her imagination lets her run wild and she takes us with her.
I am yet to read her first novel, Year of Wonders, strangely relevant in today's times as it is the story of a housemaid living in a small village in Derbyshire in 1666 when the plague breaks out and the village quarantines itself to prevent the disease from spreading. Themes in the book have been stated to include the power of women, the place of religion, witchcraft, repressed sexuality, and madness. Here, Brooks sets the ground for her future work where she is never afraid to take large bites from the apple.
Two of her novels are on our bookshelves. People of the Book, published in 2008, has a mystery at its core. Dr Hanna Heath, an Australian conservator, is engaged to restore a Hebrew codex – the Sarajevo Haggadah. In real life, this sacred text was one of the earliest Hebrew books to come to light. In her Afterword, Brooks says she first heard about it when she was in Bosnia to cover the 1990s war. Serbian phosphorus shells had gutted the Sarajevo library and the fate of the Haggadah was unknown. When the war ended, it came out that a Muslim librarian had hidden the codex in a bank vault. He was not the first Muslim to protect this priceless item – an Islamic scholar had secreted away from under the noses of the Nazis in 1941, and it remained hidden until the war ended.
Comparisons have been made with Dan Brown's, Da Vinci Code. I don't find them convincing. Brooks does not need the twists and turns and intrigues of Brown's popular work. She seems more interested in the nuanced relationships between her characters, some of whom have profound cultural and religious differences yet share human qualities of compassion and confusion, of humour, and of taking what they do seriously, as well as understanding and appreciating their roots. Hanna is a strong, intelligent, and resourceful woman – totally professional yet invested with enough fragility and self-doubt to underscore her humanity. Her quest and investigations permeate the novel but we are also introduced to the history of the Haggadah and its journey from fourteenth-century Spain to the Balkans. Both this journey, and the contemporary one into which Hanna is placed, contain forks in the road, apparent coincidences, acts of faith, and the myriad of choices that confront each person who has access to or concern for this religious treasure. Brooks has a deft hand in bringing these strands together and a clear focus upon showing how personal and professional differences can not only be bridged but embraced.
I can't claim I enjoyed the other Brooks novel on our bookshelves any more than People of the Book. But, as a Leonard Cohen fan, I was probably taken in by the title. The Secret Chord goes back to a much earlier epoch. We are in the time of King David, around 1000 BC. His story, with all its flaws and fluctuations, is told through the eyes of Natan, whose father is slain in front of his eyes by none other than David when Natan is a ten-year-old child. Distraught and tear-stained, Natan thrusts himself in front of David. He too will be killed – that is, until he speaks and his speech contains a prophecy. From that moment he is taken under David's wing and becomes his courtier and prophet.
Many of us will have an awareness of King David but unless we have been consumers of the Old Testament our impressions will be fragmentary. As a studious avoider of biblical studies, I never got much further than David and Goliath and a slingshot. So I wondered whether this reconstruction of that era could captivate me in any meaningful sense. Well, it did. The narrative gallops, pauses, breaks into a trot, accelerates, comes to a standstill, and then regains momentum. Through vigorous dialogue between the many members of that ancient cast, we are presented with the problems and possibilities of power. It is a time where war is a solution but not always the first choice. Alliances are crucial and treachery is common. Women are chattels and yet their role in proceedings is not unimportant. I disappeared into this novel, transported back in time, absorbed in where I was being taken and what might lie ahead. Hallelujah, Geraldine Brooks – the harp on the cover of your book played many a secret chord, and played them well.
Joan London, as Churchill might've said, is something of a riddle wrapped within an enigma. Born in 1948, she is more my vintage than Brooks (born 1955) or Funder (born 1966). We are early baby boomers, raised in Perth, Western Australia and attending UWA – then the only university on the west coast. From an interview London gave to the Age in 2008 it seems she also shared with me an idealist streak, replete with communal dreams. And both of us now live in the port city of Fremantle, where another form of dreaming can be enacted.
So how does that make the author mysterious? Well, rather than make any pronouncement, let's see if her books provide any clues.
My introduction to London came via her second book, The Good Parents, published in 2008. Eighteen-year old Maya de Jong leaves her small-town in Western Australia for the vast metropolis of Melbourne where she becomes a secretary. Her boss, Maynard, is around fifty – a few years older than her parents but, as Maya notes, somehow 'not of their generation'. Older male employer and younger female employee commence a liaison. But, as Maya further records, it wouldn't and couldn't happen if Maynard had looked anything like her father. Then, on the cusp of a visit to Melbourne by Jacob and Toni – Maya's parents – Maynard's invalid wife dies. He intends to leave the State with his business partner, and asks Maya to accompany him. She is torn, knowing it is 'not quite right', but acquiesces. Her parents arrive to find her gone and word to say she will be in touch. They feel anxious and somehow trapped, remaining in Melbourne until they can ascertain what has happened, and that their daughter is okay.
In the interregnum, both Toni and Jacob re-examine their own lives, and Toni's dangerous sexual adventures come to the fore.
London's language is crisp and precise, and at once subtle and shocking. She winkles her way into the depths of consent and coercion, using a toothpick rather than a stiletto. Her characters' choices, as they tend to be in real life, are sometimes considered but often spontaneous and impulsive. The author is gentle and sympathetic, applying a light touch to circumstances that are often fraught. Yet the novel is all the more potent for her restraint.
Later, I read the two novels that bookend The Good Parents – one published in 2001, the other in 2014. Gilgamesh is another story of dislocation. It is London's first novel, following two books of short stories. 'Frank met Ada when she came to the hospital to visit the soldiers.' Opening sentences are a tease. They are explicit yet coded. Who is Frank? Who is Ada? What hospital? Soldiers? We soon find out. Frank Clarke has survived World War I, albeit physically and mentally damaged like so many of his generation. He is in hospital in England where Ada is a nurse. Orphaned at a young age, she lives with her sister-in-law in Cricklewood – the name of this bland suburb enough to make me smile. (An English equivalent of Moonee Ponds, perhaps?)
Irina, the sister-in-law, is a White Russian whose English husband – Ada's brother – has been killed at Ypres. Her house is full of Russians who come and go. It's also where Frank courts Ada.
Alone for the first time, Ada and Frank 'fell on one another'. They marry, her pregnant with her first daughter. She is desperate to get away and Frank is her passport. Back in Australia, Frank takes up a soldier settlement block in the south-west. The neighbouring property, the 'Sea House' will be recognised by West Australians as Caves House, popular for honeymooners then and now. But the nearby land is unproductive and Frank's hopes and dreams are crushed under the weight of work and his lack of farming experience. He gets sick and dies, leaving Ada and her two girls, Frances and Edith, in precarious circumstances.
Edith becomes the centrepiece and chief narrator. When two strangers visit they turn out to be Irina's son, Leopold, and his friend, Aram. Edith, employed as a housemaid at the Sea House gets pregnant to Aram. But he is unaware, having left with Leopold to return to Europe – a Europe preparing for another war.
For a time, Edith manages to conceal her pregnancy but eventually travels to Perth to have the baby. She is a ruined young woman in the eyes of society and everyone expects the baby will be adopted out. But London invests her character with grit and determination – and a level of cunning. She escapes from the maternity home with her baby son, Jim, and returns down south to her home. And from there she plans her great escape – to Armenia, to locate the father of her child and to confront him – and beyond that she has no idea of what will happen.
Leopold has told Edith about the legend of Gilgamesh, reputedly the hero–warrior King of Uruk, around 3000 years BC. Aram has talked to her about his Armenian homeland and the slaughter of his parents in the Turkish massacres. Like Gilgamesh, Edith now has her own heroic quest to undertake.
What follows is a delicate, touching tale of love and loss, of a search for identity, of acquiring a sense of place in the midst of frequent displacement. London captures the atmosphere of the times as her characters move through the decades. The book is something of a kaleidoscope, as we shift from frame to frame, entranced and turning each page with the effortless precision that London's writing seems to imbue in the reader. As a first novel, it is 'deadly', to use vernacular from more recent times.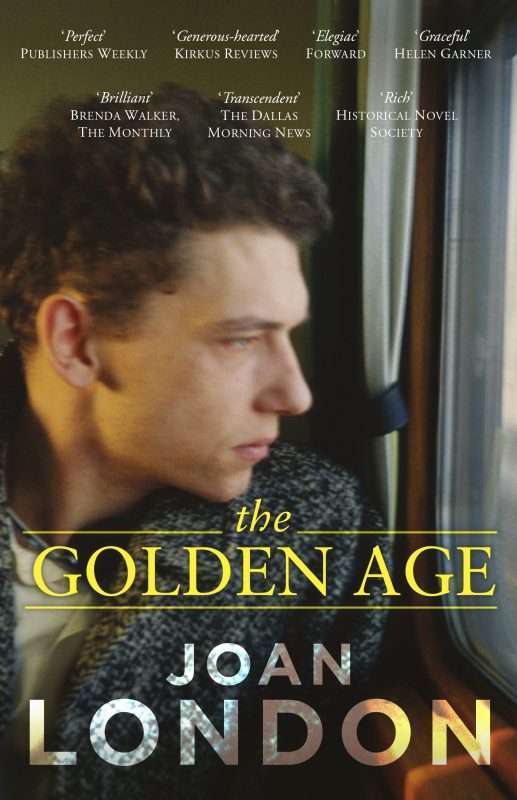 At the 2015 Adelaide Writers Festival, the interviewer commented that Joan London's third novel, The Golden Age was essentially a love story. I would not disagree with that assessment. In the first paragraph we learn Frank Gold needs a wheelchair and is in some sort of hospital, 'by now a veteran of hospital life'. He is approaching thirteen. His parents are 'New Australians'. Elsa Briggs is a similar age, while the other patients are younger. They all have contracted polio. And….no matter where you live in Western Australia, polio can find you. The children have been placed in a remedial institution, located in an inner-Perth suburb. 'The Golden Age', as ironic a name as one could imagine.
In the interview, London mentions she likes to focus on a particular period and a story arises within that timeframe. She – as do I – remembers the fears of parents and the precautions around hygiene when Perth was beset by a polio epidemic in the early 1950s. As London notes, we saw other children wearing callipers, and we absorbed the concerns of our elders. Unlike the present pandemic, kids were at the greatest risk. They died, or were placed in the dreaded iron lung to facilitate breathing, or lost the use of limbs and underwent months and years of rehabilitation. Hence, the immense gratitude and relief when the Salk vaccine halted the disease in its tracks.
The characters of Frank and Elsa are beautifully crafted. They are all too aware of their illness but at the same time they construct a refuge for themselves, both within the institution and beyond. Their growing communion replaces the acute loneliness each has felt, and the way they spark is both pre-pubescent and adult. These are two resourceful children, older than the 'little ones', and at the age when kids can become irritated with or ashamed of their parents. London mines this 'gold'.
As with Gilgamesh, there is a strong European flavour. Frank's parents are 'different'. It was a time when Australia was living up to its responsibilities, taking thousands of refugees, among them the quaintly-termed 'Displaced Persons'(DPs) from what had become Soviet satellite countries. Upon arrival, hey presto, they became 'New Australians. But while government policy was welcoming, the Anglo-Celtic culture was confronting and the local population lacked the ability to put themselves in the shoes of the newcomers, let alone empathise with their grief and loss. London exploits this cleverly. Elsa's parents have their own issues but they have been born in this country. Towards the end of the book, Frank and his parents – Meyer and Ida – visit Elsa's home. 'Strange Australian rituals, Ida thought. These thick floury breads that stick to the roof of your mouth. Breakfast food. And that peculiar custom of being invited into a bedroom to lay your hat and coat across the sagging marriage bed!'
At that same gathering, Frank is alert to what he sees. He is in Elsa's backyard. 'How well they lived! A bank clerk with a family and a backyard as big as a market garden. From here, with all the neighbours' trees around the boundaries, it looked like a meadow lying fallow. If there was one thing this country had to offer, it was land.' Earlier, he has been 'surprised by a pang of homesickness for The Golden Age. The freedom of orphans… How natural it had seemed. He remembered the feeling of power.'
When I re-read that sentence, I reflected that this is also a book about empowerment. I think this theme comes through in all of London's novels and, when I look around at a lot of contemporary literature, I experience this as a breath of fresh air. Hope, redemption, and possibility. Too often these are absent from harsh and debilitating narratives. I look forward to London's next offering which, if the interval between her other books is anything to go by, will be soon.
Earlier, I made a grandiose statement about riddles and enigmas. Perhaps I am wrong. Perhaps this author is not the mystery woman I have imagined. Coming from Western Australia, artists are accustomed to the small stage. Many leave, for other pastures and a wider exposure. Others remain comfortable in their niche, and their work reflects a kind of security that might be considered surprising, given the vagaries of an artist's life. Joan London both inhabits and is removed from her creations, and perhaps it is this balancing act that reinforces the power of her words.
And in case you missed From the Bookshelf – Authors 1-3 here it is!
* Based in Fremantle, Bruce Menzies is the author of three novels, a family history, and a recent memoir. Details at ‪BruceJamesMenzies.com