So, I'm thinking it's time to 'throw the switch to vaudeville', as the anything-but-People's PM Paul Keating more than occasionally said, and did, in his day. Great showman PK.
Actually, I quite like the phrase. It's meaning is clear enough – create a distraction when the going gets tough – and it makes me chuckle, because I like the physical image of throwing a switch to vaudeville. (Another good word, 'chuckle'. Does anyone remember 'Chucklers' Weekly'?)
Not sure if PK invented the saying, but he sure gets to take the credit for it.
He must have had a large team of quip-writers, quite separate from his speech-writers. The 'wet lettuce' one always went over a treat.
Anyway, I'm thinking I need to distract myself – and probably others – in these dour times, away from endless serious discussions about COVID-19, the state of the stock market, the balance of one's super fund, whether you should convert all your investments into cash and futures, whether it's a good time to buy a Tesla 3, whether you should move seats on public transport as soon as you hear a cough or a sneeze, where you can buy a face mask, how long you can wear a face mask before discarding it for a fresh one, whether you should get into the face mask manufacturing business ASAP, and so on and so on.
But just how to distract, to throw the switch to vaudeville?
Good question.
Well, let's try. How does this work? What amazing weather we've been having lately, hey? Wet. Windy. Humid. Unsettled. Thunderstorms. Oops. Not working? Ok. Let's try another.
Umm. Oh, here's one. Wasn't the 2020 Festival of Perth finale pitch perfect? 'Highway to Hell.' What an inspired event! All from AC/DC's brilliant 1979 Grammy Award nominated hard rock album, Highway to Hell, and lead song of the same name.
Of course, the 'Highway' was the Canning, from Bon Scott's home in Freo to the hard rock centre of Perth, in the late 60s and 70s – The Raffles Hotel at Canning Bridge.
I grew up, in my teenage years and early 20s, on this very same highway to hell during those very same late 60s early 70s. 'Obviously', like me, Bon had a Vespa scooter too and took it up and down the Canning Highway/Leopold Hotel Big Dipper regularly. You knew you were alive when you did. Well, you did after you took the Big Dipper and successfully crossed the Rubicon to the other side.
Coming from Freo, I'd descend the dip, after Petra Street, with a wide-open throttle, hoping I'd be able to pick up enough speed on the way down to make it all the way up the other side to the top of the hill at Stock Road. Then, invariably, just as I approached Point Walter Road, and the Leopold, at the bottom of the dip, some crazy bastard would decide to test my braking skills by pulling out, from the pub, in his (invariably red) Torana, into Canning Highway towards Freo, right in front of me.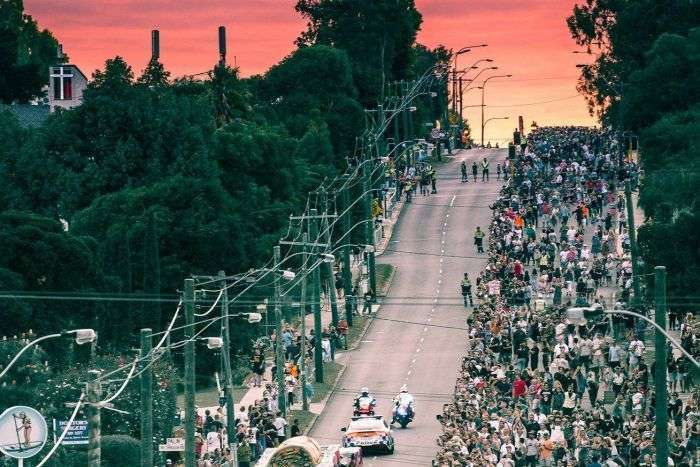 Unlike Bon, and the Young brothers, I couldn't sing, didn't have a rock guitar or a flair for song writing and failed entirely to capture all this in the lyrics of a memorable rock anthem! Thank goodness they did –
'I'm on the highway to hell
On the highway to hell
Highway to hell
I'm on the highway to hell
No stop signs, speed limit
Nobody's gonna slow me down…'.
Try it sometime; maybe you already have!
Anyway, that's fully distracted me away from all those other parlous, serious thoughts. I'm now in a late 1960s deep state of delayed shock. I can think of nothing else but the Big Dipper –
'I'm on the highway to hell
On the highway to hell
Highway to hell
I'm on the highway to hell '.
I'm also feeling much better now. Thanks Bon!
Time to put Mahler's 4th on the radiogram, followed by a refreshing swim.
See you next time …