Brahms reportedly said of Dvorak's cello concerto: 'If I had known that it was possible to compose such a concerto for the cello, I would have tried it myself!'
As Hans Hug, Director of Freo's very own Fremantle Chamber Orchestra, and a beautiful cellist himself, says, 'the Dvorak Cello concerto is both grand yet utterly intimate, deeply romantic and noble.'
Well, on Sunday, 19 November at Fremantle Town Hall the cello concerto will be played by the very talented Max Wung and paired with one of Mozart's late symphonies.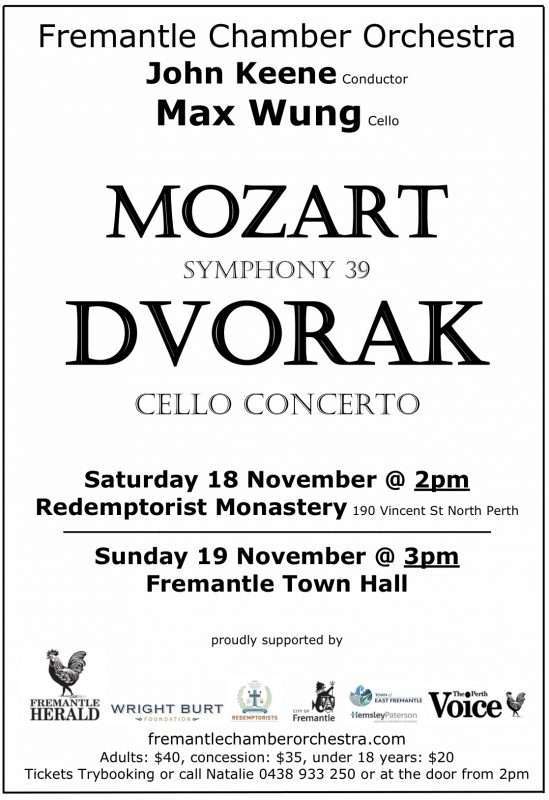 As you can see, the concert's also on in North Perth on the Saturday if you can't do the Sunday in Freo.
It is concert not to be missed. Book now.
Tickets: book on trybooking OR simply call Natalie on 0438 933 250
OR pay at the door, open 1 hour before the concerts.
Adults: $40, Concession $35, under 18 years $20
WHILE YOU'RE HERE –
PLEASE HELP US TO GROW FREMANTLE SHIPPING NEWS
FSN is a reader-supported, volunteer-assisted online magazine all about Fremantle. Thanks for helping!
** Don't forget to SUBSCRIBE to receive your free copy of The Weekly Edition of the Shipping News each Friday!