As I write, Seabourn Sojourn is a day out from Victoria on the island of Mahe in the Seychelles.
After a day there we head to the adjacent island of Praslin for another stop, before a further two sea days to reach Zanzibar, just off Dar es Salaam, where the voyage ends for us but not for the "full" World Cruise travellers whose final port is Barcelona.
This has been a seven day "crossing" of the Indian Ocean and we have seen few other ships, ironic given this is one of the world's busiest waterways and an increasingly important global strategic site, especially in wake of the AUKUS deal as I have canvassed in my formal talks and informal discussions with many guests.
Seabourn Conversationalists generally speak on every sea day, part of a really busy schedule created and maintained for guests by the ship's entertainment staff. For me, the shape of the day is governed by my time slot which is either morning or afternoon. A gym session starts the day early, then comes breakfast and usually a lot of informal chatting with guests.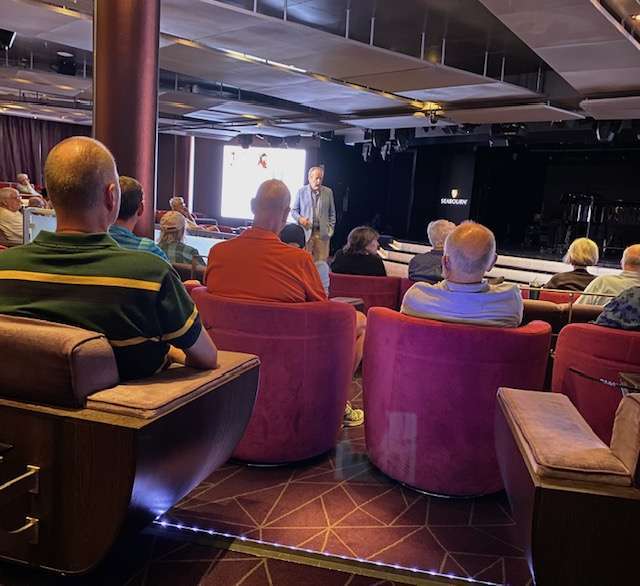 Back in the cabin I prepare for the talk, reviewing the presentation for a few final times. The schedule of talks has been agreed well in advance, so now come any last minute adjustments in light of discussions with or suggestions from the attendees who, as usual on Seabourn, have been strong in numbers for this trip.
The talks are forty five minutes in the main entertainment space, occasionally a touch longer but not much because the schedule is tight with the next activity always in the wings. That might be a dance group or a choir, musicians looking to practice, another speaker, a sales session, a demonstration or, as yesterday, a celebrity chef cook off.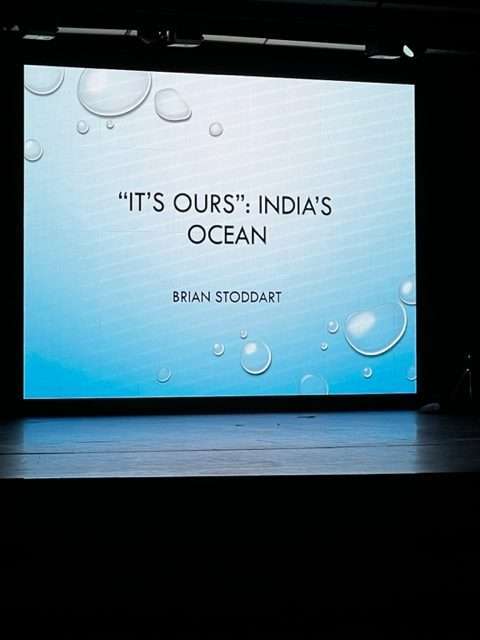 Much of the time after the talk is taken chatting with questioners, before heading back to the cabin to start preparing for the next day's rounds. Later in the evening we might be rostered on to "host" a table at dinner for guests, or meet others for dinner and further discussions of a wide range of issues. The list now includes fashion experts, IT specialists, industrialists, international bankers and traders.
Then finally there is usually a show, with the talent almost always really good.
There is something rhythmic about sea days as they settle in, and especially so on this one where the weather and sailing conditions have been excellent.
With just a few days to go, though, we are starting to think about final meals with a lot of new friends, making sure we have addresses and contact numbers to keep in touch, which will happen. And there are also the temporary farewells with officers and staff, some of whom we have sailed with before and are now friends.
Update – Captain Kyriakos tells us that Milly the black kite who stowed away to Bali is still there but has been cleared on all quarantine fronts, the focus now on getting her back to Broome where she will become an educational bird.
There is always something different on all voyages, and Millie has been that on this one.
* By Brian Stoddart. You'll find more feature articles by Brian Stoddart, including his last two despatches from the Sojourn right here!
While you're here –
PLEASE HELP US TO GROW FREMANTLE SHIPPING NEWS
FSN is a reader-supported, volunteer-assisted online magazine all about Fremantle. Thanks for helping!
** Don't forget to SUBSCRIBE to receive your free copy of The Weekly Edition of the Shipping News each Friday!