Yesterday's formal announcement by the Australian Government of its engagement in the AUKUS arrangements with the US and the UK, and the consequential announcement by the WA Government that we reported on yesterday, has been met with both scepticism – doubting the likely effectiveness of the very expensive SSNs, or nuclear powered submarines, in mind – and criticism of Australia's geopolitical stance – of becoming or appearing to become a vassal of the US instead of pursuing a truly independent security policy in its region as the inevitable influence of China as a world power grows.
Writing in The Conversation today, leading academics Roger Bradbury from the ANU in Canberra, Anne-Marie Grisogono from Flinders University in Adelaide, and Elizabeth Williams and Scott Vella also from the ANU, who have examined the science and technology of submarine detection, argue there is evidence submarines could dramatically reduce in effectiveness in the coming decades. In other words, Australia risks making a dud investment in a nuclear ecosystem whose use-by date may be much earlier than Australia would like. Progress in detection tech could render submarines useless by the 2050s. What does it mean for the AUKUS pact?
Also writing in The Conversation today, Professor Matt Fitzpatrick of Flinders University contends that, by the AUKUS arrangements, Australia has effectively ceded to the US its capacity to make serious decisions about war and peace. He argues this cannot be accepted unless all pretence of Australian sovereignty is abandoned. Australia, he says, could have tried to work towards a regional approach to responding to security threats in our region with other Asian and Pacific countries. AUKUS, he says, makes that approach all but impossible. With AUKUS, Australia has wedded itself to a risky US policy on China – and turned a deaf ear to the region.
Closer to home around Fremantle, the STOP AUKUS WA group launched its campaign for a 'Nuke Free Cockburn Sound' at South Beach, South Fremantle, with HMAS Stirling and Garden Island as the campaign backdrop.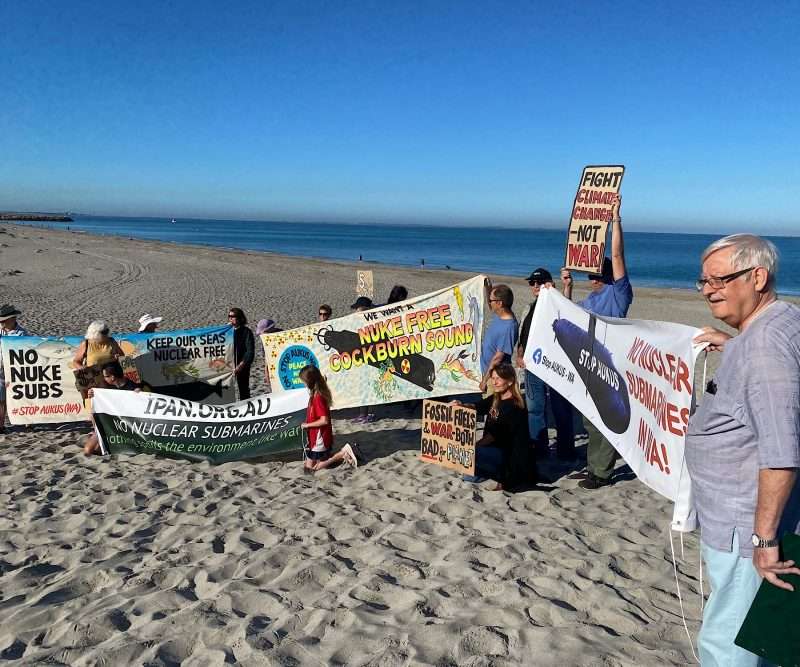 The Nuke Free Cockburn Sound campaign aims to raise community awareness of the dangers posed by the AUKUS announcement and to petition the support of the four local governments facing Cockburn Sound – Fremantle, Cockburn, Kwinana and Rockingham – noting that Garden Island lies only 2-20 kilometres from these densely populated areas. The action group also note Cockburn Sound is a prime ecosystem and important to the local fishing industry.
Cockburn resident and member of Stop AUKUS WA, Dr Chris Johansen expressed his concerns in these terms –
"Today's announcement means increasingly frequent visits of nuclear powered, and possibly armed, submarines to Cockburn Sound. Credible safety measures for nuclear accidents are not in place.
"Even more ominously, ramping up of hostilities with China makes the Garden Island facility and surrounds a prime target for attack, along with US facilities at Pine Gap and Darwin. We have an obligation to inform the local population of the dangers this announcement brings.
"At a time when Australia's basic social services (e.g. housing, health care, aged care, etc.) are under budgetary pressure it seems inappropriate to be giving priority to committing multi-billion dollar sums to preserving US hegemony. 
"From a military perspective, nuclear submarines are not suited to protecting Australia's coastline but are meant for distant deployment in global conflicts. In any case, the evolution of underwater drone technology is likely to render the planned submarines obsolete before they are built." 
Fremantle resident and Secretary of the Friends World Committee (Quakers) Asia Pacific, Adrian Glamorgan is also supporting the campaign and added –
"We don't need nuclear submarines, or any part of unsafe nuclear technology, nor do we need to put the means of making nuclear weapons from the high grade fuel within some future government's grasp.  It's time to honour the Nuclear Non-Proliferation Treaty 1970, and rethink security.
"Security comes from trust and interdependence – not talking up fear. We need shared security in our region, and that comes from growing diplomacy, increasing foreign aid in our region, creating educational opportunities, and building understanding between nations. The money that's going into some far off submarines is better spent on creating a better Asia West Pacific, built on trust, not on fear."
Well known Australian peace and nuclear disarmament activist and former senator, Jo Valentine has also added her support to the campaign saying –
"AUKUS  is very risky for Australia.  By getting involved in the nuclear machinery of war, Australia is inviting targeting of our country in the horrible event of any future war.  The nuclear submarines will be for the benefit of the U.S. Navy, paid for by Australia.
"It makes no sense to squander billions of taxpayer dollars on boats that would not defend Australia, but which would increase tensions in our region.  Our Pacific neighbours certainly don't want Australia to go nuclear. 
"Any nuclear activity carries grave consequences of radioactive contamination in the event of an accident.  Our port safety plans are woefully inadequate to deal with such a problem, one which is totally avoidable if we scrap this stupid proposal. "
Sam Wainwright, member of Walyalup Climate Action and the Stop AUKUS WA group said –
"The future of life on Earth as we know it hangs in the balance. We face the fight of our lives to stop runaway global warming. We can't possibly pour billions of dollars into a new cold war and meet the challenge of climate change. It's one or the other. It really is that simple.
"Out of control military spending and the push to confront China represents a desperate threat to our security and well being. We must fight climate change, not war.
"Australia urgently needs to sign and ratify the Treaty on the Prohibition of Nuclear Weapons and adopt an independent foreign policy based on peace and justice."
It has to be said, from the perspective of someone who has been on the planet three score years and ten plus two, that all this security chatter and SSN activity, while it might be good for a 'Jobs, Jobs, Jobs' political campaign, tends to make you feel you're heading back into a Cold War period, a period where a hot war always seems worryingly possible, where the word 'nuclear' is bandied about with such gay abandon that images of Hiroshima and Nagasaki are almost inevitable, and where rhetoric engaged in by superpowers and their minions is hardly conducive to world peace.
One hopes this feeling is a passing one and that discussions on Australia's future defence deterrent strategies eventually lead us down a non-Cold War pathway.
That said, plainly AUKUS is a done deal – subject of course to the approvals of the US Congress and the Parliaments of the UK and Australia – and where it leads us remains to be seen not so much by the likes of your editor, but by the likes of his children and grandchildren.
By Michael Barker, Editor, Fremantle Shipping News
WHILE YOU'RE HERE –
PLEASE HELP US TO GROW FREMANTLE SHIPPING NEWS
FSN is a reader-supported, volunteer-assisted online magazine all about Fremantle. Thanks for helping!
** Don't forget to SUBSCRIBE to receive your free copy of The Weekly Edition of the Shipping News each Friday!