Soroptimist International of Fremantle is a wonderful organisation committed to providing a global voice for women. It also does great work in the Freo community through its annual fundraising event, the Help the Homeless Fine Art Auction.
The 13th Help the Homeless Fine Art Auction will be held at 5pm Saturday 30 July at Walyalup Civic Centre, Fremantle.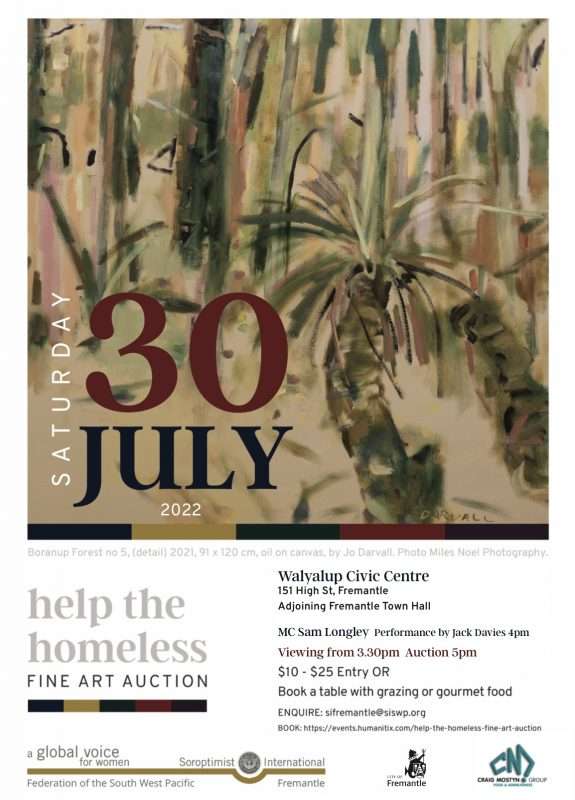 After holding the auction online since the onset of Covid, it is great to see the Soroptimists are this year able to hold the auction live in the spectacular new Walyalup Civic Centre in Walyalup Koort in the heart of Fremantle, right next to the Town Hall.
MC for the Auction this year is Fremantle identity Sam Longley, an accomplished actor, comedian, writer and director who has written plays, hosted TV shows and created the improvisation comedy show The Big Hoo-Haa, now in its 11th sell-out season.
There will also be a solo performance by Fremantle-based Jack Davies, who with his band has won numerous awards. Jack is widely regarded for his witty lyricism and powerful storytelling. Together they have won an NLMA award for WA's best live act.
Well known artists whose work features in this year's Auction include Monique Tippett, Eva Fernandez, Mikaela Castledine, Jo Darvall, Ross Potter and Adam-Hisham Ismail.
And here's THE CATALOGUE! Amazing works being offered. You'll want to get your tickets now and organise your friends to share a table.
The event is sponsored by the City of Fremantle and Craig Mostyn Group, and will be officially opened by City of Fremantle Mayor Hannah Fitzhardinge.
The auction, which is open to artists by invitation only, benefits the Freo Street Doctor and St Patrick's Community Support Centre in Fremantle, both of whom support the most vulnerable in our community.
Participating artist Jo Darvall says there's something very special about coming together and giving to help others in need. "I really enjoy the energy. I often see the Freo Doctor service helping homeless people as I walk to my studio in Freo and I'm proud to think that my work will help this service to be available. It makes me think we can help make our world a better place."
Soroptimists International Fremantle President Lynne Jones notes the Auction has been a major fundraising event for 13 years and members take great pride in having raised over $260 000 in that time.
"All funds raised have gone to local organisations who work with the homeless and those at risk of homelessness. As well as raising funds for these extremely worthwhile causes, the Art Auction offers an opportunity for Soroptimists to work together to provide an entertaining, special event for our local community that shines a light on the plight of those less fortunate."
Curator Lyn DiCiero says the Auction is a win-win situation for everyone involved. "There's quite a surreal community spirit which comes into play during the auction, with everyone present working towards the best outcome for the beneficiaries. It's an experience not to be missed."
Freo Street Doctor provides non-judgemental, accessible, culturally safe, free, high-quality health care for homeless, at risk and marginalised people in the greater Fremantle region. Freo Street Doctor fills a vital gap, supporting the health needs of the most vulnerable people in our community. This iconic mobile service delivers more than 3000 consultations per year in street-side locations, making health care available and readily accessible to all who need it. Proceeds from the auction have supported Freo Street Doctor clinics to continue without interruption during the COVID environment, and to start another new clinic, providing even more medical care to those in need. During the COVID period, the number of people requiring support increased substantially.
St Patrick's Community Support Centre is a not-for-profit organisation providing community housing and specialist services for people facing homelessness and has been working side-by-side with vulnerable people in the south metropolitan region of Perth for 50 years. Its mission is to lead bold action in our community with the ultimate goal of ending chronic homelessness.
St Pat's is also the home-base for The Starlight Hotel Choir, which is also performing on the night of the auction. The choir is so named to reflect the night view of people sleeping rough. Membership is open to anyone in the community who enjoys the sense of community and social inclusion that singing in a choir brings, and some members may be people who have lived experience of homelessness or are at risk of homelessness.
Make sure you get along. You might even like to organise a table with friends with food supplied. Make a night of it!
Help the Homeless Fine Art Auction
Walyalup Civic Centre,
Walyalup Koort,Fremantle
(Adjoining Fremantle Town Hall)
Saturday 30 July 2022
Entry $10-25
Or Book a Table with grazing or gourmet food
Book now right here!
Viewing of the art from 3.30 pm
Auction at 5.00 pm