Mental Health Week 2020 begins today, October 10 and Western Australians are being encouraged to take part in activities being held across the State.
 

Each year Mental Health Week aims to raise awareness of mental health and wellbeing, and that message is more important than ever given the unprecedented times we are facing.
We tend to nod our heads in acknowledgement when the importance of the need to care for mental health is mentioned. One wonders how much we take steps positively to respond to that need, whether for ourselves or our friends and family members.

 
This year's theme is 'Strengthening our Community – Live, Learn, Work, Play', in recognition that there are many aspects to achieving strong, resilient communities and good mental health, and that we are not alone as we recover from the impacts of the COVID-19 pandemic.
 
Taking part in social activities, physical exercise and educational and employment opportunities all play key roles in strengthening mental health and making us #StrongerTogether.
 
There are more than 200 events taking place in metropolitan and regional communities across Western Australia to foster social connections and provide personal and professional development opportunities.
 
There is something for all levels and abilities including social events such as art exhibitions, concerts and campfires, and physical activities including walks, dance and sailing, through to presentations, workshops and training.    
 
In addition to the events being held, Mental Health Week packs are being handed out at train stations and to FIFO workers at the airport, to raise awareness of how to find help or support someone with a mental health issue.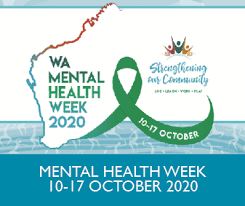 For more information about Mental Health Week 2020 or to find a local event, visit the Mental Health Week website.  
For an interesting range of exercises to stimulate your mental health and wellbeing, look at these!