A planning application has arrived at City of Fremantle requesting consent to erect shade sails at 11 Henderson Street, central Freo.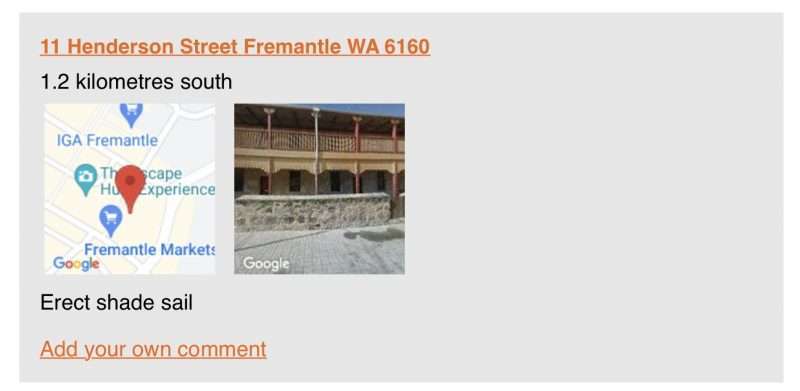 No 11 Henderson Street is one of the much admired heritage Fremantle Prison Warders Cottages that stand in a row near the Freo Markets. Quite lovely.
We aren't sure if number 11 includes all the cottages in the row, but it certainly doesn't include the to the cottages that house the popular little coffee shop Gimlet further to the east.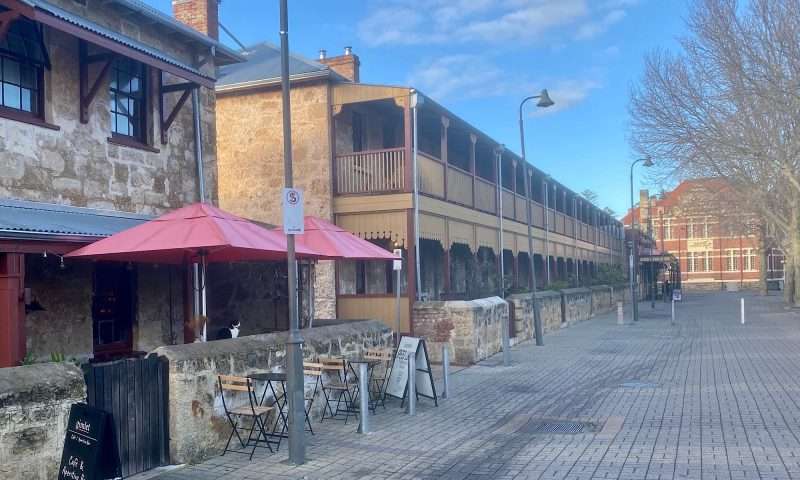 We will look forward to clarification of the details of just what's proposed, and where.
Of course, we very much doubt the sails would be red, as in the old song title – but first thoughts are that one would want to be cautious not to sail unthinkingly into such a heritage site with extensive shades.
That said, we note the Gimlet has some fetching small, portable and red umbrellas to keep patrons shaded on a hot, sunny day!
John Dowson, President The Fremantle Society, has already commented on the sails proposal, noting that –
There is no detail offered here to explain the extent of the proposal. But, shade sail cloth should not be allowed in front of highly significant heritage buildings because (a) they are buildings that have not needed such structures for the past 150 years of their existence (b) they negatively impact the appreciation of the building by residents and visitors, especially those who take photographs.
Visual clutter in highly significant heritage precincts is to be avoided. Already in this location is a plastic flapping sign in the street advertising the markets which is cheap and tacky and should be removed.
The negative impact of such sail cloth can be seen in North Fremantle in front of the former primary school there on Stirling Highway where sail cloth has obliterated the view of the attractive heritage building.
We think John makes some reasonable points.
Hopefully we'll all hear more of the detail soon so we can make a more informed judgement.
* By Michael Barker, Editor, Fremantle Shipping News
While you're here –
PLEASE HELP US TO GROW FREMANTLE SHIPPING NEWS
FSN is a reader-supported, volunteer-assisted online magazine all about Fremantle. Thanks for helping!
** Don't forget to SUBSCRIBE to receive your free copy of The Weekly Edition of the Shipping News each Friday!