The vision for Fremantle's other harbours, Fishing Boat Harbour and the adjoining Challenger and Success harbours, has been captured in a draft master plan, released for community comment today.
The draft master plan released by Transport Minister Rita Saffioti will guide the future development of the Fremantle Fishing Boat Harbour and adjoining Challenger and Success harbours for the next 40 years.
Central to the plan is the retention of the 'unique world-class' working harbour with opportunities for long-term urban renewal, enhanced public spaces and improved access to the harbour from Fremantle's city centre and a redeveloped Victoria Quay.
It also sets a framework for sustainable future development and will complement the existing work underway to redevelop Fremantle's Victoria Quay Waterfront Precinct through the Future of Fremantle Planning Committee.
A key initiative is to reconnect the heart of the city with the water's edge by extending Norfolk Street, leading into a new mixed-use precinct.
There is also a plan to allow the northern section of Mews Road to be converted into a shared plaza, facilitating more festivals and events.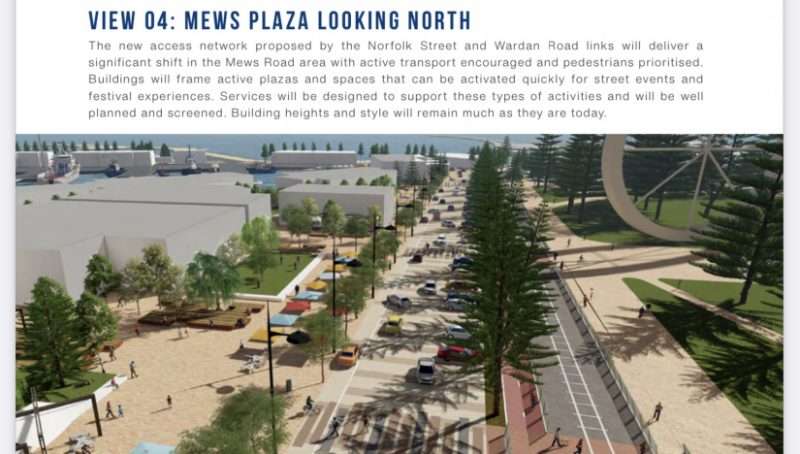 On top of that key ideas include –
* improved pedestrian connection to the city centre through internal plazas, and along Bathers Beach to Victoria Quay;
* a focus on mode shift with bicycle parking, end of trip facilities and better public transport integration;
* new superyacht berths and support facilities; and
* opportunities for redevelopment sites, including a proposed mixed-use site where the boat lifter currently operates, and a site opposite Bathers Beach House.
Here are some other views offered in the draft Master Plan –

The release of the draft master plan follows extensive engagement with harbour tenants, user groups, and the City of Fremantle.
* By Michael Barker, Editor, Fremantle Shipping News
While you're here –
PLEASE HELP US TO GROW FREMANTLE SHIPPING NEWS
FSN is a volunteer-run organisation and we rely on the support of Freo people to keep making local news free. Thanks for helping!
** Don't forget to SUBSCRIBE to receive your free copy of The Weekly Edition of the Shipping News each Friday!