It's sculpture time in Freo!
First up, don't miss Fremantle Ports' Victoria Quay Sculpture Walk.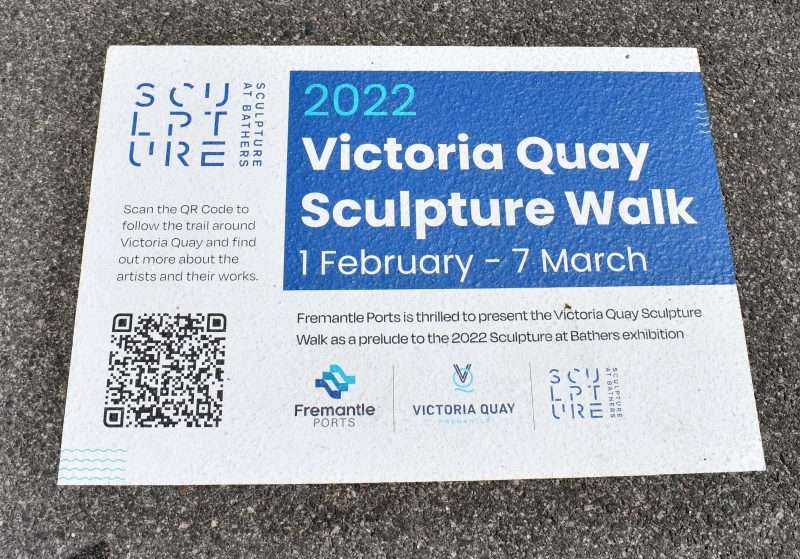 Five new sculptures are on display at Victoria Quay, along with permanent artworks right now until 7 March.
The Victoria Quay Sculpture Walk is something of a prelude to the very popular 2022 Sculpture at Bathers or S@B exhibition, which opens at Bathers Beach this Friday, 19 February and runs until 7 March.
So, from 19 February you'll be able to combine the Victoria Quay Sculpture Walk with S@B!
Back to the Victoria Quay Sculpture Walk, you can take a self-guided tour by scanning the QR Code on your phone and downloading the map and tour information, or you can book a guided tour with Fremantle Port Authority.
Or better still, just open this article on your smart phone as you walk around!
There are 12 stops along the walk.
Stop 1 – CY O'Connor Statue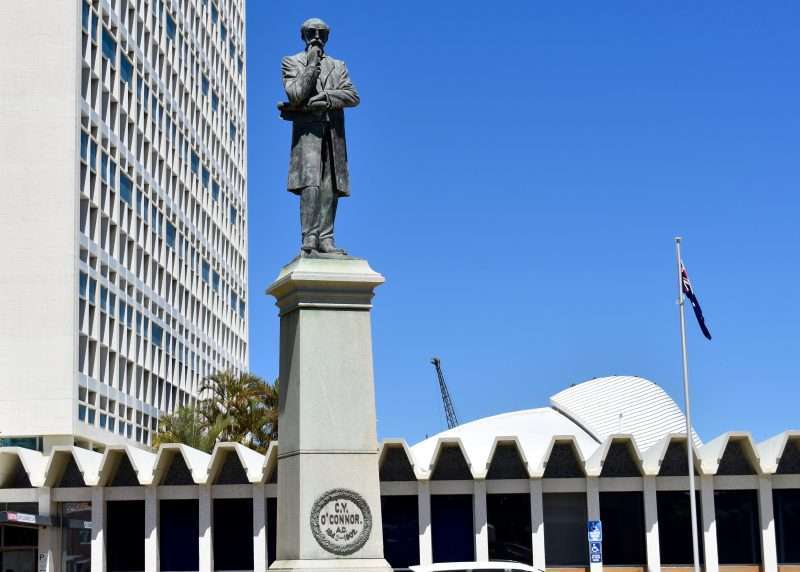 The eleven metre high bronze statue of C.Y. O'Connor by sculptor, Pietro Porcelli, stands outside the Fremantle Port Authority Building. CY O'Connor was WA's Chief Engineer who designed Fremantle's Inner Harbour, railways and the Goldfields Water Supply. The statue was unveiled in 1911.
Stop 2 – Untitled 261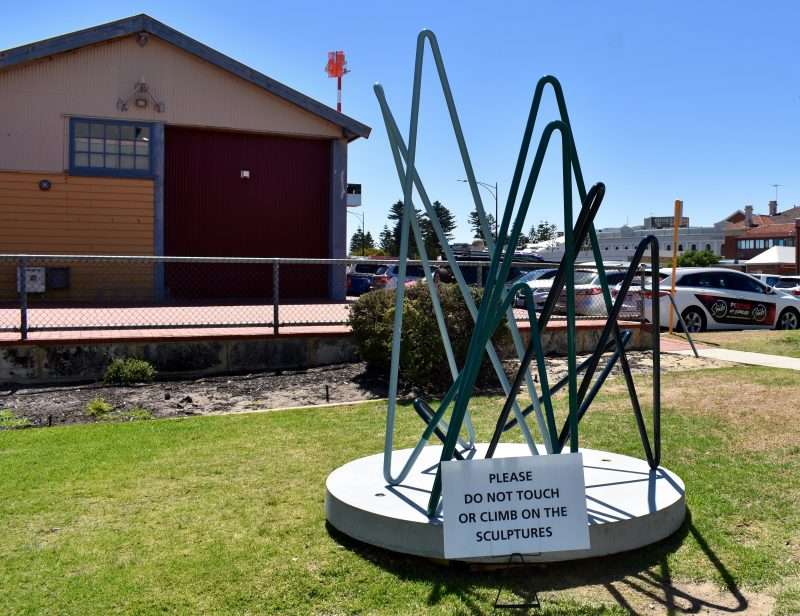 This sculpture by artist Milk Green is constructed with solid aluminium, which contorts and twists and loops to create a nested form. It is inspired from music.
Stop 3 – Southern Cross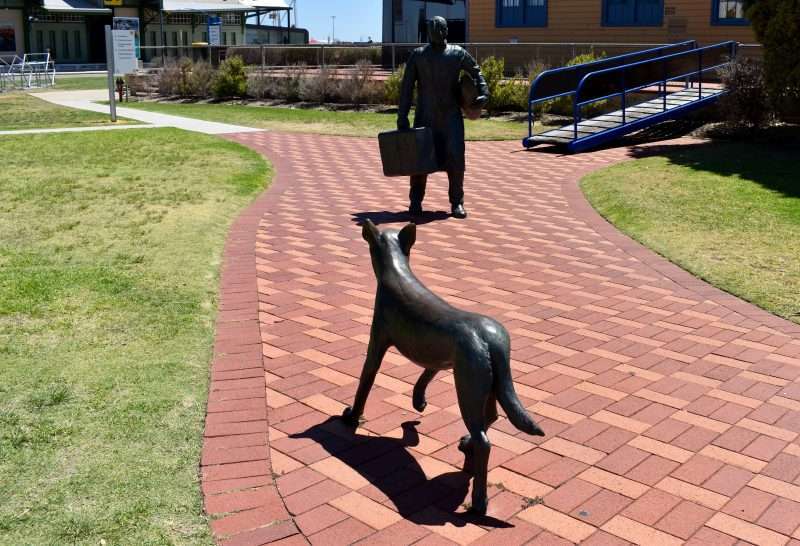 This well-known piece by Tony and Ben Jones tells the poignant story of a typical migrant arriving at Victoria Quay. The life size bronze shows a man with a suitcase, a ship under his arm and a dingo. The artwork includes a ship's gangway. It was unveiled in 2002.
Stop 4 – 5 Cubes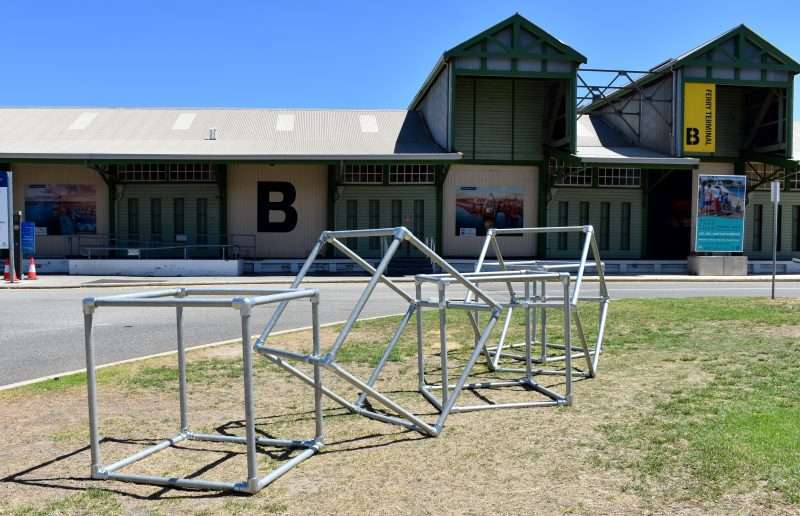 This new sculpture by Jennifer Cochrane consists of five cubes made from industrial and civic materials.
Stop 5 – Wind Break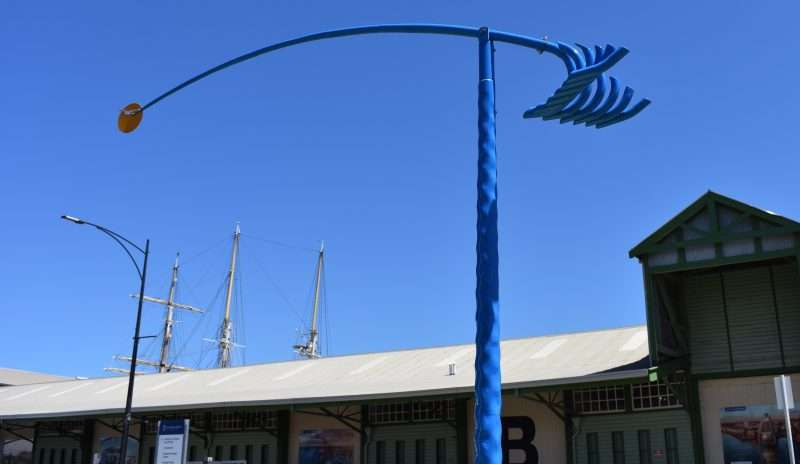 Wind Break by artist Peter Zappa, is a kinetic wind sculpture that takes the form of an abstracted breaking wave – in front of a silhouetted seabird flying across a setting sun.
Stop 6 – Venus & Friends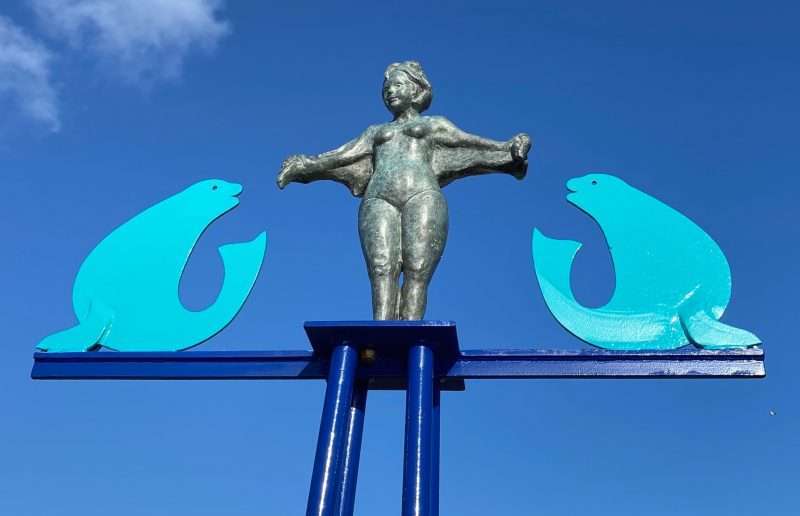 The Venus & Friends art series are a collective of eight different small painted steel & bronze sculptures created by artist Judith Forrest. The whimsical figures are mounted on metal supports along Victoria Quay between B and C Sheds. They were unveiled in 2002.
Stop 7 – Shimmer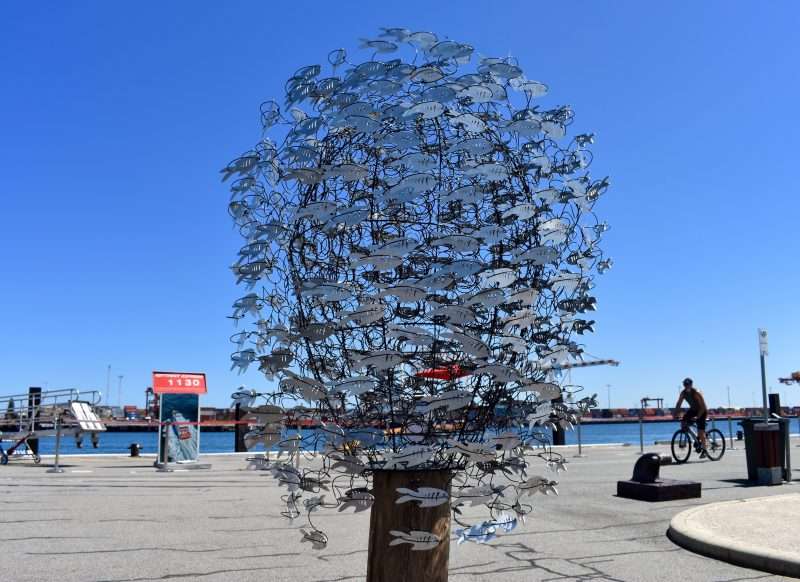 This new sculpture by Richard Aitken will catch your eye. It's made from recycled bed mattress springs decorated with suspended fish that move and glitter in the breeze. There are 360 fish in the sculpture.
Stop 8 – Mollusck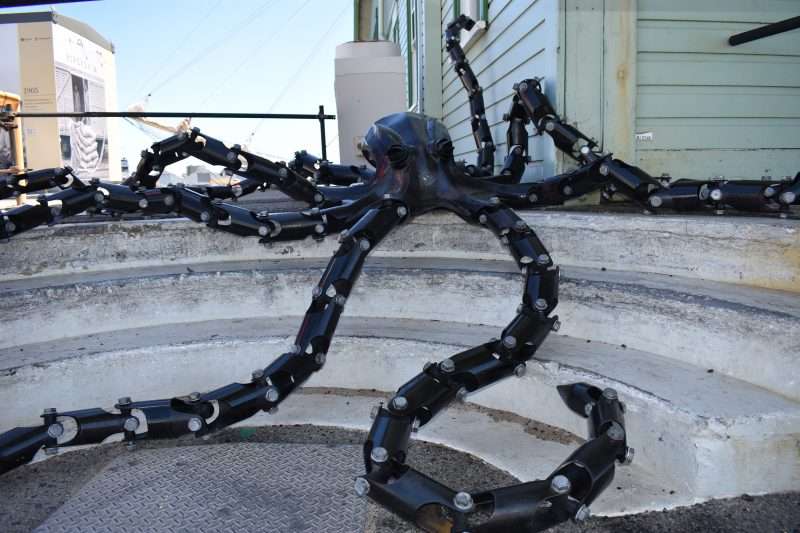 Artist, Bjoern Rainer-Adamson created a giant steel octopus that is creeping across victoria Quay past the B Shed. It has articulated leg joints and a multitude of bolts to imitate suckers.
Stop 9 – Historical Vinyl Wrap
Not really a sculpture – these photographic wraps show scenes of the Port from yester years – 'lumpers' receiving bagged flour at C Shed, deckhands mending a sail and crowds greeting the 1933 arrival of P&O liner Strathaird.
Stop 10 – Gage Roads Grain Silo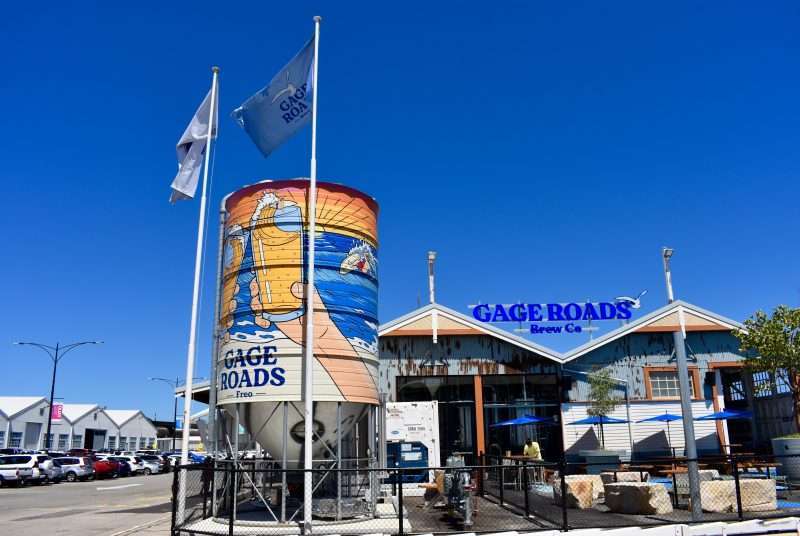 Andy Murphy, an illustrative artist has created the Western Australian beach lifestyle in vibrant colours on the Silo.
Stop 11 – Memorial of Migrant Children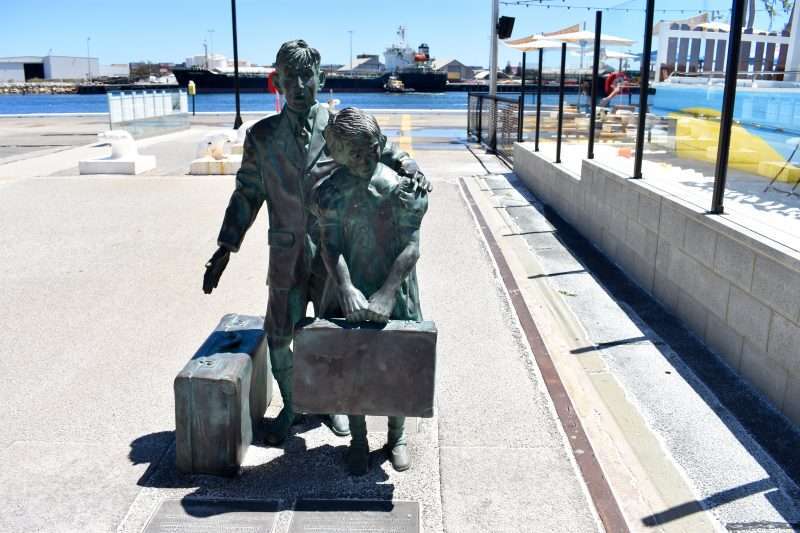 This life size bronze sculpture of two Maltese children commemorates the contribution made by British and Maltese child migrants. They each carry a small suitcase with all their worldly possessions. During a period of 50 years, over 3,000 unaccompanied children arrived in western Australia. Many of these children had lives filled with sadness and disruption. The artists are Charles Smith and Joan Walsh-Smith.
Stop 12 – Jack – The Australian Sailor Monument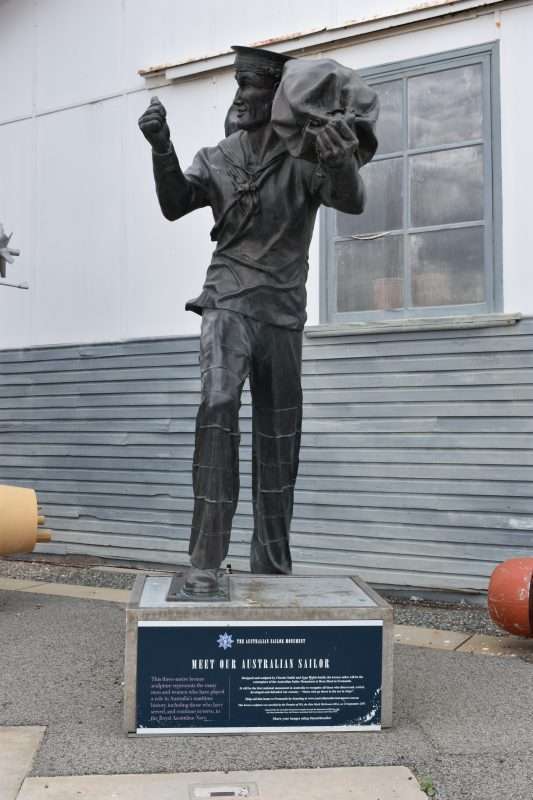 Jack was also created by Charles Smith and Joan Walsh-Smith, Jack is a young man in a naval uniform taking his first steps up the gangway. A moment in time when the sea beckons and the safety of the shore is left behind.
And then, from 19 February, you can head over to nearby Bathers Beach to see Sculptures by Bathers. And if still not satisfied, you can add Sculptures by the Sea at Cottesloe Beach between 4-21 March!
* Words and pictures in this article by Jean Hudson @jeansodyssey
PLEASE HELP US TO GROW FREMANTLE SHIPPING NEWS
FSN is a reader-supported, volunteer-assisted online magazine all about Fremantle. Thanks for helping!
** Don't forget to SUBSCRIBE to receive your free copy of The Weekly Edition of the Shipping News each Friday!