Here's the very latest report just in from WA Health.
WA Health has reported two new COVID-19 case in Western Australia since 8pm last night.
There are now ten active confirmed cases in WA, eight in quarantine hotels and two in self-quarantine.
As announced today, and to be included in tomorrow's reporting period, WA has recorded five new local COVID cases linked to the man who arrived in Perth from QLD on Sunday, 12 December.
These five cases attended an event at Perth Mess Hall on Sunday 19 December. Anyone who attended the event is required to be tested and self-quarantine for 14 days from the date of exposure.
To date, WA Health has identified 21 close contacts and 991 casual contacts.
WA Health's contact tracing team is working to identify and follow up contacts and confirm exposure sites.
The State's total stands at 1133 and 1114 people have recovered from the virus.
Exposure sites
Exposure sites are listed on the HealthyWA website.. It's likely more sites will be added and people are encouraged to keep checking the site regularly.
If you have been to an exposure site on the dates and times listed, or you are contacted directly by WA Health, you are urged to:
* immediately isolate from others in your home.
* get tested at a COVID-19 clinic, wear a mask and travel directly there.
* continue to isolate until a negative result is returned, unless instructed otherwise by WA Health.
Clinic locations are on the Healthy WA website.
Testing clinics
WA Health is expanding testing capacity, including operating hours of clinics over the Christmas period. There are many clinics available – people are encouraged to check the HealthyWA website to find clinic locations and opening hours.
Private clinics will be available also. Testing is available free of charge at private testing clinics for people who have been advised by WA Health to get tested.
With the hot weather, people are encouraged to plan ahead and bring a hat or umbrella, sunscreen and water, and to arrive 15 minutes before closing if possible.
Safe WA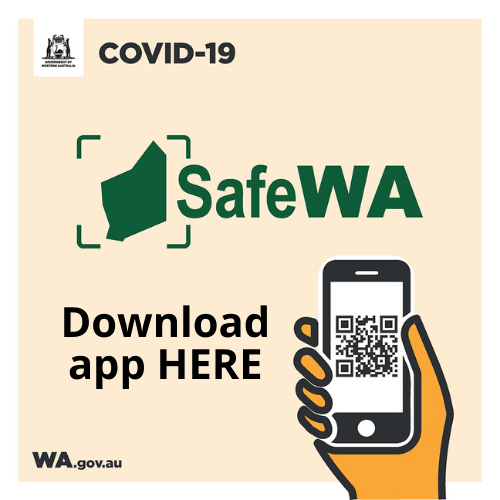 On 23 December, 1,759,565 scans were recorded on the Safe WA App. This was a 38 per cent increase from 22 Dec 2021, which saw 1,267,356 scans recorded.
Border controls
WA has transitioned its border arrangements with Queensland and South Australia to High risk from midnight 25 December. Travel will not be permitted, unless a person is an approved traveller.
Queensland update
WA has transitioned its border arrangements with Queensland from 'Medium' to High from midnight 25 December. Travel from Queensland will not be permitted, unless a person is an approved traveller.
South Australia update
Travel from South Australia will not be permitted, unless a person is an approved traveller.
Tasmania update
Border controls with Tasmania will transition to a hard border from 12.01am Sunday 26 December. Travel from these jurisdictions will not be permitted, unless a person is an approved traveller.
Northern Territory update
Based on the latest health advice, a hard border will be introduced with the Northern Territory from 12.01am Sunday, December 26.
NSW update
Based on the latest health advice, WA transitioned its border arrangement with New South Wales from 'High' risk to an 'Extreme' risk category on Saturday, 18 December 2021.
Information about Western Australia's controlled border arrangements, conditions of entry and quarantine is available online.
COVID-19 vaccinations
Since vaccination numbers were reported yesterday, 29,318 COVID-19 vaccine doses were recorded in WA, 13,464 of these were second doses. The total includes 10,293 historic COVID-19 vaccine doses. These figures represent COVID-19 vaccinations at State-run clinics and doses given as part of the Commonwealth rollout.
People are reminded that it is more important now than ever for everyone who has received their second dose of the COVID-19 five or more months ago to get their booster vaccination now without delay to ensure they have maximum protection again COVID-19. Do not wait till it is too late, act now and get vaccinated.
Testing clinics
10,762 Western Australians were swabbed at State-run clinics yesterday.
A list of all testing clinics is available on the HealthyWA website.
Mandatory vaccination information
A mandatory COVID-19 vaccination policy for a majority of occupations and workforces in WA is being introduced in a phased approach. For more information on getting your COVID-19 vaccine, visit this website.
Variants
To date, 195 cases of variant strains have been detected in Western Australia – including two Omicron strain, 53 Alpha strain, 15 Beta strain, one Gamma strain and 117 Delta strain.
PLEASE HELP US TO GROW FREMANTLE SHIPPING NEWS
FSN is a volunteer-run organisation and we rely on the support of Freo people to keep making local news free. Thanks for helping!
** BTW don't forget to SUBSCRIBE to receive your free copy of The Weekly Edition of the Shipping News each Friday (except during the Christmas season.)