Joining a protest for an environmental or social justice cause is familiar to many people in Fremantle and, in the majority of cases, history shows their cause to be just. Like the forty prisoners in the then-named Fremantle Gaol in 1907 who refused to work as a protest against the flogging of a prisoner. The West Australian newspaper at the time called 'the uprising … a sensational occurrence'. These forty prisoners risked a flogging themselves for their unsuccessful protest.
Until the protest against nuclear ships visiting Fremantle in the seventies, the only actions I had ever protested against were those of my parents. Joining other people to fight for a good cause brought with it a terrific sense of community, an end to feeling powerless and subsequent exhilaration at taking focussed, thoughtful action.
Many protests, such as the 1907 Gaol protest, are but bleeps on the historical protest scale, in spite of their importance. However, even small protests can be effective.
For example, the support for the refugees who have sought asylum in our country has continued support every week in Fremantle. You may have seen a group of protestors on the corner of Norfolk Street and South Terrace at 5pm every Friday. A few people have gathered in rain and in heat (for over a year now) to bring attention to the desperate situation of the refugees who have sought asylum in our country. And, most importantly, they take a photo each week and post it to the refugees.
This is an important and humane protest and even when numbers on that corner are small, the refugees get a weekly reminder that they are not forgotten. Dawn Barrington, the force behind the weekly vigil, was also behind a documentary about Manus Island and continues to raise awareness of the ongoing problem. Fremantle City Council, of course, became a Refugee Welcome Zone in 2002.
We no longer flog people in jail and one day (hopefully very soon) we will be smarter than to lock up people who are not only seeking asylum but who are also willing and able to make a much needed economic (and cultural) contribution to our country.
Other protests are larger, more popular and extremely noisy such as the WA anti-nuclear movement which at its height had over 20,000 people marching in the Palm Sunday rallies.
The successful protest to save the Fremantle Train line in 1979 captured the imagination of the town and led to 110,000 people signing a petition to save the train line to Perth. It now seems unimaginable that such an important resource could have been threatened, and that ships with nuclear weapons on board were once allowed into Freo waters (and might be again?).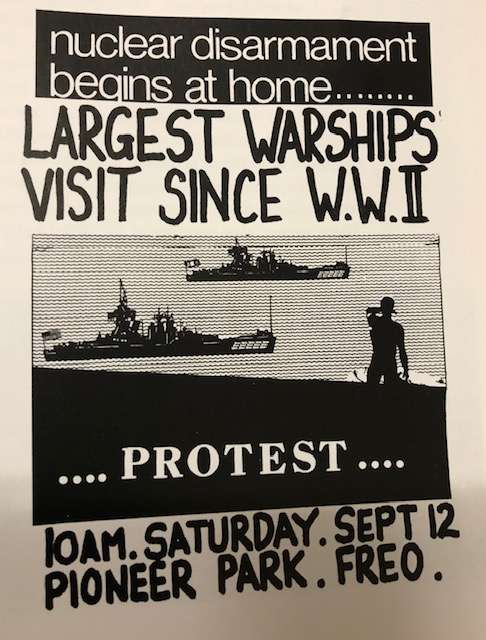 Every action that is taken to protest against a civil injustice, or to protect an important resource involves many, many people behind the scenes – most of whom do not expect to be singled out but who act as part of a movement, putting the issues at stake, front and centre. And many, many people who are involved in defending the environment or the rights of others are involved all of their lives. I'll mention a few (and risk annoying them).
June Hutchison, now 94, has always vigilantly supported the rights of others and of the environment. Last year she was recognised by being awarded an Order of Australia Medal; the OAM was not for her protest activity over the last fifty-odd years – not for all the times I've seen her, even in her eighties, marching in the hot sun for a good cause – but for her many, many years of community involvement and advocacy, including as a Fremantle councillor.
Over the last forty odd years, Bill Hare has gone from protesting US nuclear ships and bauxite mining in the jarrah forest to being a well-regarded scientist informing Australia and the Pacific on actions needed to address climate-change.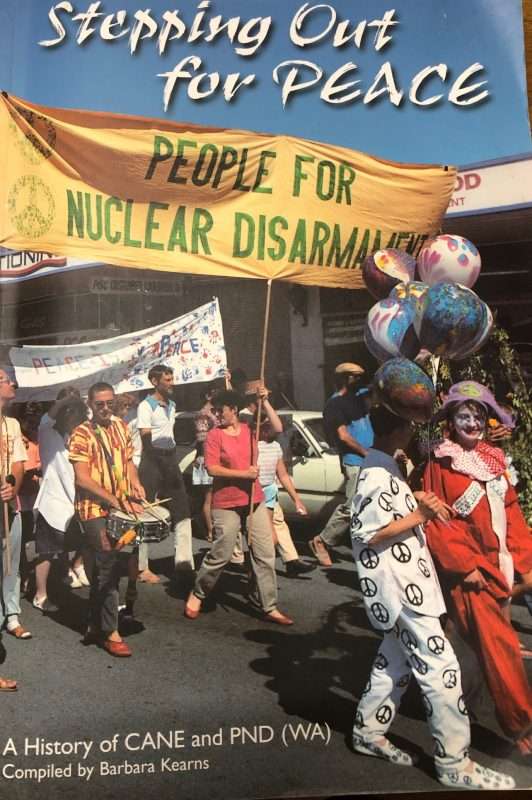 Then there's Jane Hammond, who brings me to the main subject of this article. Jane was another protester against nuclear ships entering Fremantle waters, and she most recently made the important film Cry of the Forest highlighting the continued mistreatment of one of our most significant resources: the South West forests.
It has taken nearly fifty years of protest by people of all stripes, including such groups past and present as the Campaign to Save Native Forests and the South West Forest Defence Foundation, The Wilderness Society, and the Conservation Council of WA, to protect the native forests of WA.
Most significantly, the Western Australian Forest Alliance has led the charge to finally end native forest logging with the WA government's policy announcement earlier this year that logging will end by the start of 2024.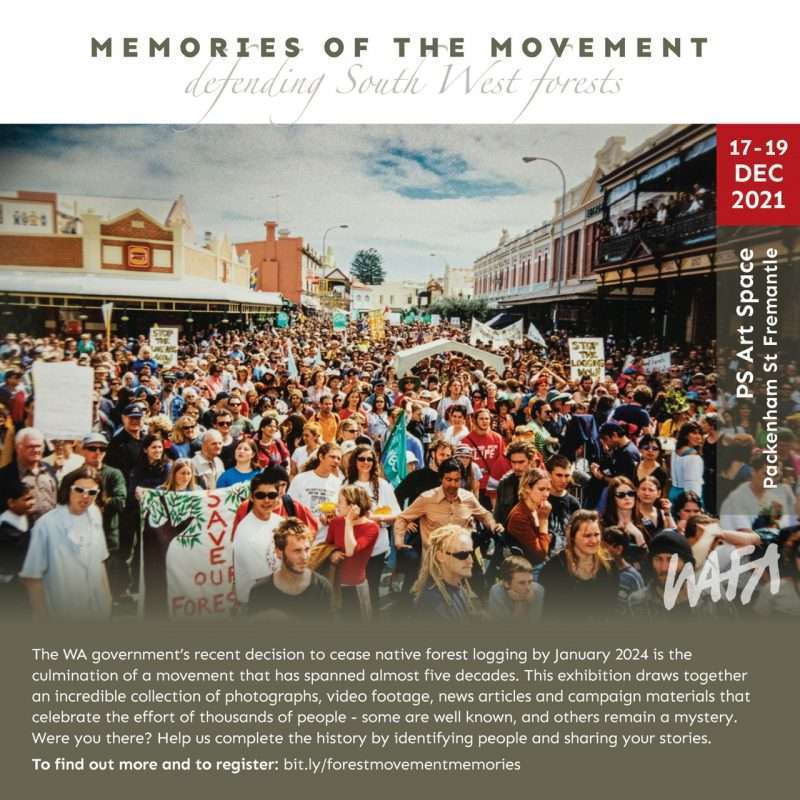 This huge win and the work of all those who helped bring it about are being rightly celebrated here in Fremantle this weekend with a Forest Fiesta in Pakenham Street on 17 December, 6.30pm to 11pm. The Fiesta is the third and final celebration of the long campaign, following similar events in Denmark and Margaret River.
Alongside the street party on Friday evening (starting at 6.30 pm) and on Saturday 18 and Sunday 19 December (10-5pm on both days) there will be an exhibition at PS Art Space in Pakenham street – The Memories of the Movement: Defending South-West Forests. It is an exhibition of photographs, news items, videos and campaign materials. Even if you have never been part of a protest, or have made your views known in other ways, do go along. This was a big win and wide-brimmed sun hats off to all those involved over the many years.
* This article was written by Christine Owen
PLEASE HELP US TO GROW FREMANTLE SHIPPING NEWS
FSN is a reader-supported, volunteer-assisted online magazine all about Fremantle. Thanks for helping!
* Don't forget to SUBSCRIBE to receive your free copy of The Weekly Edition of the Shipping News each Friday!