The Fremantle Biennale was officially launched last night, Friday 5 November 2021.
And what a launch it was, with Moombaki opening over the Derbarl Yerrigan/Swan River between the Old Freo Traffic Bridge and the newer Stirling Bridge.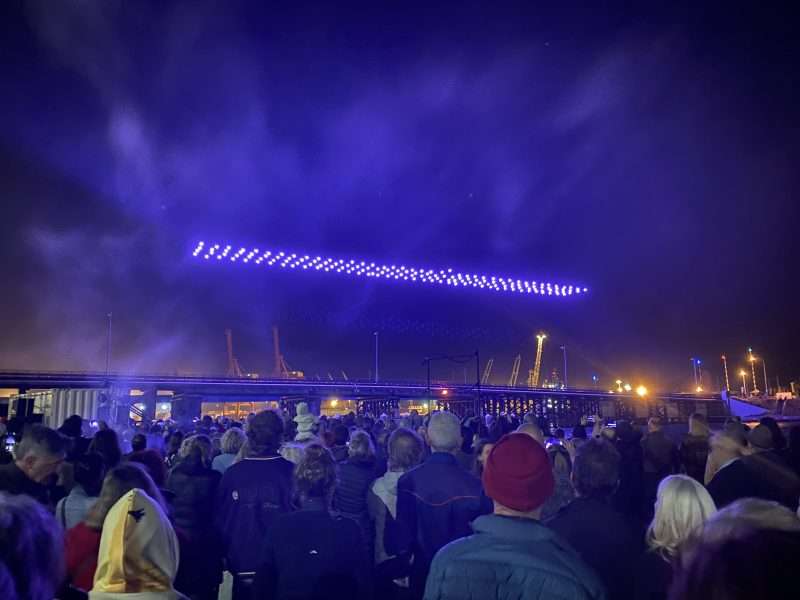 The pitch for Moombaki was that –
The banks of the Swan River will house nearly half of the artworks and performances, including the headline work, Moombaki, which will present an Australian first. A fleet of 160 choreographed drones will take flight over the bilya/river and wardan/ocean, transforming the night sky in an epic spectacle of light, movement, and sound to tell ancient and living stories of place. Led by emerging Nyoongar artist Ilona McGuire, it will be a first of its kind show to ever be presented in Australia.
Well, the promise was met. What a performance. How do those drones do that?!
Take a bow, Ilona McGuire. Fantastic concept and realisation! So much fun. The Dreaming meets Star Wars!
Go on to Instagram and you will find some wonderful videos of the event, including @jodarbs.
And this video too from Fremantle Shipping News!
PLEASE HELP US TO GROW FREMANTLE SHIPPING NEWS
FSN is a volunteer-run organisation and we rely on the support of Freo people to keep making local news free. Thanks for helping!
The performance will be repeated again in Freo on the banks of the river tonight and tomorrow.
And then there will be encore performances in Attadale and Coogee. Here are the details.
Make sure you don't miss out! Your kids and grandkids will be annoyed if you do!
* This article was written by Michael Barker, editor, Fremantle Shipping News