Neil Stanbury, the very switched on Head Flak at Fremantle Ports, has drawn to our attention something you might already have noticed, namely, that, for the second time this year, Freo Ports have closed Peter Hughes Drive for use as additional 'laydown space'.
This will be for about a week in total, perhaps ending by this weekend.
Part of the reason, we are told, is congestion caused by those magnificent RORO vessels, in some cases backloading cargo that went to the eastern states unwillingly, due to recent industrial action.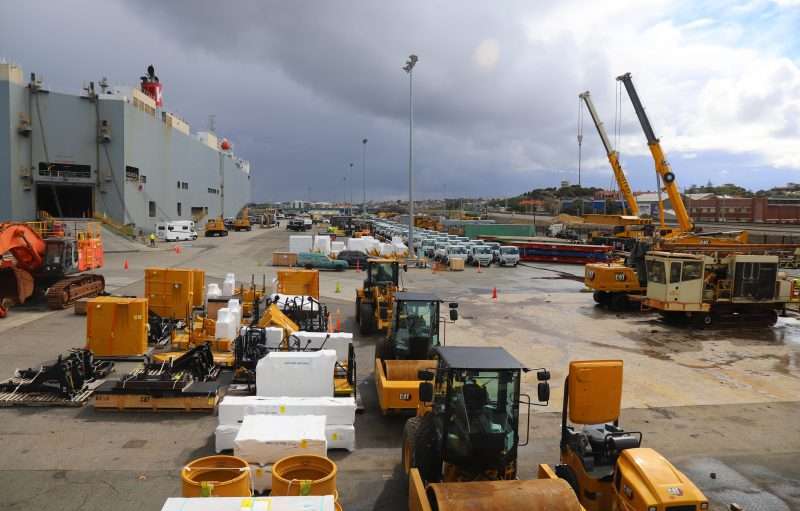 The other reason is ongoing strong breakbulk trade, break bulk being cargo that is loaded individually. That is, not in containers.
In that regard, Shipees, you will be interested to learn that the non-containerised inner harbour trade we are speaking of was up 23.1% or 55,000 tonnes to the end of September. We understand this was mainly due to increased trade in motor vehicles, industrial and agricultural machinery, and iron and steel. Here is the breakdown.
IMPORTS up 23%,:
New motor vehicle imports up 19% or 3346 vehicles;
Iron and steel up 42% or nearly 13,000 tonnes;
Industrial and agricultural machinery up nearly 30%
Manufactured metals up 276% or 11,000 tonnes.
EXPORTS were also up by nearly 23%, with scrap metal, animal feed and cattle all contributing to that.
Back to the laydown area – please note that Peter Hughes Drive, while usually open to the public, belongs to Fremantle Ports.
As a new measure, Freo Ports have put temporary signs on the gates at either end to remind us all that it's 'in use' and these will be erected/taken down at similar closures in future.
PORTS. FASCINATING PLACES!