Our Inner Harbour had a busy week with storms last weekend, several shedloads of cars unloaded onto Victoria Quay and a fair few tractors, earthmovers and other larger industrial vehicles casting a red and yellow swathe across container terminals one and two. Not to mention the endless stream of container vessels depositing their laden quarry onto our shores.
It is easy to see how Mazda is the second largest selling car in Australia, Victoria Quay is aflush with SUVs mostly and smaller hatchbacks. Chinese cars are in force as are caravans and the Prados that tow them. Interesting viewing indeed the volume of cargo and cars moved into and out-off the port this week. One thing is for certain, rarely a day goes by without a RORO in our Inner Harbour. This week Swan Ace and NOCC Atlantic came and went and Positive Leader returns until Tuesday.
Container ship Margaret River Bridge is returning to Singapore tomorrow a week after departing for our Inner Harbour.
Recent arrival, Jadrana, yet another container ship, was built in 2014 and is sailing under the flag of Portugal. She is 255.38m in length and has a dead weight of 58037t. It has taken her seven days and six hours to sail into our Inner Harbour today. They can expect lighter winds unlike this time last week.
What was an impressive sight were the six cargo carriers in Gage Roads preparing for the inclement weather that passed through the night of 9 July, 2022. Ck Bluebell, Belmar, Sotka, Kn Forest and Sm Goseong fell into perfect formation, now joined by Danceflora Sw, Iron Lady, Ruby Enterprise and Agios Sostis, yep, all container ships. Kn Forest and Ck Bluebell have set sail.
On that gusty eve, two container ships Kota Laris and Conti Stockholm utilised the Inner Harbour's mobile shoreline tension system we wrote about last week. Both are now enroute to their next ports.
Interestingly, Wallenius Wilhelmsen's Titus, a magnificent RORO indeed, did not utilise the additional safety lines, relying on the underwater rock mound installed in 2017, the natural protection of Wongara Shoal and by structures installed in front of some of the bridge pylons.
But still, can they withstand the more than 31000mt of a Hero unleashed in a sudden squall? On the container terminal side of the port, her proximity to the rail bridge was unnerving, though it seems a sort of calm sweet spot, a "pelican's rest" for these large vessels which are frequently berthed there.
All is well that ends well and all hands were on deck at the ready to deal with any incidents that may occur at sea or in the harbour during the expected 55knt northwester and a weather system coming up from the south. Even TAMS seemed to be getting ready to provide assistance with crew practicing coming alongside.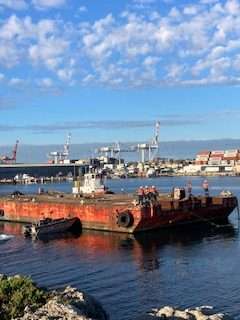 The weather seemed to pass without incident and it was back to business for our busy port.
Walking along Port Beach, I came across the Modi-R is full swing. Tasked with clearing 150,000m3 of sediment from Success Channel and Parmelia Channel, which provide safe access for vessels into Cockburn Sound, the hopper dredge started delivering the first load of sand to Fremantle's Port Beach as part of the Port Beach Sand Nourishment Project, a first for WA, according to M P Rogers & Associates – although it has happened before – one of the companies involved in the project, which is delivered in partnership with the City of Fremantle, Fremantle Ports and the Department of Transport. The aim is to combat coastal erosion.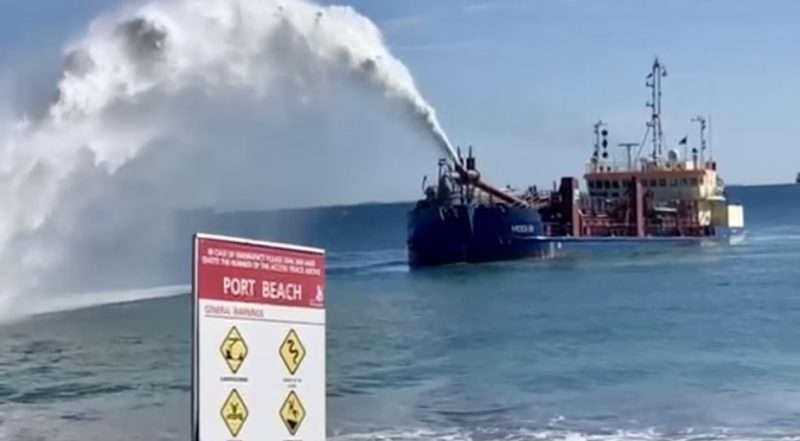 Finally, it is interesting to read Wilhelmsen's response to the Ukrainian war's impact on their business. The shipping company has recently increased its ownership in NorSea to 99% of the Norwegian supply base company. On 17 February, they acquired a 21% stake in Reach Subsea and a majority stake in Ahrnkiel Tankers. Wilhelmsen takes zero-emission seriously and their zero-emission shipping company Topeka has been awarded $25 million dollars to build two zero-emission hydrogen powered vessels. Lasse Kristoffersen is the new President and CEO of Wallenius Wilhelmsen. He commenced his position on 1 June, 2022. Digitalisation and decarbonisation are his priorities.
* By PA Sinclair, our Shipping Correspondent
While you're here –
PLEASE HELP US TO GROW FREMANTLE SHIPPING NEWS
FSN is a volunteer-run organisation and we rely on the support of Freo people to keep making local news free. Thanks for helping!
** Don't forget to SUBSCRIBE to receive your free copy of The Weekly Edition of the Shipping News each Friday!