For many, this little precinct, so well known because of its 'anchor tenant' Galati's, is the very heart of Freo.
To some the precinct attracts the name 'Fiveways', although that's also the name of the modern office building at 142 South Terrace, on the south east corner of the South Terrace and Wray Avenue roundabout.
Look at this fab 360 degree shot taken at the roundabout and you'll see why. Les Moyle of Balm Commercial Photography in White Gum Valley, took this shot, as well as many of the other great still photographs here. You can have fun with this interactive 360 shot. Enjoy!
There's South Terrace coming south from central Freo, Wray Avenue itself branching off, Howard Street and Little Howard Street almost surreptitiously intersecting the roundabout, and then South Terrace continues south towards South Freo.
The precinct has stately heritage buildings, a little undulation, trees, shops and offices, and a nice flow of people and traffic to keep you occupied, if you've got the time. There's a gentle buzz to the place.
On South Terrace, on the north side, Fremantle Hospital towers over the precinct. Once, the professionals working there, their patients, and the patients' visitors provided much custom to the coffee shops and cafes, and other local businesses. You could get your hair dressed while you had your car tyre changed as part of your day at the office or as part of your visit to a loved one. When the hospital's ED business moved to the newly opened Fiona Stanley Hospital in around 2015, quite a few businesses felt the dampening effect.
But how are things today?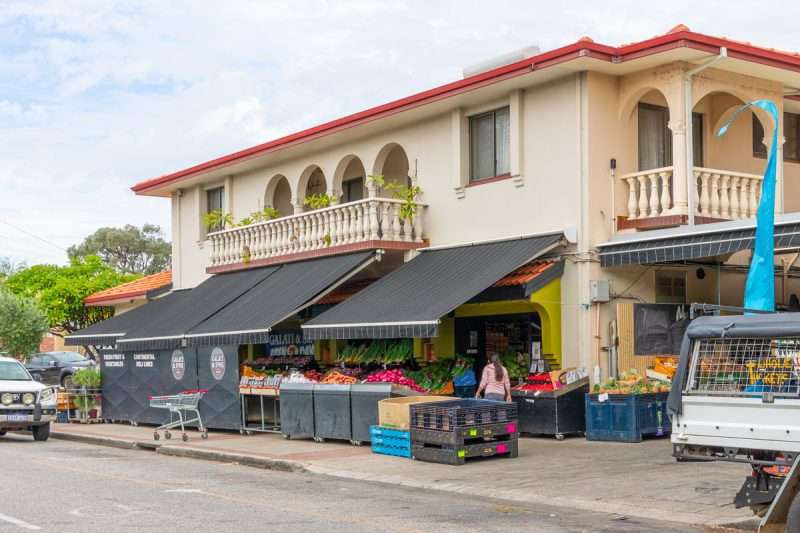 Well, Galati's – more formally Galati & Son – at 19 Wray Avenue, is as busy as it ever was. It is a reminder of old Freo and a complete Freo institution. If you were trying to get a planning approval for such a use today in the middle of a residential district like this, you wouldn't succeed! It's a relic. But a very healthy one!
When the store's truck parks out the front, on Wray Avenue, with a load of zucchinis or melons – you name it – for sale at near giveaway prices, near pandemonium reigns! But it's along the footpath and inside you really want to be. Inside you can buy everything fruit and vegetable, and Italian, you need for the family or a BBQ – except meat. For that you must go to Franks next door.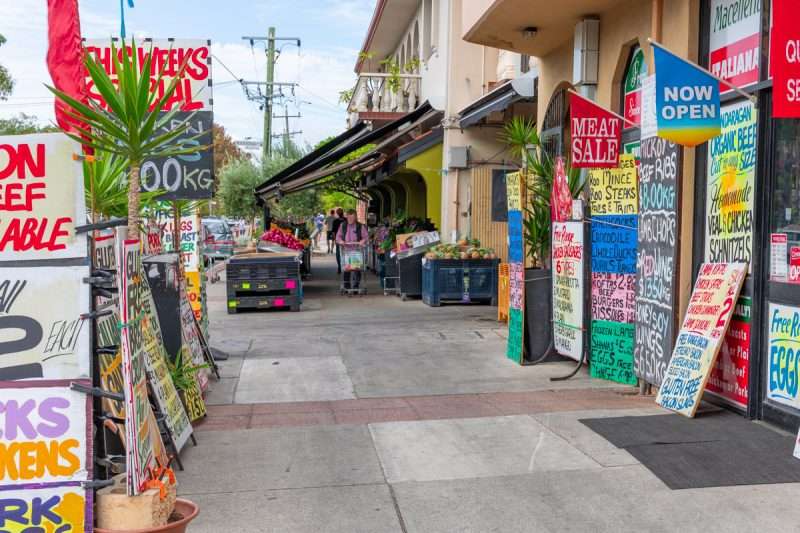 Franks Gourmet Meats, at 17 Wray Avenue, like Galati's is a place to visit as a part of your Freo education. Frank himself is also a Freo institution. But to be fair, it's hard to distinguish the Frank behind the counter today from the younger Frank in the newspaper clippings on the shop walls. And the service is always the same too, consistently tender meat, including organic, always delivered with a smile and a friendly chat.
TLC – The Little Concept – coffee cafe, just down the road from Franks, at 7 Wray, popped up one day a few years back. Time flies. And its doing a brisk trade. Not all businesses like this do, of course, especially in the competitive Freo coffee shop market. Why is it that some businesses work and other, similar, nearby businesses don't?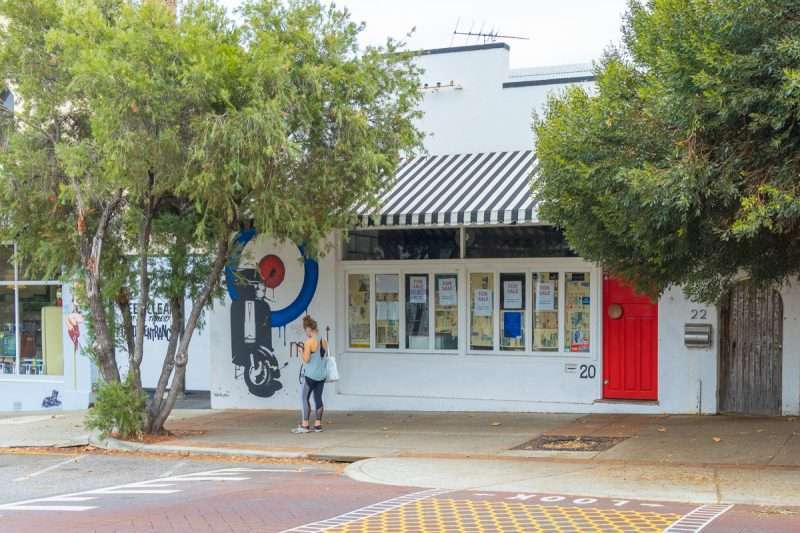 Case in point. Over the road from TLC a coffee shop/restaurant has kept coming and going for some years now, the latest incarnation being The Mod. It's now closed up again. The location seems perfect, so why is it comatose right now? Why one and not the other?
Right next door to TLC, at 5 Wray, is Rei Lane Eatery. (Clever play on Wray, Rei.) It opened more recently. We wondered at the time whether a fresh juice and healthy food place, not focussing on coffee and croissants, could possibly work. But it has become a success. It's one of the few cafe/restaurants in the precinct to do dinner. Although it has to be an early one as they close at 8 pm. But we see they're seeking a liquor licence. So let's keep watch.
Old hands though still lament the passing of Apicius. Once upon a time, Apicius was a fabulous restaurant in the premises now occupied by Lawleys, on the north eastern corner of the roundabout. Wouldn't it be nice if something like that materialised again? Wray is missing a little evening restaurant activity.
While we were taking the pulse of this section of Wray Avenue, we ran into Troy outside the Rei. Troy was taking a snack break from financially planning the fortunes of his clients at nearby Money WA – who are in the Fiveways Building, above the Who's Your Mumma bar – and, we discovered, keeping a cool eye on both TLC and Rei and roundabout.
We asked Troy whether car parking was an issue around Wray. However, he was unfussed and considered most people get a space soon enough. That, it must be said, is our experience too. Not a lot of road rage to be observed. People know how it works. Mind you, we always try to arrive by foot or on our bicycles if we can.
Right next to Rei, at 1-3 Wray, is Pekho, a delightfully arranged women's clothing and so much more shop. Great place to discover all sorts of things you probably don't need, but which you can't resist buying, especially as a gift for someone else – until you decide to keep it for yourself as you leave the store.
PLEASE HELP US TO GROW FREMANTLE SHIPPING NEWS
FSN is a volunteer-run organisation and we rely on the support of Freo people to keep making local news free. Thanks for helping!
Just down from Pekho, fronting Wray but sharing the Fiveways South Terrace postal address, are a couple small tenancies. Luce del Sol, swimwear and lingerie, is quite popular – well, especially in summer and also for those hardy people who swim each morning at South and Bathers Beaches all year round.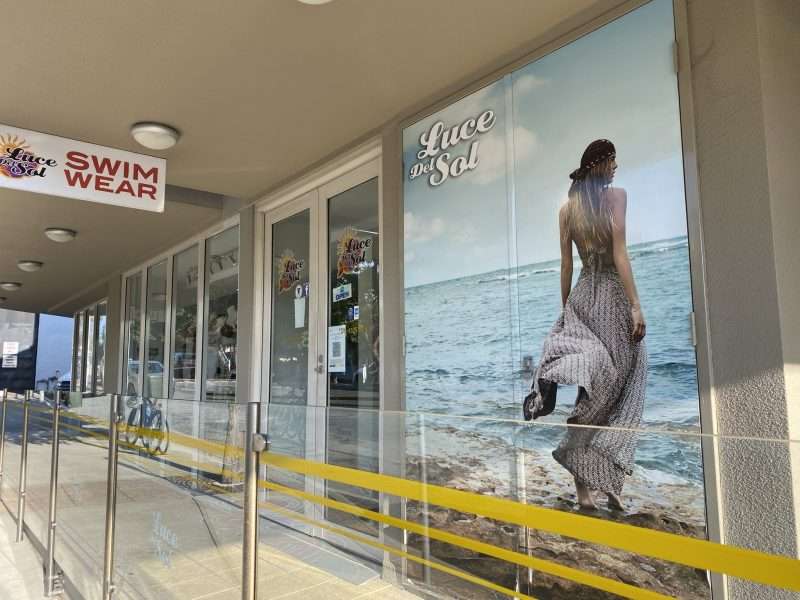 The tenancy next door to Luce del Sol seems to have struggled over time. It's currently vacant and up for lease. Someone will make a go of it, we are sure. Most recently it was a proverbial 'frock shop'.
It's a hard gig, small boutique style shops. Sometimes word of mouth works, but even then retail is hard. You wonder whether covid has in fact dressed down Freo to such an extent that Freo people no longer need new apparel. Perhaps they never were great dressers. But people still need swimwear and undergarments, don't they? No?
But if you are more a generic, Op Shop type person, then you should simply cross the road at this point and find your way into Dick's, a men's pre-loved fashion store. The aforementioned Les Moyle apparently purchased a Drizabone coat in these premises many moons ago, and it's still going strong. Beth, who now runs Dick's, will certainly do you a bargain.
Going back up the Avenue from Dick's, towards the comatose The Mod, is Mala Yoga. You'd expect a yoga studio here, wouldn't you? Quite apart from the fact that no self-respecting Freo precinct should be without one, there's something life affirming about the round, blue Mala, 'the art of yoga' signage.
Especially when you consider that right next door there is the 'holistic funeral consultants', Gift of Grace. Their specialty is 'unique coffins'.
Stacey runs the Gift of Grace business with the enthusiastic help of Jo and Bec. The first thing we learned after cautiously entering the premises was that business is growing so fast it's soon to expand into the Mala space next door.
By the way, we loved their cardboard coffins, but there are also wool ones, amongst others. All biodegradable. Very Freo. And they will arrange a natural funeral or any more traditional variety you'd like. Wonder if the South Beach and Bathers Beach all-year-round swimmers can organise send offs at the beach when the time comes?
On this same side of Wray, a bit further up the street, is Bukeshla. Love this store. Great interior design. Ask to see the garden nook. And great artists with textiles and fabrics within – Trish and Nathan. Women's clothing is their specialty. But did you know they also made the amazing backdrop, with the WA Coat of Arms, for the new Supreme Court of WA in central Perth? Well, they did, and it was the subject of one of our earliest stories on the Shipping News.
Then you approach the wonderfully candy-coloured Doo Wop Hair. Here's a business that is always busy. It just goes to prove that pastels can work in Freo.
Back across the road and down to the Fiveways building. You can enter the offices either from a walkway on Wray or up the stairs on South Terrace. There's a bunch of professional service firms here.
We've mentioned Money WA financial planners.
Others include Kamran Accounting – who, for the more progressive Freo client, accept Bitcoin!
Then there's 5 Star Finance, who are mortgage brokers specialising in home loans among other things.
The Fremantle office of Rohlig Logistics Australia, who serve a wide range of industries including machinery, lighting, mining and FMCG – fast moving – consumable goods, is also there.
And Joob Travel. Lots of adventure style tours on offer. A good idea these Australia bound holiday moves. (Joob? Read the photograph!)
One Agency South, by the way, is handing the leasing opportunities in the building.
We think they should also lease out the little courtyard inside too. It'd make a nice little coffee area.
We mentioned earlier Who's Your Mumma, the great bar adjacent to the Fiveways South Terrace entrance. It is open most days from 4 pm and on Sundays from 2. Lovely vibe. Wide demographic. Like everybody else, a good gin selection. The big question is, what comes after the recent scotch and the latest gin revolutions? Stone's Green Ginger Wine and dry?
More or less across from Mumma's, fronting Howard Street at the roundabout, is Perth Pressed Metal. Now here's a business that has embraced the Wray Avenue precinct with gusto. Once the old tyre service left, following the departure of the ED at Freo Hospital, along came these folk. Their premises are a standing advertisement for what they do. And they surely add to the eclectic nature of businesses on show around Wray.
Crossing over Howard Street, and walking north on South Terrace, you soon find an interesting mix of old and new businesses.
Terrace for Hair, unisex salon is the first of the older ones. Fran has been keeping women, and men, in order for years. She's another institution! Saturday mornings are crazy. And if you want to know what's happening around Freo, pretend you're there for a wash and cut and sit quietly in a front waiting chair and eavesdrop.
Next is Mercer Cycles. They have been there for years too. Another institution. Great selection of bikes. But more than that, you can always pop in and ask a stupid question, like how you can't unlock your bike lock. They never smirk, or LOL. One suspects they do, however, once you've left the premises.
Then there is Vanilla Bean, coffee and cafe style food. A fixture for many years. And with a very loyal following too.
More recently some small businesses have popped up. Some have a health related aspect to them. Goslostudio is one, offering pilates. The Neighbourhood Sauna is another. Neither looked over busy on our walk by, but it's still early days.
Another little pop up that had a few fans was Gurumedica. But its time as a pop up has now ended. It just goes to show how tough things can be in the retail world at the moment.
The good news is that the new Sew It Seams looks to be bounding along beautifully. A lovely busy looking shop full of seams and sewing. Must find something that needs mending.
Over the road from these shops, still on South Terrace, you have Norm Wrightons Hairway men's hairdressers . Once they were in Freo central now they're here, replacing Kennedy's hairdressers who were in the same spot for many years. It's good to know some things don't change.
But next door the shop is empty with a 'Business for sale' sign on display. Once, this was a newsagency, but ask the old media outlets what happened to this business model. You'll discover they went the same way as hard copy newspapers. Now, of course, the clamour is for online magazines all about Freo!
Almost as quaint as it would be finding an old fashioned newsagency today, would be finding an old fashioned seller and fitter of car stereos. But, would you believe it, there's still one – FreeDB – right on the north eastern part of the roundabout before you get to Lawleys. We assume there is a continuing line of business for young lads and lassies upgrading their newly acquired second-hand cars bearing regos predating 1AAA000.
And that brings us to Lawleys, operating on the site of the much-loved and lamented Apicius restaurant of days of yore. Lawleys has a prime spot. Coffees, croissants, a snack. Bread. You get the impression however things are a bit slow there. Maybe because the store just has a slightly tired look about it. You get the feeling it hasn't quite embraced its wonderful Freo location. Perhaps it is time for management to rethink their Wray Avenue presence. Perhaps develop a more serious foody reputation to add to the good baker's reputation. They've got the room for it.
All in all, Wray Avenue precinct seems to be doing ok. Some pockets are sleepy, even comatose. Others are dangerously close to showing signs of rigor mortis. The Mod's demise we've discussed. We look forward to its resurrection. The little pop up shops on South Terrace west side look hopeful. It sometimes just takes one or two clever ideas to quickly turn things around. And wouldn't it be nice to have an after-dark restaurant? It's ghostly quiet after 8 pm – except of course for Who's Your Mumma, the only business with a nocturnal presence.
The Pulse-ometer Reading
So, to the Pulse-ometer reading. What did it say?
Applying the Pulse-ometer to the Wray Avenue precinct, and taking into account all the above observations, we were offered a reading of 6.9 out of 10.
The Pulse-ometer printout added: 'Room for improvement. But has great promise.'
All things considered, we think that's about right! All upside.
Can't wait to return with the Pulse-ometer in around 12 months!
PLEASE HELP US TO GROW FREMANTLE SHIPPING NEWS
FSN is a volunteer-run organisation and we rely on the support of Freo people to keep making local news free. Thanks for helping!
This article by Michael Barker, our Editor