The State Crest: two red kangaroos holding boomerangs, a shield containing the black swan between them, and the crown flanked by kangaroo paw suspended above the scene. This was our map, the essential bare bones and focus of our vision for a contemporary embroidered textile artwork. In our approach to this work, we found serendipity and challenge in equal measure like a hidden guiding hand feeding us exactly what we needed at every turn.
The commissioning of an artwork depicting the WA Coat of Arms may not immediately appear to present an artist with a bold creative challenge. The brief called for a work that adhered to the strict guidelines laid out for any depiction of the State Crest, as well as conveying a sense of beauty and preciousness, and a high level of hand-work, skill and craftsmanship both dignified and modern to reflect the gravitas of the court function and status.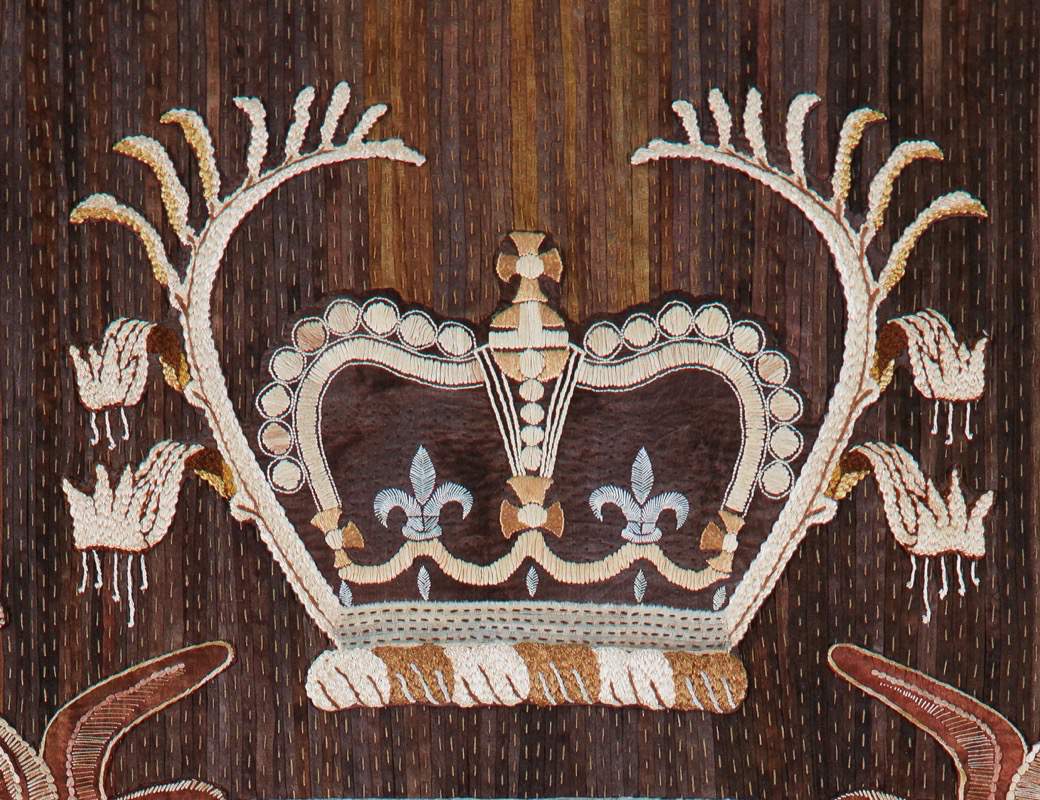 Our first thoughts led to inquiry about the symbols pertaining to the crest itself and to research other examples within the court precinct. It was also especially important for us to consider the relevance of these symbols from an Indigenous perspective, so we contacted Noongar Elder Noel Nannup and invited him to share his wisdom and his time. It was impossible not to sympathise with his assertion that many of the symbols within the crest did not sit well with his people and were simply not appropriate, adding to our pause and reflection. Noel illuminated something of the deep spiritual significance of these symbols, somewhat restoring their integrity for us. He also shared the significance of the Sheoak tree, a natural and living symbol of justice for his country and culture, whose filament-like leaves, we noted, uncannily happen to have a stitch-like appearance and repetition. This simple transmission from Noel was a crucial and timely factor. It allowed the essence of his narrative to consciously enter our practice and infuse every aspect of the process, embedding a deeper layer of meaning and sensitivity into every colour and stitch within the work.
This Indigenous perspective was denied in founding the State and Judiciary of Western Australia and we are left with symbols that, for the most part, reflect outmoded sentiments around this division. A central concern of this project was to ensure we surrendered to the gravitas of locating the work properly, with dignity, whilst proceeding with utmost sensitivity in respect to this inherent dichotomy. Denied the opportunity to work with a completely re-imagined symbol of State, at least we could allow our best conscious intention to permeate the work. In other words, our invocation for a fair and balanced outlook within the house of justice, governed by the symbol of the State Crest, was embedded in the very fabric of our making, stitch by countless stitch. This more intimate relationship with the work allowed for a necessary divergence from the official, formal and linear representation of the crest that was our starting point. Casting our sights in the direction of embroidery called for a re-imagined symbol.
Our original brief was to render the crest as a work of around a metre by a metre, mounted on a predetermined leather background. However, our vision for the work extended our brief to propose something much more dramatic in scale. After our proposal was accepted, we decided, with the architect, to dispense with his original plan of using leather as the background. Instead, we would create a fully hand-stitched background. This deviation would increase our workload considerably, but the vision artist Trish Bygott had was so inspired and fully formed, we felt it was imperative. It also provided the opportunity to reference the significant symbol of the Sheoak, allowing us to play with finding a suitable treatment to carry this subtle layer into the foundation of the work.
Faced with this prospect, we were blessed to welcome on board Dr Nicole Desmarchelier and Dr Jane Donlin, whose dedication and enthusiasm for the project was a beautiful thing to behold. They also shared our appreciation of the daunting but breathtaking task ahead of us. Their sensitivity, completely in tune with our objective, allowed us to adopt the finest principles of the hive mentality, working as one. In Donlin's words:
For the four of us it became foremost to find a way to show respect, but also to show the relation between the aestheticism of stitched cloth and land and culture. From the start, there was an unspoken mutual agreement between us: let's do this together. This was a lived experience of taking time, remaining silent, and hand-stitching at an exceedingly slow pace. Large-scale, handcrafted work of this nature does not occur by chance. It requires skill and expertise for quality production.
This was a unique experience to cherish and bear witness to. So often we found ourselves deep in monastic concentration, only to find an occasional visitor jolting us from our close proximity to evaluate the work anew upon their astonishment and emotional response to the spirit of the emerging piece.
We settled on the traditional technique of laid-work – which harks back to the twelfth century, period of the famous Bayeux Tapestry – as a leaping point. In a contemporary twist though, ripped silk (a signature medium for Bygott) would be pressed into neat strips approximately 5mm wide, laid out in vertical lines, and stitched in place with a natural play of movement to create tonal and textural variation. It's a painstaking, finger-numbing exercise, focused and exacting, requiring an astute eye: 'painting' in slow-motion, one strip at a time. This task took a full three months to complete, and saw an estimated total of 45,000 stitches performed by hand on this background portion of the work alone.

In preparation for actually getting down to stitching, large quantities of silk cloth and silk organza were dyed in specific variegated colour tones to provide a broad palette for the crest and background components.
We constructed stretcher frames for all elements of the piece: a large table frame for the extensive working of the background, and smaller frames for the shield, crown, ground and kangaroos. Some 480 little squares were satin-stitched into the shield; metallic, shimmering. The swan came to life, revealing herself feather by feather. The crown bloomed in a delicate array of laid-work, whilst the ground danced in spirals of silk back-stitch amidst pools of countless tiny seed stitches. The 'roos had to wait their turn, only arriving when all else was falling into place. Like a map of the land, one stitch at a time, the presence of this powerful creative work emerged.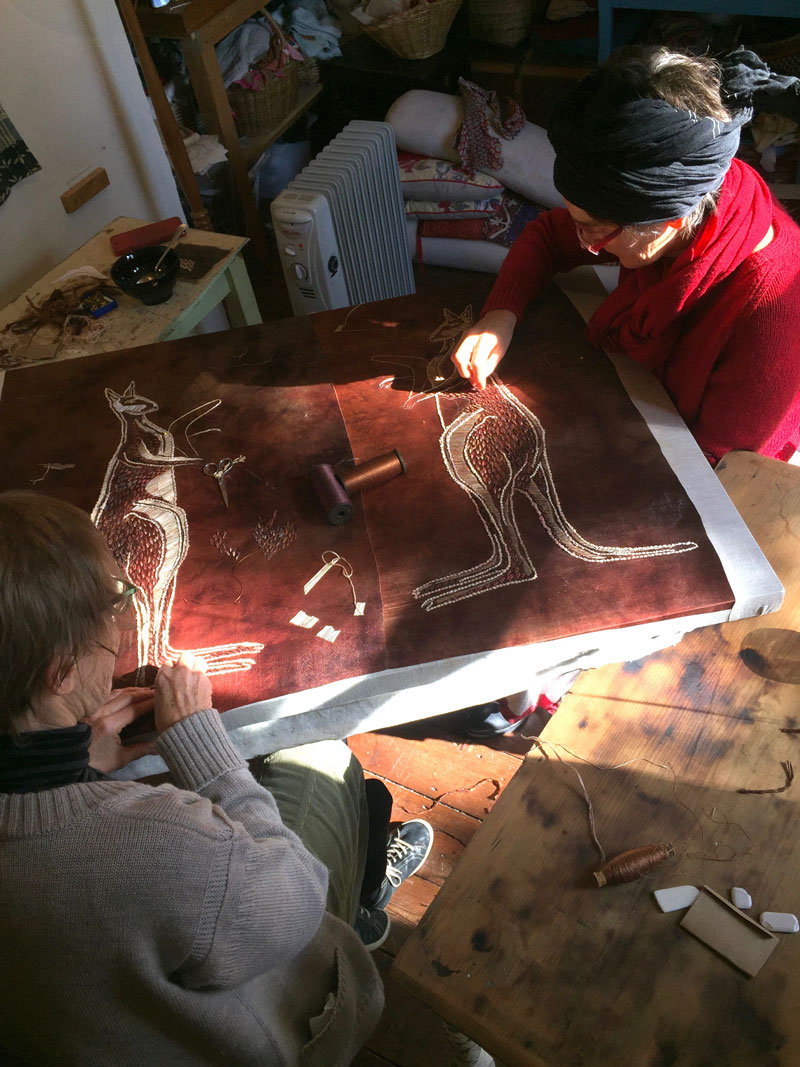 In many ways, the spirit of the work spoke to us, guiding every consideration and nuance. Stillness was the necessary catalyst and antidote to any amount of surface anxieties or weariness. The deadline was non-negotiable, aligned as it was with the official opening of the David Malcolm Justice Centre, giving us a mere three months to prepare the artwork for installation. Such a narrow window of time for a hand-crafted textile work of this nature is almost unthinkable, and it required deep, abiding surrender to something much more profound than each individual involved, much more intelligent than our combined collective knowledge – the surrender of our personal striving to the amazingly energizing field of tacit awareness. This is what carried us through to our conclusion, allowing us to be supported by the unspoken and inherent knowing within us – a reservoir to be tapped.
In Donlin's words:
Tacit knowledge is instrumental to traditional, inherited practices and implied values of aestheticism. It is the one important factor that might explain the close connection between the aesthetic-expressive capacity of the hand-crafted object, cultural poetry and human existence. Ever since antiquity people of all cultures have used their hands to make. Their well-recognised aestheticism in life and work was always achieved through co-operative labour.
Donlin quotes Richard Sennet, who states in his book The Craftsman that Hephaestus (the Greek god of blacksmiths, artisans, sculptors, metallurgy, fire and volcanoes) represents the craftsman, and it is the craftsman who is "a bringer of peace and a maker of civilization'.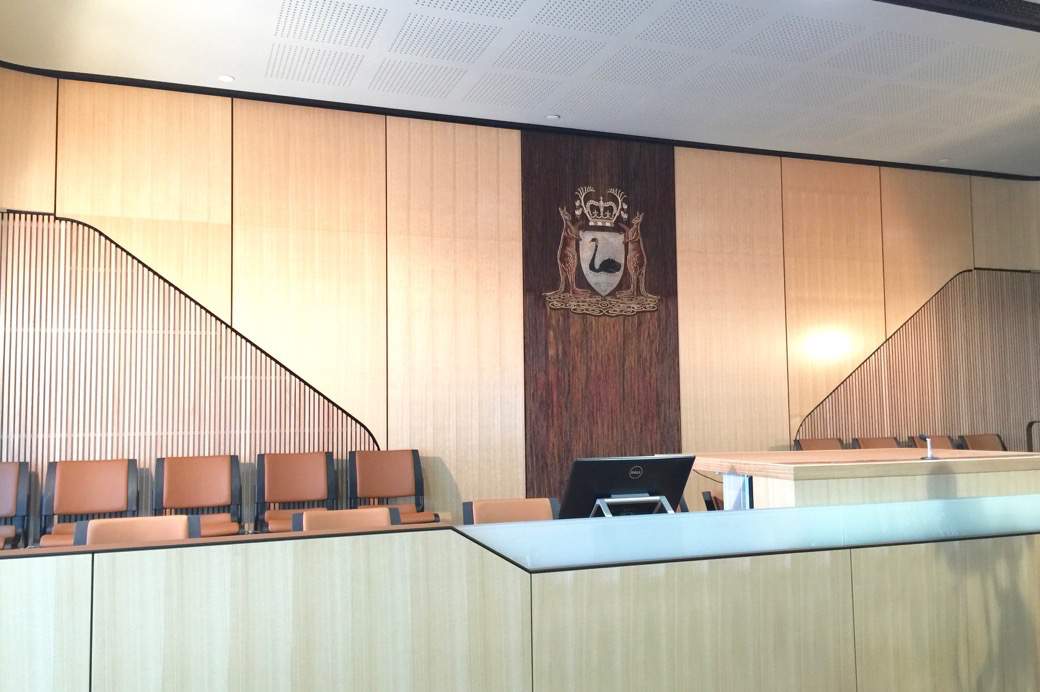 The work was finally assembled and mounted ready for installation in the building after two all-night stints by a generous team of helpers, late in the morning, one day before the official opening. After scrambling to securely package the work for transportation, we were faced with a lengthy security delay. Delivery to the courtroom on the fourth floor of the building finally took place via the service lift from the basement, with the artwork tilted, fitting in the lift by a matter of centimetres. At this point none of us knew exactly what the work would look like installed, or if we had succeeded. It was a moment of sheer exhilaration and apprehension when we finally slid the work into position. Immediately letting out a collective gasp of jubilation, astonishment, and relief. It was clear to everyone in that room that the spirit of this work had come together with such energy and sanctity. It had a phenomenal sense of rightness about it: it had truly found its home.
You can view the artwork at level 4 of the David Malcolm Justice Centre, Barrack Street, Perth.