Port Beach begins immediately to the south of Leighton Beach and gently curves further south for a kilometre or so. Together, Port and Leighton make an unbroken continuous strip of beach all the way north to Mosman Beach and South Cottesloe.
Port's always been a great beach for families and young children, as well as for ocean swimmers and stand-up paddle boarders. Beach walkers and joggers love it too. And it's a good spot for beach fishing. On top of that it is just a five-minute drive from Fremantle and, as in the case of Leighton, even closer for North Fremantle and many nearby Mosman Park people.
Port is a perfect beach to laze on the soft white sand and soak up the sun, take a dip between the flags or snorkel in the clear Indian Ocean. When the southwesterly wind blows, the beach is paradise for windsurfers and kite surfers. In the evenings, it's the place to be to watch the sunset.
Port becomes quite crowded during the summer months, especially on weekends and school holidays. Unlike the northern part of Leighton, Port is not dog friendly – so you will have to leave your fur babies at home or head further north.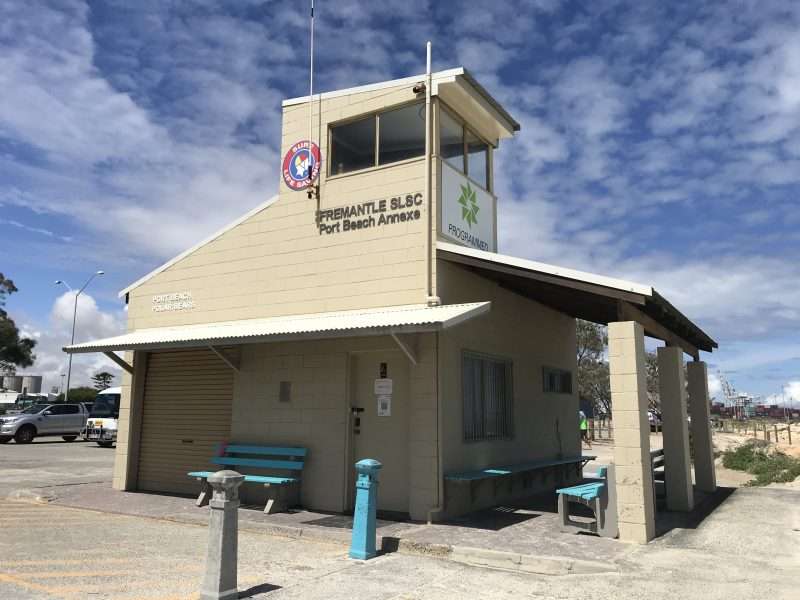 The Fremantle Surf Life Saving Club monitors Port Beach on weekends and public holidays in summer from a watchtower near the main car park. Port Surf Live Saving club operated at Port Beach between 1958 and 1976, when it was amalgamated with Fremantle SLSC.
There are also toilets, showers and changing rooms nearby.
Although there is a central large car park, and other small car parks to the south, it can be very difficult to find parking on hot summer days and during the school holidays.
The restaurant, Coast has a major presence at Port Beach, and is definitely worth a visit whether you're coming straight off the water or want a leisurely lunch or romantic waterfront dinner, or sip cocktails as the sun sets in the west. It s tight on the beach and has stunning ocean views.
Port Beach is essentially an artificial beach that was shaped by the early construction work associated with the Fremantle Harbour and Fremantle Port. Wind, currents, rising sea levels, waves and storms that are accompanying climate change, have contributed to significant erosion at Port Beach over the past 20 plus years. Late last year the State Government announced additional 'sand nourishment' to help deal with the erosion.
A temporary sea wall was built in 2019 at a cost of $400,000 to protect the restaurant and SLSC buildings. Storms in 2019 and 2020 caused huge erosion to Port Beach. The storm in 2020 washed away parts of the beach and 10-metres of car park were swallowed by the ocean.
Port Beach is one of Fremantle's most popular beaches and is visited all year round. The coastal walk and bike path takes you along the coast from North Mole past Port Beach and further up the coast to Leighton and beyond.
At the very southern end of Port beach, beside Rous Head groyne, you'll find Sandtrax Beach. Many may assume it is simply part of Port Beach, but those in the know, know it's Sandtrax.
It might not be as picturesque as some of Perth's more famous beaches, but it's unique with colourful shipping containers, red cranes and a sea wall on two sides. You get the full industrial swim experience!
Sandtrax is also one of the few places where you can find shelter from being sandblasted by the 'Fremantle Doctor' – our summer sea breeze that is often howling by early afternoon.
Be aware, though, there is no official car park at Sandtrax – so parking is a bit of a free for all roadside affair. Or you can walk from Port.
Sandtrax is a popular surf spot in winter months when the conditions are right, usually after an easterly storm. There are several breaks along the beach. However, the locals will tell you to look out for washed up rocks and boulders close to shore due to dredging over the years.
And before we go, don't forget the Port to Pub Swim on 20 March 2021. The swim begins at 5am in front of Fremantle SLSC at Leighton Beach before entrants swim to the Rottnest Hotel for a refreshing ale or two! It used to begin at Port Beach!