The evidence of Fremantle's cultural heritage is written in its streets and documented in the visual, aural, and textual responses of artists to its pulsing life. In that sense, Fremantle is a living museum presenting an unfolding narrative of our past, mediated by the present. Surprisingly, we don't value that heritage more. We need to acknowledge our history so that stories are not forgotten, and histories are not obliterated. The impact of the art collective PRAXIS is one such story.
In February 1981, Fremantle became the centre of local contemporary arts practice when PRAXIS moved into a shopfront gallery in Manning's Building on South Terrace. Already the home for many artists (due to relatively cheap rents and readily available studio space), Fremantle and the relocated artist-run-initiative quickly became a focal point of creative practice in the State.
PRAXIS was the initiative of Mark Grey-Smith, who had returned from Chelsea School of Art in the mid-seventies and quickly generated support for an artist-run gallery that would shake-up the conservative art scene in Perth. The collective moved their operations into a central city gallery/clubhouse space in Perth, located in Murray Mews, in 1975. Situated in a run-down laneway that snaked through a derelict part of town, PRAXIS ran a series of ground-breaking exhibitions, events, and gatherings. When that lease expired in 1977 (following sporadic artistic interventions in galleries and venues around Perth), PRAXIS moved to Fremantle.
With funding from the State and Federal Governments, Lindsay Parkhill was offered the position of co-ordinator. Due to the redevelopment of the South Terrace site, PRAXIS moved to the D&J FOWLER Ltd building at 33-35 Packenham Street, which it shared with another artist collective, NEXUS. An artist-in-residence program sponsored visits by Hossein Valamanesh, David Chesworth, Juan Davila, Peter Tyndall, Barbara Hall, and Cath Cherry, amongst others, and exhibitions by local artists enlivened the galleries. Julian Goddard and I worked on the first magazine-style publication, The WA Artworkers Newsletter, which later morphed into PRAXIS/M. Julian also established the PRAXIS Print workshop, which produced posters for exhibitions and events. Conversations were intense; the energy was palpable and other groups such as Artemis (a collective of women artists) formed within this milieu.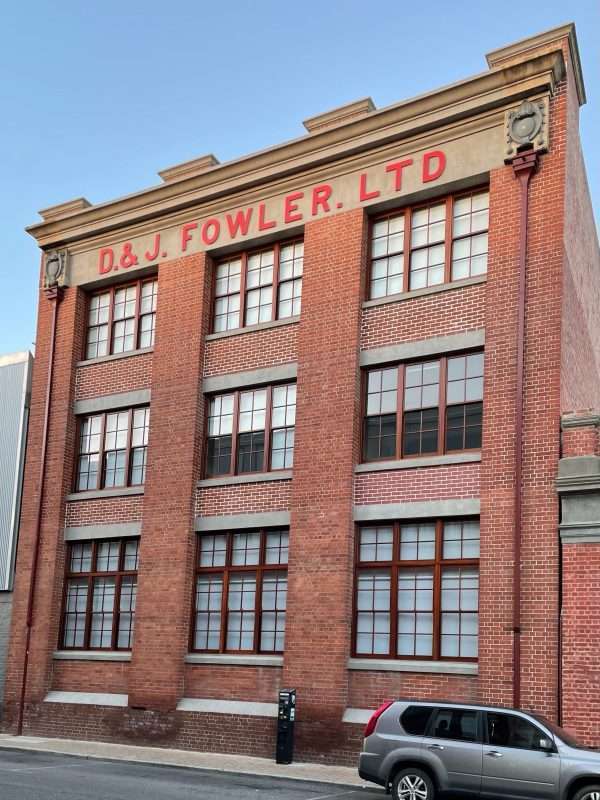 These were the heady days before Fremantle hosted the America's Cup in 1987, which changed the ambiance of the city significantly. Studio space was harder to find. Gentrification began in earnest (so younger artists found cheaper accommodation elsewhere), prices began to rise, and new groups began to occupy Papa Luigi's and the other cafés on the strip. By the late eighties, PRAXIS transformed into the Perth Institute of Contemporary Art (PICA), taking up residence in the Old Perth Boys School in James Street, Perth in 1989, under Noel Sheridan's direction.
Although short-lived, PRAXIS achieved its goal of energising a younger generation of artists by challenging them to make art that was relevant to this place while intently aware of international concerns. It also confirmed Fremantle's reputation as a 'City of the Arts.'
As a result, both the old Manning's Building on South Terrace and the D&J Fowler Building in Packenham Street are contenders for a Creative City plaque and should be recognised for their important role in Fremantle's cultural history.
* See Ted Snell's earlier Recommend_Ted articles here:
~Recommend_Ted – Ross Seaton Master of Nedlands
~Recommend_Ted – Fremantle, City of the Arts featuring Kate O'Connor