Across 10 wintery August nights, and days, from 10-20 August, Walyalup Fremantle will shine with a festival of outdoor installations, mesmerising fire sculptures, thought-provoking film, and captivating live performances and music.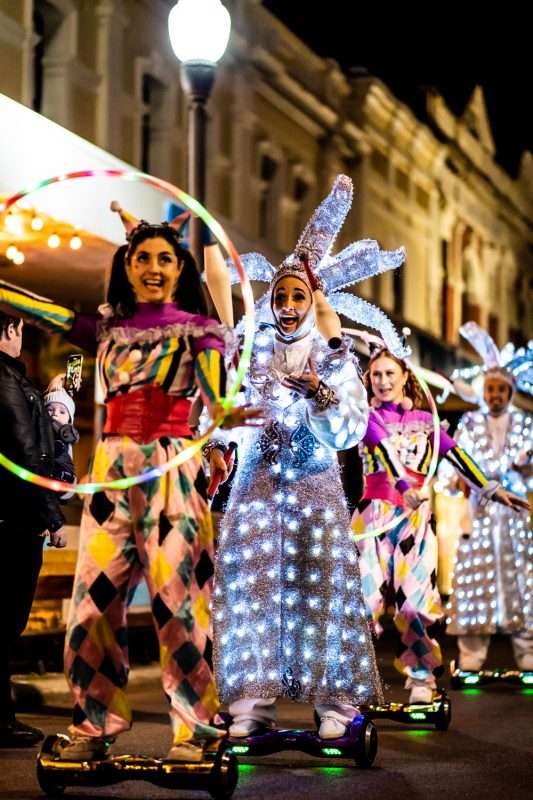 The 2023 10 Nights In Port program, incorporating the ever-popular Hidden Treasures on 2 of the nights, highlights the unique charm of Fremantle and the Freo community, with everyone welcomed into the warmth of some of the Port City's hidden corners, where ceremony, spectacle and great sounds await.
With storytelling and reflection at the heart of the festival, 10 Nights this year aims to foster a profound sense of community and cultural exchange.
Here are the highlights.
BoodjAR, 10 to 20 August
Journey to familiar corners of Walyalup to discover transformational expressions of its Noongar heart. Created in augmented reality and drawn from 'katadjin' shared by Whadjuk elders, this exciting collaboration between Aboriginal artists and AR developers will harness new technology to bring ancient culture into sharp and present focus. Download the app and discover new works by Sharyn Egan, Yabini Kickett, Jarni McGuire, Turid Calgaret, Harley Richards and Greg Barr located across Fremantle.
Walyalup Waters, 11 to 20 August
A deep dive into our coastal connections shared through a visual arts installation by a collective of artists and creatives at PS Arts Space. The ocean centres each of the works – it inspires stories drawn from the Walyalup Fremantle coastline. Curated by Yvonne Doherty and featuring WA artists Erin Coates, Ross Potter, Grace Salve, Sandy McKendrick, Anna Nazzari, Jo Darbyshire, Amok Island and Ian Daniell.
You're (Not) Wanjoo, 11 to 20 August
Fremantle has a long history of resistance, activism, protest and change-making for better futures. Protests from in and around Fremantle have shaped our collective space and identity – held by people who have had a strong vision to stand up for what they believed was right, to make a change to the status quo.
FAC Yeah! Festival Choral, 16 August
FAC Yeah! Fremantle Arts Centre's choir raises the roof in this festival chorale. This passionate group of community singers led by the one and only Natalie Gillespie brings their fun, passion and great tunes to warm the winter's night at the Walyalup Town Hall. Everyone is welcome!
Crackle: Fire & Feast, Saturday 12 August
Walyalup Koort glows on this crackling night and everyone is invited to come to the fire and be warm together. Celebrating the beginning of Djilba, our beautiful Walyalup Koort will be transformed by warm fires, a sublime fire feast and sculptural fire installations. The flames will connect us while we keep warm together and light the night. This night is a creative collaboration with the local community, fire art led by Hana Priest from Dangerous Delights, creative from Blazing Swan and passionate food lovers who will shape the flame-filled feast.
Elemental Ball, Saturday 12 August
The Elemental Ball is here to take a step back and appreciate the elements we have in this world and how it gives back to us daily. Carrying on the legacy of ballroom culture here on Walyalup that was pioneered by black and Latinx transwomen that originated from Harlem, NY in the 1960s. This event will showcase the self- expression, identity, and talent that the ballroom community hold in this country.
Eclipse, Sunday 13 August
CircusWA's Academy youth performers explore a gateway into what our future could, should, would and might just be. Through explorations of unity and diversity, balance and disharmony, trust and compromise, these young artists will ask you to consider our humanity and our fragility and invite you to ponder the question: "What can we build and create together?"
Future Treasures, Friday 18 August
Students from local high schools will showcase their bands at The Fremantle Town Hall with professional support and production from industry mentors. Future Treasures offers songwriting workshops and upskilling with music industry professionals in the lead up to the event – hosted at Fremantle College. Come along as Future Treasures shines a bright spotlight on the next generation of Fremantle superstars!
For full details, including ticketing information, look here. Many events are free but some are ticketed.
HIDDEN TREASURES | 10 AND 17 AUGUST 2023
The music returns to the West End of Fremantle, with the best of local original contemporary music on offer across some of the city's most unique venues. From electronic through to roots and pop, iconic local venues such as the Buffalo Club, the Navy Club, PSAS and High Street's brand new country hotspot Honky Tonk, will come alive for two special nights in August. Here's the full program details.
WHILE YOU'RE HERE –
PLEASE HELP US TO GROW FREMANTLE SHIPPING NEWS
FSN is a reader-supported, volunteer-assisted online magazine all about Fremantle. Thanks for helping!
** Don't forget to SUBSCRIBE to receive your free copy of The Weekly Edition of the Shipping News each Friday!