Yesterday, Good Friday, was Day 1 of the 2023 Fremantle International Street Arts Festival.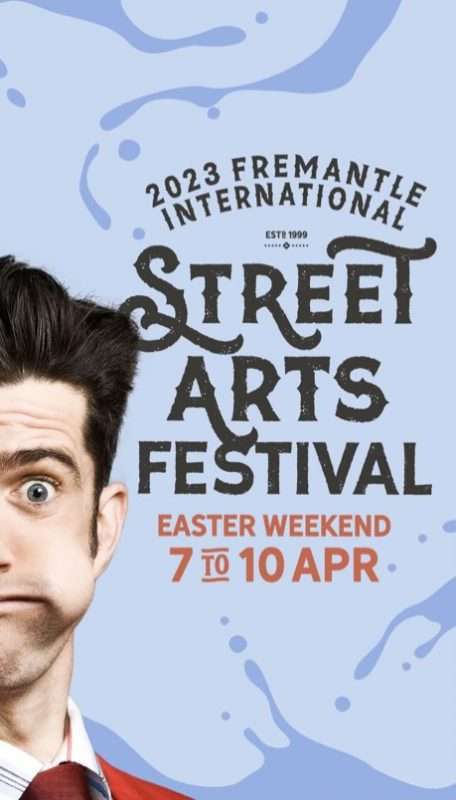 It all happened in and around the Fishing Boat Harbour.
Try as it did, even the rain couldn't stop the fun!
FISHING BOAT HARBOUR
The funniest characters today had to The Giant Seagulls, a pair of giant seagulls with fully working beaks, were out and about at The Fishing Boat Harbour. These mischievous gulls rummaged in peoples bags, poked their beaks into prams and man buns. They petted dogs and strutted about to everyone amusement – even The Mayor, Hannah Fitzhardinge. The Giant Seagulls are from a Theatre Company called 'Surreal McCoy' and since 1981 have preformed live to over 3 million people. Don't miss these cheeky birds!
FISHING BOAT HARBOUR PITCH
On the hour between 1pm – 5pm, different artists entertained. I watched London born Nick Nickolas – a magic comedy performer with over thirty years experience under his hat. This was a master class in sleight of hand.
BATHERS BEACH PITCH
Don't miss Australian, Roya the Destroya. One-legged Roya performed a beautiful contemporary dance and gymnastic routine using two crutches. Her routine at Bathers Beach was out of this world – don't miss her over the next couple of days. Roya was the recipient of the 2022 National Arts and disability award for established art. Check her out on YouTube.
LITTLE CREATURES BREWERY PITCH
Different artists preformed between 1pm and 5pm. Comedian Paul Currie had the children in stiches.
ESPLANADE PARK PITCH
Crowds under umbrellas watched The Dynamic Duo – and a woman vanish into a giant green balloon. There are different performances on the hour.
Just as I was leaving The Acrobatic Bouncers crossed the road – well bounced across the road.
I love this festival and can't wait for tomorrow.
Performances run from 12 noon until 8pm. See our article with all the details.
The Shipping News will be there to keep you up to date with photos.
* STORY AND PHOTOGRAPHS by our Jean Hudson @jeansodyssey. Jean is also a regular feature writer and photographer here on the Shipping News. You may like to follow up her informative Places I Love stories, as well as other feature stories and Freo Today photographs, right here.
WHILE YOU'RE HERE –
PLEASE HELP US TO GROW FREMANTLE SHIPPING NEWS
FSN is a reader-supported, volunteer-assisted online magazine all about Fremantle. Thanks for helping!
** Don't forget to SUBSCRIBE to receive your free copy of The Weekly Edition of the Shipping News each Friday!