I've been getting lots of sand between my toes lately!
Sculptures by the Sea is in full swing at Cottesloe Beach until the 20 March.
This is its nineteenth year, 19th – don't miss it; fabulous at any time of day. Early morning is special when there are few people about and the light is soft; and of course sunset is too, when everything is bathed in a golden glow.
This year, I had three favourites – but of course art is subjective, and as Leo Tolstoy once said: 'Art is the uniting of the subjective with objective, of nature with reason, of the unconscious with the conscious, and therefore art is the highest means of knowledge'.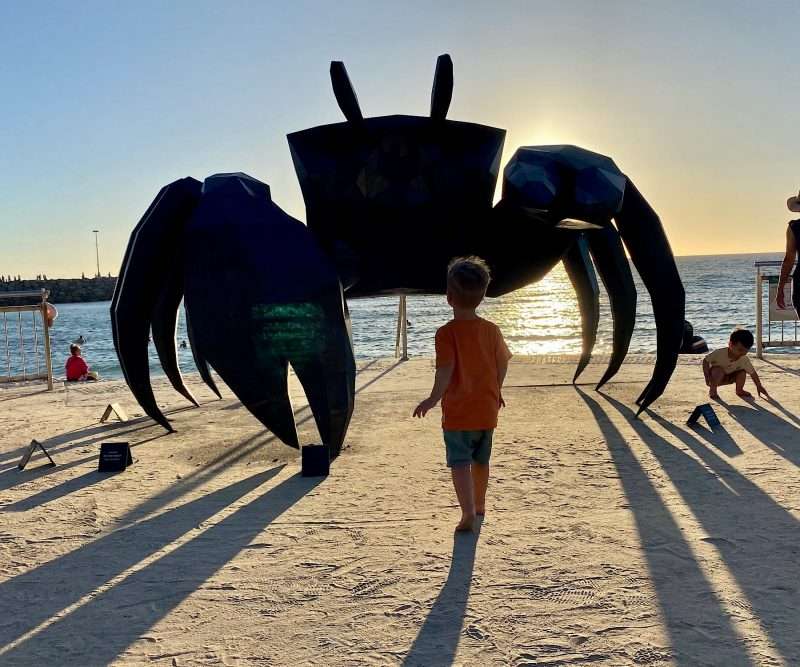 First there was Ghost Crab by Jack Welke. Here in WA between Bunbury and Broome, we have Golden Ghost Crabs. These beach dwellers often evade observation. I was lucky to see this one on a beach on Dirk Hartog Island recently.
The Sculptures by the Sea art piece in corten steel attempts to highlight its features with thousands of polygons in a rustic form.
Second, The Little Boy and a Whale – Biindirrwoorr by Boodjar Bidi Youth Art Group. This fabulous piece tells the story of The Little Boy and the Whale, Biindirrwoorr riding a whale, guiding the spirits of those who have passed towards the Kooranup (heaven) to the most western point of Wadjemup (Rottnest).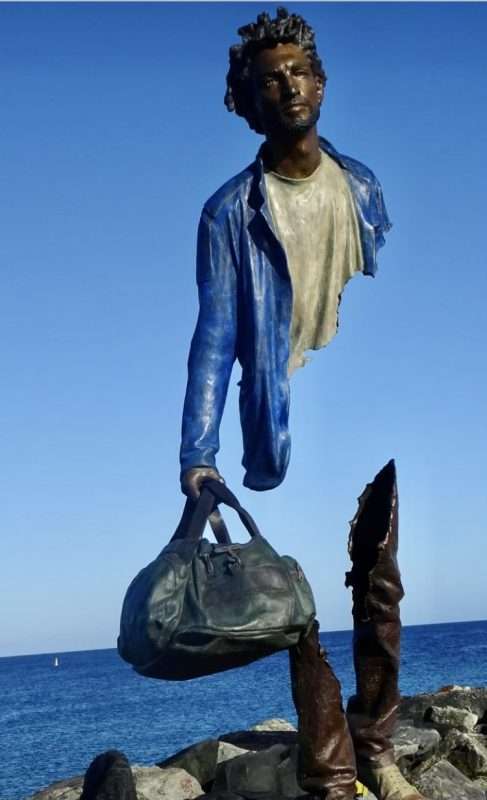 And finally, Benoit by Bruno Catalano, stands on the Cottesloe Groyne, at the cross roads, in an unbalanced posture. This amazing work indicates man's desire to live through the pressures of the modern word.
Don't miss a visit or several to this wonderful exhibition. And have a swim, inside the Cottesloe shark net, while you're there!
Coogee Live at Coogee Beach was rocking all weekend with lots of stalls and entertainment. It kicked off with a Mermaid Migration. Merpeople of all ages gathered on Coogee Beach, as we reported in our feature, Seen In … Coogee Live.
Fremantle Boat and Seafood Festival was also happening in Freo at Esplanade Park and at the Fishing Boat Harbour last Friday, Saturday and Sunday as well. Obviously lots of fun, as this gallery of pics show!
By the way, ship-spotters, the Coral Princess returns to Freo today, Thursday 16 March at 05.30hrs and departs again later in the day at 17.00hrs. Passengers will be disembarking and new passengers joining. This is her third visit to Fremantle during the 2022/23 season. She visited on 28 October 2022 and quite recently on 6 March 2023. Here's our story on her most recent visit.
AND the Seabourn Sojourn makes a transit visit Monday morning and the Queen Mary a turnaround visit Tuesday.
Have a great week on land or sea!
* STORY and photographs except for the supplied Boat and Seafood Festival pics by our Shipping and Merpeople Correspondent, Jean Hudson @jeansodyssey. Jean is also a regular feature writer and photographer here on the Shipping News. You may like to follow up her informative Places I Love stories, as well as other feature stories and Freo Today photographs, right here.
WHILE YOU'RE HERE –
PLEASE HELP US TO GROW FREMANTLE SHIPPING NEWS
FSN is a reader-supported, volunteer-assisted online magazine all about Fremantle. Thanks for helping!
** Don't forget to SUBSCRIBE to receive your free copy of The Weekly Edition of the Shipping News each Friday!