6 v 17
The Derby
Mundy Mania
Hard fought
A scrap
Home by 24.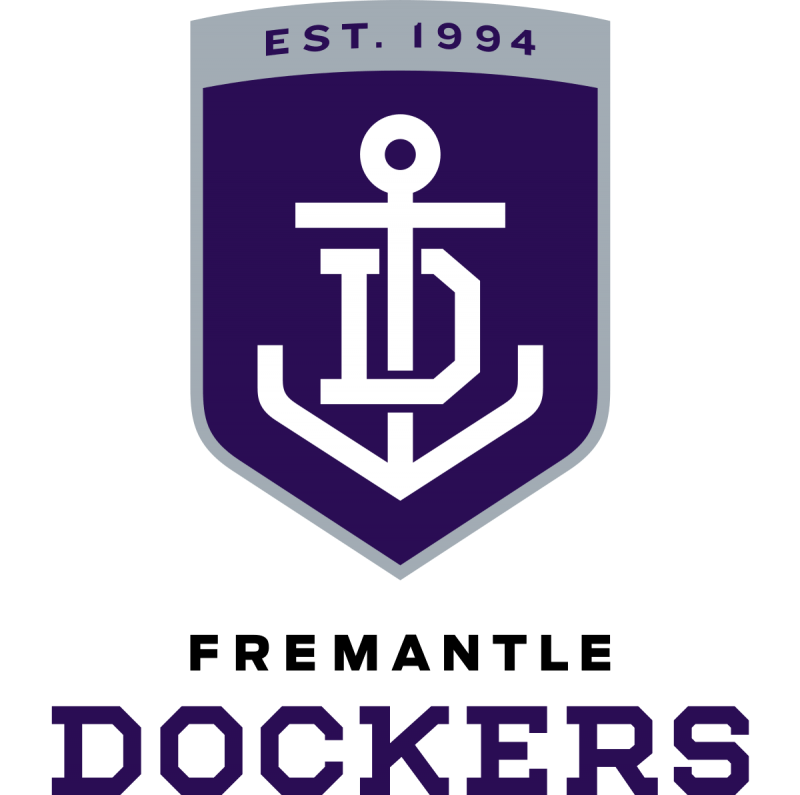 What it wasn't, was a game for the ages.
What it was, in the end, was a fitting send off for David Mundy, a club champion, forever Freo, in his final home & away game at home.
The Champ played as beautifully as always. It was wonderful to watch him muscle the Sherrin free from stoppages, hand-balling and kicking to advantage, showing dash and cool in equal measure, and, simply by his presence, encouraging his team mates to play finals-style footy. He'd have loved to snap that third quarter goal, but I won't mention that!
Derbies are derbies. Occasionally you lose badly, occasionally you win well. And they don't always reflect the teams' form. There was so much in the build up to this one that it wasn't a great surprise when, at half time, the Freo mob, while not contemplating a loss, were no longer wondering by just how much we'd win.
The Mundy Game, the rain, the looming finals, our prospective ladder position after R22, not to mention R23, knowing that a Derby is so often a different game but still expecting to run away with it by 8 goals, all combined to create an expectation that, in one way and another, created the contest and the result.
Early on I thought I back was at the infamous Mothers Day Demolition Derby at Subi. A game to forget but which I'll always remember. No haymakers last night, fortunately. And hopefully no suspensions to follow. Maybe some fines. And then there was the three x 50 metre penalty. Goodness knows exactly what that was for – one can only assume Caleb couldn't help himself but politely inquire of the umpy whether the reason the umpy wasn't bouncing the Sherrin at the centre bounces was due to a well documented lack of skill on his part that was generally reflected in his overall performance in this game.
Anyway, things sort of settled down soon enough. And Andy sort of got used to be being tagged tightly. Aishy did his usual thing and went where no one else seemed to go and got the footy, often camping under the floating ball to take a safe mark. Mr Reliable. Although he may have to share that tag with Will Brodie and Blake Acres who have both returned to their best at the right time of the season. The defence defended stoutly, the General the best of them. His saving smothers just brilliant. And I was as impressed with BW's game as I've ever been. The forwards tried marking and goaling, but had to deal with a bloke called Barrass, and just kept snapping and pointing as a result. Fortunately Sonny was back to his near best and kicking goals through the air, not along the ground. And wasn't it great to see Switter back again, swaying in and out of the play. Welcome back, Switter!
A big Freo coaching challenge last night was the Lobbstar sporting not just his new hair colour, but also what appeared to be a detachable arm. The only Freo folk who thought he shouldn't have been replaced long before he was, seem to have been the coaches. Lobbie obviously thought he should have been replaced much earlier, as he kept picking his lame arm up off the ground after each contest and waving it at the bench. One can only assume the tactic was that the longer Barrass was obliged to keep an eye on him the better for Freo's forward game plan. A version of the theory that, as the game goes on, the big guys don't get any smaller. Perhaps the tactic hereon in should be the old Bob Johnson full forward tactic, when Bob captain-coached Old Easts, as the Sharks were then called, and simply bolted himself to the goal square and instructed his players to kick it in high to him. It worked a treat for Bob!
Fortunately for Freo, Darc turned up big time last night and helped to plug so many holes. 57 hit outs. Marks around the ground. Smart passes right on the money. A goal. Could've been more, but who's complaining. And a Glendinning Allan Medal to go with it. Great game!
As I say, it was a game affected by all the various expectations. That said, it's hard to name a Dockers player who didn't put in all night. Which tells you something about the opposition, and about Derbies, and about the weather, and about this being a huge night for the Club and we, the fans, as we said 'Thanks and Well Done' to D Mundy, and also for D Mundy as he waved 'Goodbye' to us, the fans.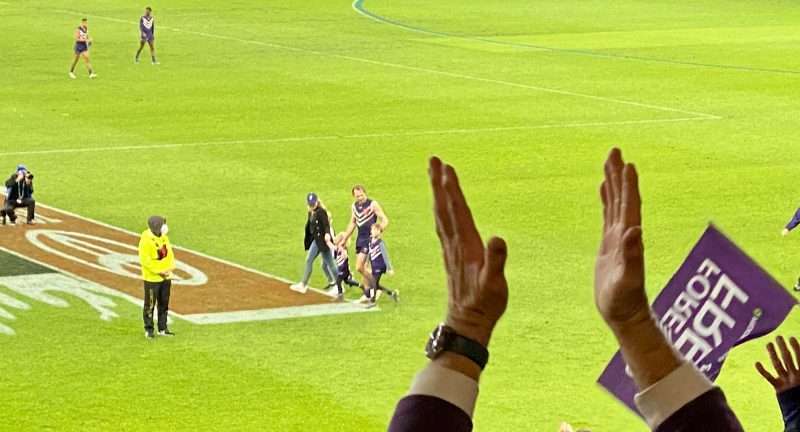 Thanks, Champ!
So, next week it's the Giants at Manuka Oval in Canberra. A second home for GWS. A place where, at this time of the year, if it isn't raining it's freezing, and if it isn't freezing it's snowing! Where the Sherrin ceases being a football and becomes something more akin to a size 24 frozen chicken. A game which, no doubt, will have final finals positions written all over it.
But what a season. Thanks Freo. Like all your fans, I can't wait for next week and then what follows. Only four to go!
See you next week,
Gero
If you missed Gero's earlier reports, here they are.
While you're here –
PLEASE HELP US TO GROW FREMANTLE SHIPPING NEWS
FSN is a reader-supported, volunteer-assisted online magazine all about Fremantle. Thanks for helping!
** Don't forget to SUBSCRIBE to receive your free copy of The Weekly Edition of the Shipping News each Friday!