Whenever I get a hankering for a hotdog, which is way too often for a middle-aged man with my cholesterol numbers, I hotfoot it to Run Amuk, the hole-in-the-wall at the beach end of South Terrace which has taken the sausage-in-a-bun formula to a Picasso-esque level of colour and complexity.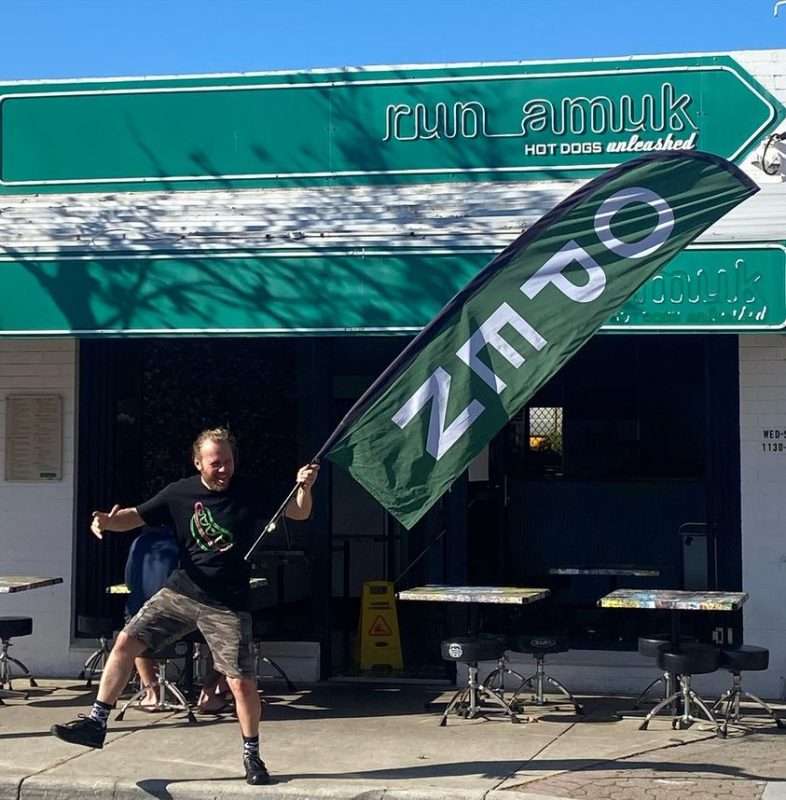 While waiting for my go-to dog — an artful arrangement of bratwurst, caramelised onions, sauerkraut, tomato sauce and Bavarian style sweet mustard that has been christened The Scoundrel — I spied a familiar face, albeit one hiding behind a trucker's cap and dark glasses and smeared with barbecue sauce.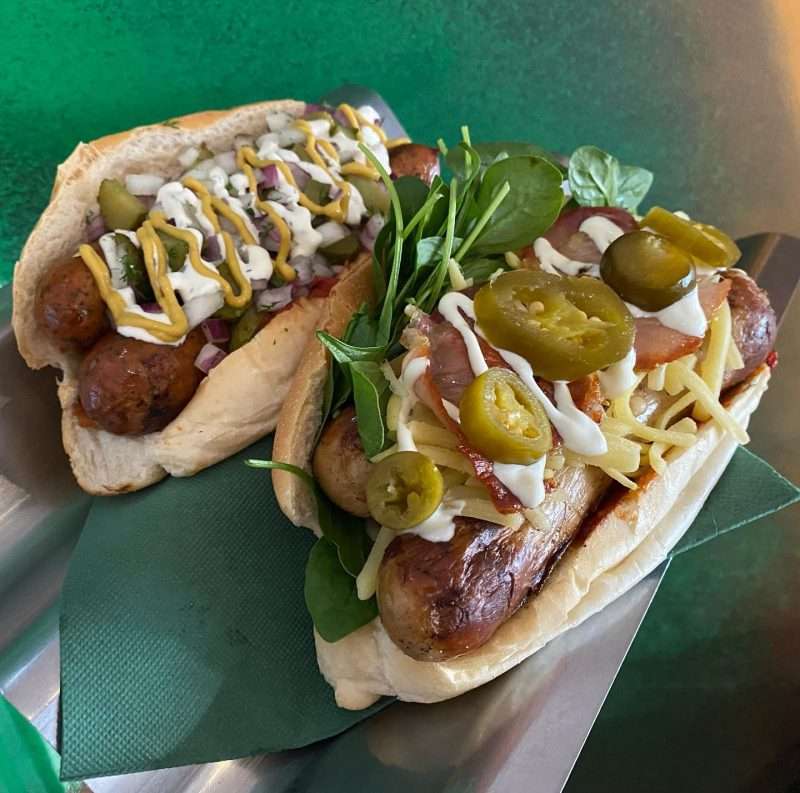 While the rest of the diners were in pairs and groups and enjoying the ambience, an interesting mix of traditional American diner and South Fremantle boho replete with a wall of Matchbox cars, the shadowy figure was eating as if she was in a witness protection program and worried that if exposed she would have to leave Fremantle ("I'll give you anything you want, but don't make me live in Yokine!").
"Fleur!" I cried, her identity revealed when she leant back to loosen her belt.
"Keep it down," she hissed, ordering me to take a seat while keeping an eye on who might walk through the door.
"What are you doing? You and Eric have lectured me for thirty years about the evils of meat. Now you're polishing off a meal that in your religion would get you excommunicated and, knowing your vegan activist husband, probably lead to a divorce."
Fleur put down her half-eaten dog, wiped the sauce off her face and slumped backwards. "You're right, Mark. I am living a lie," she confessed.
"I became a vegan when I married Eric and have been loyal to him for all that time. About five years ago I strayed. I can't tell him. It would break his heart, which would be quite something since he has the ticker of a teenager after a lifetime of healthy eating."
As I tucked into my Scoundrel and savoured its centrepiece sausage I listened to Fleur's shocking story which, she recalls, began at a meal break during a conference in Buenos Aires, capital of the meat-eating mecca that is Argentina.
"My colleagues were ordering two-inch thick steaks. I held out as long as I could," recalled Fleur. "But everyone was making orgasmic noises, so I had to have what they were having. I didn't tell Eric what went down on the trip — 'What happens in Buenos Aires stays in Buenos Aires,' advised a colleague — and have been dissembling ever since."
Fleur said that Eric almost caught her out during a holiday in Barcelona. "My god, Mark!" cried Fleur. "Jamon hangs in every second shop window and bar. It's a nightmare for us closet carnivores."
"While Eric showed the children around the Sagrada Familia I made the excuse that I had to return to the apartment to answer an important email. Instead, I slipped into one of the markets to try a botifarra, a pork sausage I'd been told would change my life. It almost did. I seriously considered leaving Eric and the kids and running off with the butcher.
"A couple of days later Eric showed me a social media post of me shoving the botifarra into my mouth and smiling. Those damned foodie bloggers! I told Eric that something got lost in translation and I had to eat 'the monstrosity' to keep the bar owner happy. I managed to get away with it, but I don't think Eric believes me, hence the disguise."
"How's your dog?' asked Fleur. "I like The Scoundrel, but it's The Punk that floats my boat. The aged cheddar cheese sets off the bratwurst beautifully. But I like everything at Run Amuk. And the best thing is that all the staff are sworn to secrecy about my little problem."
I told Fleur she cannot keep going on like this, that Eric is bound to find out. "What about the vegetarian option?" I enquired.
"It's okay, but doesn't hit the spot like the authentic brats," she said.
"I think you need to go cold turkey," I advised.
"I love cold turkey!" she said. "Especially with a fruit sauce on fresh sourdough bread."
I sighed. My dear friend is beyond salvation.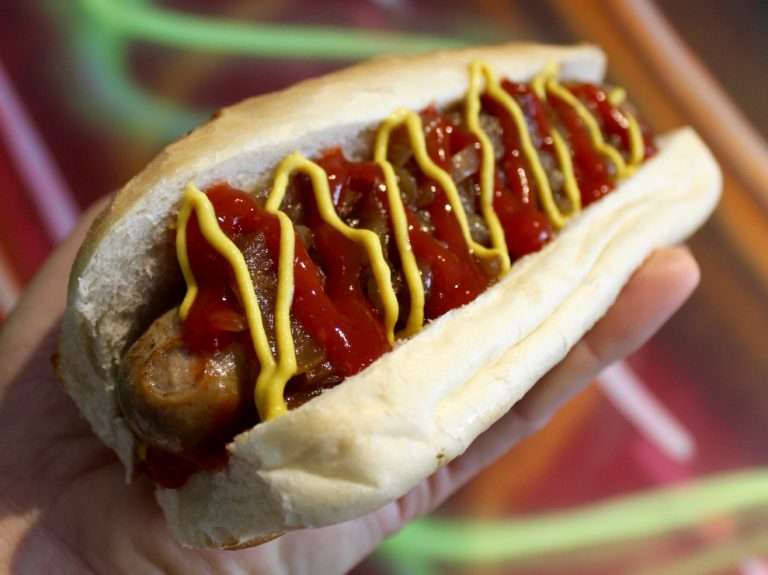 "Hello, Mark. Hello, Fleur. We turned to see Eric and their two children looking at us as if we were actually working in an abattoir and not merely eating its products.
"We saw Mark and popped in to say hello. Then we saw you, Fleur."
"Eric, it doesn't mean anything. I still love you. I will end it."
"It is fine, Fleur. I've known about it for some time. Since Barcelona. You can't fight your true nature. Finish your dog and we'll talk about it when you get home. I'm sure we can find an arrangement that will keep everyone happy," he said with a warm and understanding smile that defied my image of Eric as a food fanatic.
Eric and the kids left leaving Fleur and me looking at each other in stunned silence.
"Would you like to split a Chili Dawg?" I asked. I was anxious to taste Run Amuk's popular July special, which heaps onto the bratwurst house-made chili con carne, guacamole, tortilla chips and sour cream.
"Nah. All of a sudden I have a craving for salad," said Fleur before leaping to her feet, rushing out the door and calling after Eric and her children.
Run Amuk
386A South Terrace, South Fremantle
Wednesday to Sunday 11.30am to 8.30pm
* By Mark Naglazas
Read more Mark Naglazas's stories and reviews, right here!
While you're here –
PLEASE HELP US TO GROW FREMANTLE SHIPPING NEWS
FSN is a volunteer-run organisation and we rely on the support of Freo people to keep making local news free. Thanks for helping!
** Don't forget to SUBSCRIBE to receive your free copy of The Weekly Edition of the Shipping News each Friday