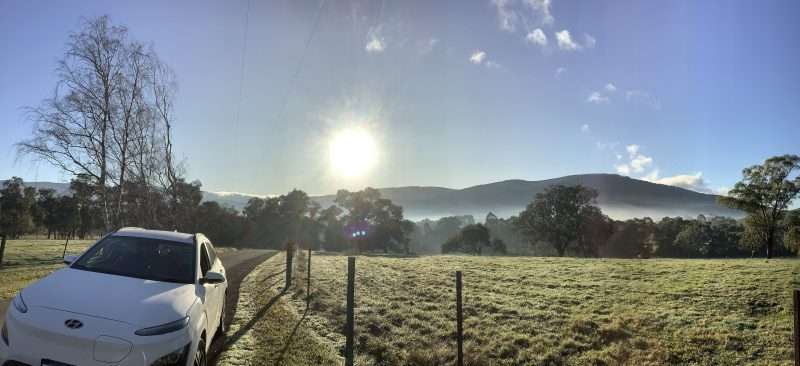 EV drivers get spoilt on the Nullarbor. Pretty much every roadhouse owner (not that there are many) with a plug point will let you charge overnight. Grey nomads (not that many of them here either) tumbling out of their enormous 4WDs will be solicitous: 'Are you crazy or are you writing a book?'(No!) 'Where do you charge?' ('pretty much the same places as you – only slower…')
The attention goes to your head: your 'virtue signalling' is rampant, opportunities for proselytising irresistible. 'Price? This car? About half-way between a petrol SUV and your 4WD…and we are charging for free or next to nothing', you say, knowing that they have just parted with about $200 to fill their car.
There are opportunities, too, to promote the value of installing EV chargers to the receptive business owners, while sampling Buffalo salami and Camel milk ice-cream at Harry's Home Made Fine Foods in Baroota, S.A.
In Port Augusta, we came across our first competing EV. The charger is booked for us only until 7 pm, we are told at the motel. Fine, we said, but can we please book it again for 7 am for a final top-up before we leave?
7 pm changeover works fine. Not so much the early morning swap. The Tesla has completed charging but is still plugged in and, understandably, the reception staff are not willing to call a customer at the crack of dawn. Unhappy, we adjust our route a little to drive via Tanunda, Barossa Valley, which looks perfect for a lunch and a fast-charge.
Tanunda is, indeed, quite lovely, but its one charger is serving another client, a beautiful electric Volvo. Soon another Tesla is lining up beside us. Thankfully, the Volvo owner turns up in half hour or so. He has the patience of a saint, I realise after I have read him my 'Complete Discourse on the Necessary Etiquette of EV Charging.'
On the main arteries between Adelaide and Sydney, fast charging stations are plentiful. More are coming on line every month, many are conveniently located in petrol stations and shopping centres. But given the variable charging times of EVs even on the ultra-fast chargers, there are bound to be instances where demand exceeds supply.
Conventions for sharing assets take time to develop. In the meanwhile it might make sense to work out some good practice, for example –
* Limit charging periods, especially when there are others in the queue.
* Register on Plug Share if you are charging or waiting.
* Set up your car so it can be disconnected when it's finished charging by waiting drivers (so you won't have to rush your drink at the pub).
* Just commonsense, the sort of stuff we mostly do but can easily forget in a rush.
We skirted north of Adelaide, and 2 days after leaving Port Augusta crawled into Melbourne in bumper to bumper traffic. Our first big city in 10 days dazzled us with the best chai and dosa since my teenage years in Kolkata. Then a couple of days meandering in the narrow hilly lanes of the Yarra Valley, slow enough to notice mystifying unmarked sculptures and not run-over a wombat in the dark.
On our first day out of Melbourne on the M31 towards Sydney, I finally came to grips with the question of speed:range ratio of an EV. Where charging stations abound, and provide insurance against range anxiety, why not join the average Motorway user at 110 kmph?
The only problem is that everyone else is driving just a little faster, overtaking and slowing you down just that little bit.
When the 13th car overtakes you – incidentally it's a ute – you give into a less virtuous self who sits just beneath your environmentally-friendly-echo-plus type driving persona. Johnny in the ute sees just a silver flash, then 12 other small and large vehicles vanish into a blur in your rear vision mirror. By the time you notice you have been, ahem, going a little over the speed limit, the car range has dropped dramatically and you are not going to make Gundagai without another charge!
We have to stop for a charge at Tarcutta. Co-pilot sets the car to charge up to 85%. It will take nearly 2 hours. By the time we make Gundagai, the sun will have set and I won't be able to take a photo of the great Aussie icon, the 'Dog on the tucker box'. But co-pilot and I are no longer on speaking terms, so negotiation is impossible. Never mind. Missing a photo op is a small price to pay for guilty pleasures. And there's just enough light to catch the Giant Koala.
For the record: 4700 kms Fremantle to Sydney in Kona EV 2022 – done. Easy, safe, with just a light sprinkle of excitement.
* By Hurry Krishna
If you'd like to read #1, #2 and #3 of From Here To Eternity or Hurry Krishna's other adventures available on the Shipping News look here, or visit her blog Reading the Road
While you're here –
PLEASE HELP US TO GROW FREMANTLE SHIPPING NEWS
FSN is a volunteer-run organisation and we rely on the support of Freo people to keep making local news free. Thanks for helping!
* Don't forget to SUBSCRIBE to receive your free copy of The Weekly Edition of the Shipping News each Friday!