So there I was splashing along in an outside lane at Fremantle Pool when a sleek figure powered past and left me flapping about in the backwash. The pool was full — no wonder; it's a gorgeous, beautifully maintained facility — so I found myself sharing the lane with a dolphin.
I turned it on, trying my best to recall the How to Swim Like Ian Thorpe YouTube video I'd watched the night before, but to no avail. The effort left me heaving at the shallow end.
My humiliation did not end there. My nemesis torpedoed toward me, pulled up centimetres from where I was gasping for breath and clocked my distress. Aquaman turned out to be a woman who appeared to be in her eighties.
"Are you all right? Do have emphysema?" she asked. "My late husband Eddie smoked two packs a day and that's what he sounded like. Hello. I'm Dorothy."
In between exaggerated inhales I introduced myself and complimented Dorothy on her wonderful technique. I also asked her for tips to improve my swimming style. "I don't think so," she said while eyeing the pool clock. "At my age you have to be careful with your time."
I was heading off to review Gesha Coffee Co, which is just around the corner from the Fremantle Pool, so I invited Dorothy to breakfast. I needed help – bad! — so I dangled one of Fremantle's most popular breakfast haunts. "So long as you pay," snapped Dorothy. "I'm on a pension, you know."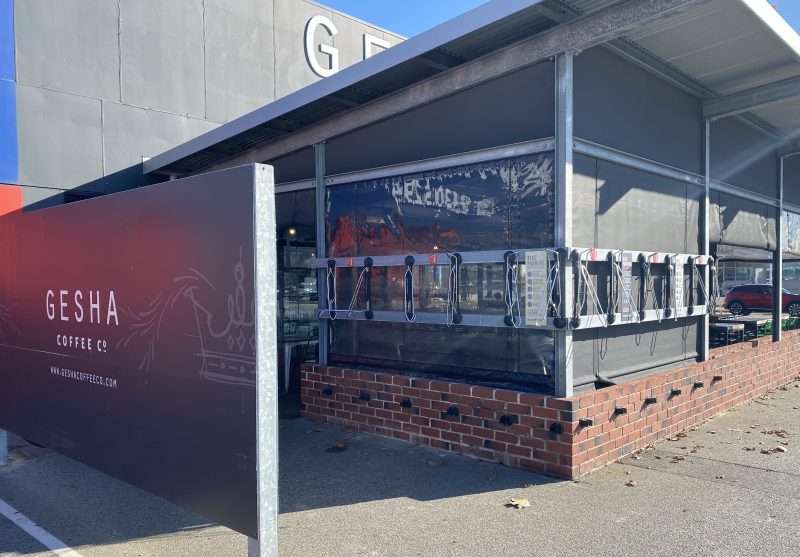 Gesha Coffee Co – or just Gesha to the regulars – is a favoured destination for cyclists (they even have racks so riders can hang up their expensive toys) so we waded through a sea of Lycra to get to a table. "No wonder they ride in packs," observed Dorothy. "If they went around on their own wearing outfits like that they'd cop a beating."
I was tempted to order Gesha's version of the big breakfast ($25 for basically everything in the kitchen looked like great value). But after my sinking performance in the pool I was worried about Dorothy's sharp tongue. So I went with poached eggs, as did Dorothy, plus two mugs of Gesha's justly famed coffee (brewed from their own line of beans).
While waiting for our eggs Dorothy told me that she was educated at a convent run by Irish nuns and learned to swim at Crawley Baths in Matilda Bay. "When you have Sister Bernadette standing on the end of the jetty waving around a metal ruler like a light saber and threatening eternal damnation you quickly get your style sorted," remembered Dorothy.
As she was reminiscing Dorothy was distracted by the fact that none of the staff had bothered to wipe down our table. And the coffees arrived with big splashes on the saucers. "Perhaps they need Sister Bernadette and her ruler," said Dorothy with a mischievous grin.
She had no complaints about her breakfast and neither did I. I'd ordered the poached egg on a sweet potato pancake with spinach and heirloom tomatoes smothered with hollandaise sauce ($18) while Dorothy had the eggs benedict, substituting the honey ham with smoked salmon($21). "My cholesterol has crept up from 1.5 to 2 so I am being careful," said Dorothy. "How's yours?"
I avoided answering her rather too personal question by taking another bite of my eggs and another and another ("Her cholesterol level is 2!" I exclaimed to myself), which was fine because my eggs were done perfectly and the sweet potato pancake was full of flavour and a terrific no-bread option. Dorothy was equally happy with her eggs benedict, so much so that the stories stopped while she raced through her meal and ordered a second flat white.
Dorothy told me how she competed against Dawn Fraser when they were both teenagers ("She knicked my goggles so the flag thing was no surprise to me") and stood up to leave. "Enough gossiping. I have to get to my art class. We have a nude model today!"
On the way back to the pool car park Dorothy thanked me for breakfast and offered to help sort out my technique. She climbed into ancient but beautifully preserved Beamer, wound down the window and said, "See you on Sunday. I'll bring the ruler." Then she was gone.
Gesha Coffee Co is at 59A Queen Victoria Street, Fremantle.
* Monday to Friday 6.30am to 3pm
* Saturday and Sunday 6.30am to 2.30pm
* Gesha is licensed so you can enjoy a little something extra with your lunch.
Book on 9335 6059 or contact them here
* By Mark Naglazas
While you're here –
PLEASE HELP US TO GROW FREMANTLE SHIPPING NEWS
FSN is a reader-supported, volunteer-assisted online magazine all about Fremantle. Thanks for helping!
** Don't forget to SUBSCRIBE to receive your free copy of The Weekly Edition of the Shipping News each Friday!