Misery Beach near Albany was recently crowned Australia's best beach by Tourism Australia – but for a place called Misery, it's a slice of paradise.
Over the past two years, my travel bucket list changed from exotic overseas destinations to places in WA that I could visit. Misery Beach was recently added to my list. This little-known beach beat beauty spots in Queensland and Tasmania to take the top spot for 2022.
Misery Beach is a 20-minute drive out of Albany/Kinjarling, along Frenchman's Bay Road. (It's about a 5-hour drive from Fremantle). The beach lies within the 3936-hectare Torndirrup National Park, near the famous Gap and Blowholes.
You take a little gravel road towards Isthmus Hill, then another short track to Misery Beach car park. A gravel path leads down to the stunning beach.
Misery beach faces north into the picturesque Frenchman's Bay and is only about 200 metres long. It is a secluded beach in a protected cove and framed by dramatic granite outcrops. At the eastern end, a mammoth wall with seams of different colours, rises steeply from the ocean and connects to the hill above the beach.
This could only happen in Australia – I have this famous beach all to myself. The sand is white and squeaky between my toes. The clear water is alive with every colour of blue: cyan, sapphire, aquamarine and turquoise. The damp sand holds my lone footprints and the sinking sun casts me in long shadows. I'm filled with the calm and the beauty of this place – I feel a million miles away from pandemics and war, tucked away in this special place. I can't image the water and beach stained with death.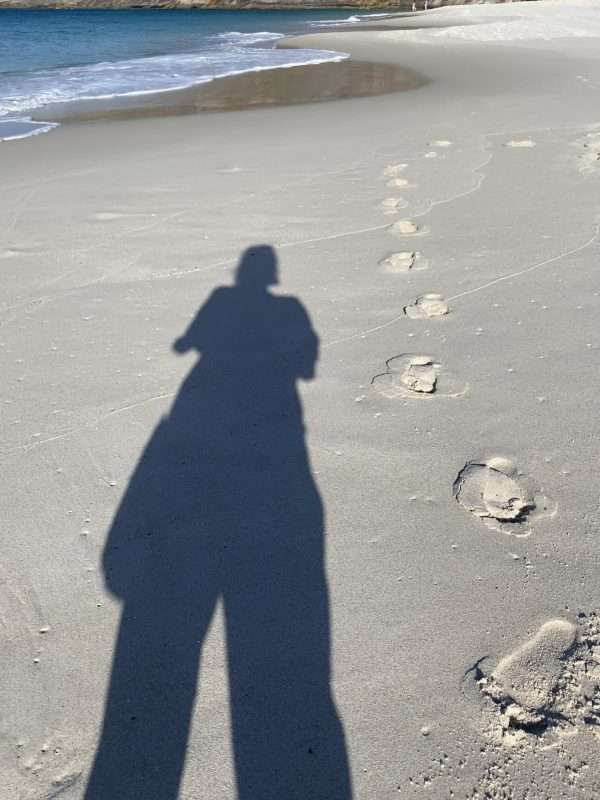 The beach was named because of its gory connection with the whaling industry: in the early 1900s this brutal activity began next to Misery Beach. Blood and offal from slaughtered whales would wash onto the shore, staining the water and sand red. The gore created a dreadful stench and also attracted sharks.
The whaling station ceased operation in 1978, and since then Misery Beach has become a favourite beach for locals and visitors. In the autumn months, you'll spot migrating southern right or humpback whales in the calm water.
As well as its sinister whaling past, Misery Beach was also a hideaway for escaped convicts and pirates. Australia's first pirate, American John Anderson, arrived in 1826 on a whaling vessel that docked in King George Sound, close to Misery Beach.
He descended into piracy after being accused of murdering a man in a brawl. He fled the settlement of Albany and led a pirate gang of escaped convicts. They raided vessels along the south coast of WA, which was a key shipping route for the British.
The beach was a prime camping location for the Aboriginal Menang people where they speared fish and caught kangaroos.
Australia has somewhere in the range of 12,000 beaches – more beaches than any other country in the world. So it's a big deal that the country's top beach is here in this untamed nook of WA.
PLEASE HELP US TO GROW FREMANTLE SHIPPING NEWS
FSN is a reader-supported, volunteer-assisted online magazine all about Fremantle. Thanks for helping!
And don't forget to SUBSCRIBE to receive your free copy of The Weekly Edition of the Shipping News each Friday!
* Words and pictures by Jean Hudson @jeansodyssey