Lucky Oceans, Fremantle's music maestro, will find himself in the relatively unfamiliar terrain of Melville this Saturday night, 26 February when Songs for Freedom returns to Melville for a glorious evening at Dyoondalup Point Walter Reserve in Bicton, celebrating the living culture, stories and songs of where the desert meets the sea in the West Pilbara.
Songs for Freedom – of which event Lucky is a driving force along with David Hyams – is a partnership between the Roebourne Community, the City of Melville and Big hART, in association with Perth Festival.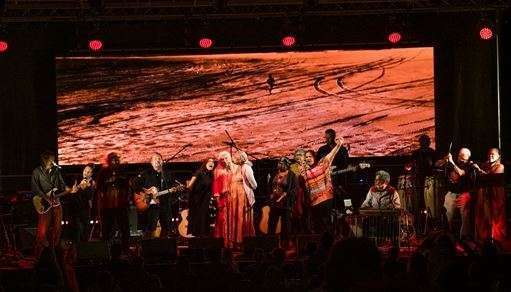 Songs for Freedom promises a sublime evening celebrating country and peace, with some fresh new artists taking the stage. All the songs which feature on the night are written by the Ieramugadu (Roebourne) community on Ngarluma country and are part of an incredible legacy of creative development which has seen close to 100 songs written by community since 2011.
Music direction will once again be led by broadcaster and Grammy award-winning artist Lucky Oceans, with performances by prominent Ieramugadu musicians such as Tyson Mowarin, alongside an ensemble of renowned Western Australian musical collaborators, including Kankawa Nagarra, Naomi Pigram, Stephen Pigram, John Bennett and David Hyams performing alongside Elders from the Ieramugadu community.
Songs for Freedom is the culmination of 10 years of song writing development and intercultural exchange on Ngarluma country in the West Pilbara involving leading Australian musicians – in the community, the prison, with Elders and young people. Workshops began in the prison to honour John Pat – a 16-year-old whose death in custody in 1983 brought much sorrow and trauma to Roebourne.
Through song writing, Ieramugadu began to sing again, giving rise to the Murru album and a series of concerts presented annually at the John Pat Peace Place in Ieramugadu on the International Day of Peace. The community have shared the stage with many well-loved musicians.
In the lead up to the 7.00pm concert, a series of pre-concert activities featuring Noongar artists and storytellers will be on offer from 5:00pm for children and families to enjoy. The trees will be lit with woven mobiles created with artist Sharyn Egan; children and families can add their handprint to an interactive sand artwork from artist Kerry Stack; and Sisters Marie Taylor and Robyn Collard will share stories connected with Dyoondalup.
Pack a picnic and gather your friends, family and loved ones for an unforgettable night of music, peace and freedom.
Songs for Freedom is family friendly event and food will be available onsite.
It'll be a great night!
PLEASE HELP US TO GROW FREMANTLE SHIPPING NEWS
FSN is a reader-supported, volunteer-assisted online magazine all about Fremantle. Thanks for helping!
* Don't forget to SUBSCRIBE to receive your free copy of The Weekly Edition of the Shipping News each Friday!