On 11 November 1918, the guns on the Western Front fell silent, signalling the end of World War One.
At the eleventh day of the eleventh month at 11 am, our nation stops for one minute's silence to commemorate the signing of the armistice between the Allies and Germany that brought that war to an end.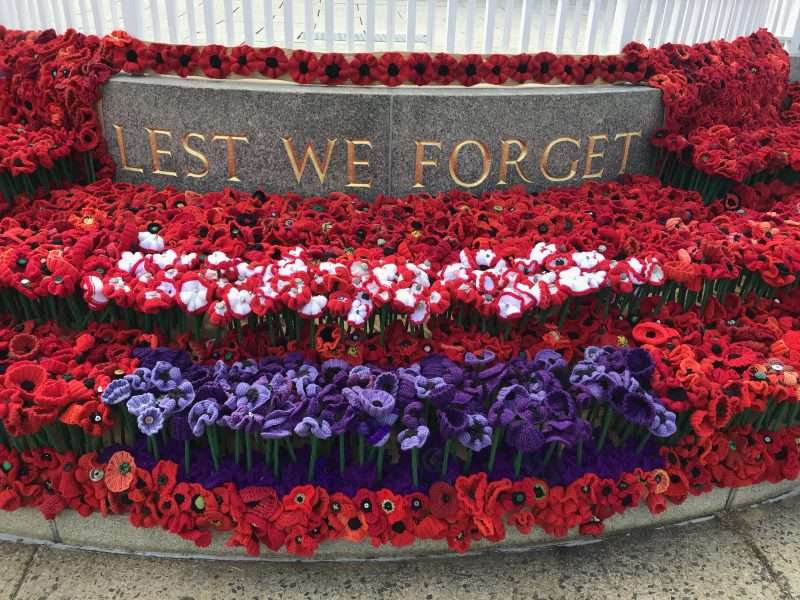 Remembrance Day 11 November is the day to remember and honour all service men and women who fought in WW1 and the following wars, and the ongoing plight of veterans.
Poppies were the first plants to bloom in the battlefields of Northern France and Belgium. Poppy flowers grew rapidly and in large numbers across the graves of thousands of soldiers, leading to the poppy becoming a symbol of sacrifice and loss.
Many soldiers believed the vivid red colouring of the poppy came from the blood of their comrades soaking into the earth.
Since 1920, the red poppy has been used as a symbol of commemoration, remembrance and hope.
Poppy Street Signs
You may have noticed poppies blooming on street name signs around Hamilton Hill and Cockburn. Each of these poppies marks the name of a Cockburn local who served in the armed forces in a war or peacekeeping activity.
Behind each name is a story of a local family, many of whose lives were forever changed by events on the other side of the world. There are interpretive signs providing three separate stories of life in Cockburn during wartime.
These signs can be found at Coburn Central at Cockburn ARC, Hamilton Hill Memorial Hall and Botany Reserve, Hammond Park. To learn the stories behind the names, visit this great Cockburn History website.
Street Art
Around Fremantle poppies have influenced street art and sculptures.
In North Fremantle, bus stop street art has been inspired by WW1.
Beaconsfield Primary School used a $16,000 grant to create a remembrance mural, complete with poppies and service medals to represent and honour those who fought in WW1.
Of the thousands that enlisted from Fremantle, 29 were Beaconsfield Primary School graduates.
Kings Park
There are two major poppy installations in the Perth metropolitan area—one in King's Park and the other at London Court. The Returned & Services League (RSL) WA 'Poppy Project' made these installations possible.
Last Tuesday, RSL WA Poppy Ladies and volunteers planted over 20,000 beautifully knitted poppies at Kings Park. The war memorial is now a sea of red.
There are also purple poppies, and red and white poppies. Purple poppies honour animals great and small that lost their lives in service. Animals continue to play a significant role in supporting and helping returning soldiers.
White poppies emphasise the commitment to achieving peace.
London Court is also filled with red poppies. 21,000 poppies fill shop fronts and hanging baskets, adorn awnings and are strung across the Court.
In Flanders' Fields
It is customary for the poem 'In Flanders' Fields' by Colonel John McCrae to be read on Remembrance Day.
In Flanders' fields the poppies blow
Between the crosses, row on row,
That mark our place; and in the sky
The larks, still bravely singing, fly
Scarce heard amid the guns below.
We are the Dead. Short days ago
We lived, felt dawn, saw sunset glow,
Loved and were loved, and now we lie
In Flanders' fields.
Take up our quarrel with the foe;
To you from failing hands, we throw
The torch; be yours to hold it high
If ye break faith with us who die
We shall not sleep, though poppies grow
In Flanders' fields.