This week just gone, a report entitled ENDING HOMELESSNESS IN AUSTRALIA: An evidence and policy deep dive, written by Paul Flatau, Leanne Lester, Ami Seivwright, Renee Teal, Jessica Dobrovic, Shannen Vallesi, Chris Hartley and Zoe Callis from CSI – the Centre for Social Impact at UWA and UNSW – was released nationally.
This report was supported by CSI, Neami National and the Australian Alliance to End Homelessness .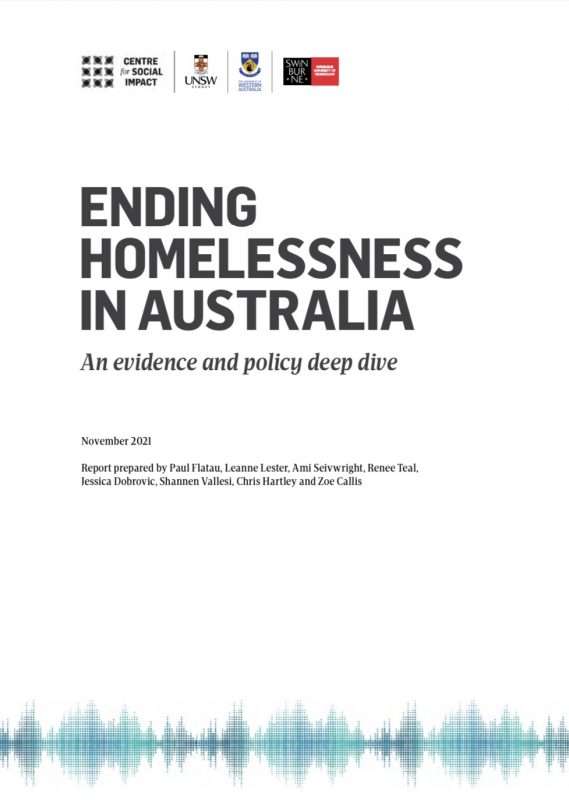 It is a weighty work of some 230 pages, including references and appendices, 53 Tables, 58 Figures, and 12 boxes.
As you will gather, it is a trove of data and analysis on homelessness in Australia, as it's intended to be.
And it makes clear that we can 'end homelessness', not just be resigned to living with it and tinkering at the edges of alleviating the difficulties homeless people experience daily.
If you are interested to learn more about why we have homelessness, whether it's always been with us, and whether it can be reduced to zero then you should look closely at the full report. No doubt policy makers in governments at all levels around Australia will be doing so.
For present purposes, however, there is much to be learned from the excellent Foreword to the report by key author Professor Paul Flatau from CSI at the University of Western Australia, and from the Executive Summary.
What you learn is that homelessness is a complex problem and, if we are to end it, we need to understand and engage all the levers available to us (whether they're currently being used or not).
Professor Flatau says five key actions are required to end homelessness in Australia:
1. Leadership and proactivity at the Australian Government level and a national end homelessness strategy applying across the states and territories.
2. An increase in the supply of social and affordable housing directed to an end homelessness goal.
3. Comprehensive application of Housing First programs linked to supportive housing for those entering permanent housing with long histories of homelessness and high health and other needs.
4. Targeted prevention and early intervention programs to turn off the tap of entry into homelessness which address the underlying drivers of homelessness.
5. Supportive systems and programs which build the enablers of an end homelessness program: advocacy, commitment and resource flow to ending homelessness; effective service integration; culturally safe and appropriate service delivery including expansion of Aboriginal and Torres Strait Islander-led and controlled services to help address high rates of homelessness in their communities; and improving data quality, evaluation and research around ending homelessness in Australia.
The report also reminds us of the history of attempts around Australia to grapple with homelessness.
For example, current effective frameworks for ending homelessness in Australia, such as Housing First programs, a "no wrong door" approach, and working towards preventing homelessness, have their origins both overseas and in Australia, particularly the impetus created by the Rudd Government's The Road Home.
The Housing First model, developed in the 1990s in the United States to address homelessness, began to emerge in Australia in the 2000s. The Housing First model involves a focus on people experiencing chronic homelessness and rough sleepers, first securing permanent and stable accommodation, and then the wraparound support that they need to sustain their housing. Housing First programs demonstrated that providing housing at the beginning of a support period improved wellbeing and tenancy longevity and reduced returns to homelessness.
Registry/connections weeks began in 2004 in the United States, and in Australia in 2010, with the aim to understand the vulnerabilities and system inflow points for particularly vulnerable forms of homelessness, chronic homelessness, and rough sleeping. During registry weeks, services collecting actionable information through using standardised instruments elicited information on the circumstances, vulnerability, risk and service needs of those experiencing homelessness. The process of gathering information was designed to understand who was experiencing homelessness in a given community and assist agencies seeking to end homelessness in that community to prioritise entry into the constrained supply of permanent housing. Over time, this effort was extended with the addition of the By-Name List approach, in which those experiencing homelessness are individually supported in their journey, and the introduction of the Advance to Zero campaigns.
The Advance to Zero campaigns appear to have been particularly successful in the US and Canada in reducing homelessness to zero in certain situations and is now being emulated throughout Australia and given much emphasis in this report.
We also learn the data shows:
*The number of people experiencing homelessness is consistently growing nationally with an estimated national homelessness rate of 50 persons for every 10,000 people.
*Aboriginal and Torres Strait Islander peoples made up 3% of the Australian population in 2016, and yet accounted for 20% of all persons who were homeless on Census night in 2016.
*Most of the growth in homelessness reflects an increase in the number of people living in severely overcrowded dwellings, who represent 44% of the estimated total homelessness population.
*The number of people identified as sleeping rough has increased by 20% since 2011.
*There are over 1,580 SHS – specialist homeless services – currently providing support and accommodation services to people who are homeless or 'at risk' of homelessness in Australia with an estimated rate of 115 Australian persons for every 10,000 people accessing services in 2019/20, with the service user population predominantly female.
*SHS client rate of Aboriginal and Torres Strait Islander people (798.3 per 10,000 population), people with experience of domestic/ family violence (47.0 per 10,000 population), people with mental health issues (34.8 per 10,000 population), older people (55 and over; 9.6 per 10,000 population) has increased from 2015/16 to 2019/20.
*The majority of those who were experiencing homelessness at the beginning of the support period remained homeless at the end of the support period (63%), whereas 10% of clients at risk of homelessness end up being homeless.
Thus, the report emphasises the causes of homelessness are complex, encompassing a broad range of individual and structural determinants, including housing availability and affordability, economic and employment opportunities (or lack thereof), physical and mental health outcomes, domestic and family violence, and social and community connections.
Trends show increasing housing stress levels across Australia with the proportion of people experiencing household stress estimated between 6.6% to 13.0%, and 47% of low-income households remaining in housing stress from one year to the next. The availability of public and Aboriginal and Torres Strait Islander community housing has decreased, with 48% of people waiting more than two years to secure public housing.
Key results of recent Advance to Zero surveys in Australia are –
*Between 2010-2020, there were 20,953 responses from those experiencing homelessness collected across six states in Australia (data was not collected in the Australian Capital Territory or Northern Territory).
*Over one-third (35%) who completed the survey were sleeping rough, 36% were in temporary accommodation (eg, couch surfing, staying with friends/family), 8% in short-term accommodation (eg, boarding house, hostel, caravan) and 6% in crisis and emergency accommodation. Of those sleeping rough, 57% were sleeping on the streets, 17% in a park, and 13% in a car.
*On average, the length of time people stated they experienced homelessness was 3.8 years. On a separate measure, Advance to Zero respondents reported being without permanent or stable housing for an average of 2.6 years. Families on average reported experiencing homelessness for an average of 1.9 years.
*Over one-quarter (26%) of respondents reported they had been discriminated against by homelessness services or housing because of their age, race, appearance, disabilities, gender identity or sexual orientation.
*Dental problems were the most prevalent health condition from lists of identified long-term chronic medical conditions and other physical health conditions (53.9%), followed by asthma (33%), liver disease (28%), dehydration (23.5%), hepatitis (21%), heart disease (18%) and diabetes (10%), with prevalence rates all higher than the general population.
*Almost one-third (31%) of respondents have been taken to a hospital against their will for mental health reasons; 48% have spoken with a psychiatrist, psychologist, or mental health professional in the last six months; and 39% have gone to an emergency department due to feeling emotionally unwell or because of their nerves.
*Twenty-one per cent report a serious brain injury or head trauma. Common self-reported diagnosed mental health conditions include depression (70%), anxiety (67%), and PTSD (42%).
*Among those who were rough sleeping (with lifetime homelessness of a year or more), 70.2% reported lifetime prevalence of at least one diagnosed chronic long-term medical condition (eg, asthma, liver disease, hepatitis C), 71.1% reported at least one other identified health condition (eg, dental problems, dehydration, skin infections, epilepsy, cellulitis), 79.5% at least one diagnosed mental health condition, and 71.5% reported problematic drug or alcohol use. Two in three (67.6%) had a diagnosed mental health condition and chronic medical or other health condition comorbidity. The Australian Advance to Zero data provides a strong evidence base for expanding the size of a homelessness-focused supportive housing sector in Australia.
*The majority of respondents (53.4%) reported that they had used accident and emergency services in the six months prior to the survey; 39.1% reported use of ambulance services; and 40.3% reported being admitted as an inpatient in hospital. Healthcare usage was significantly higher than the general population across all three services.
*The majority of respondents (53%)accessed health care services five or less times in the six months prior to being surveyed, with a small number of people utilising a large proportion of services. Of those accessing services, the average number of times accident and emergency services were used in the prior six months was 3.6 times, an ambulance 2.9 times, and an inpatient in a hospital 2.6 times in the prior six months, much higher than the general population.
*Overall, two-thirds of national Advance to Zero respondents reported that they had been in prison at some time in their lives (compared to the Australian national rate of 202.4 prisoners per 100,000 adults); the proportion of rough sleepers that had been in youth detention in their lives was almost four times that of non-rough sleepers (20% versus 6%). Forty-two per cent of respondents report being a victim of attack since becoming homeless.
*The majority of Advance to Zero respondents identified housing as their primary need to be safe and well. But they also identified other needs such as addressing health and AOD issues, reestablishing connections with their children and love and belonging.
*The majority of respondents (57%) were considered in a high acuity category (with high risk of mortality), needing permanent housing with long-term support. Those sleeping rough, younger respondents, respondents with a serious brain injury or head trauma, learning or developmental difficulties, or a physical disability, had the highest acuity scores.
In the month of November 2020 a By-Name List snapshot showed –
*Of those that were newly identified, 52% were previously homeless, 45% were currently sleeping rough, and 55% were considered to be chronically homeless (sleeping rough or living in emergency accommodation for the past 6 months or three episodes of homelessness in the past year).
*The majority (78%) of high acuity respondents had returned from housing. Of those who had returned from housing, respondents who had been homeless greater than a year prior to being housed returned from housing at a higher rate than those who have been homeless for less than a year. These results only represent a small proportion of respondents who have been followed up and who have completed a survey and are not necessarily representative of the homeless population.
*The majority of respondents (64%) were temporarily accommodated (around half in crisis and emergency accommodation) which reflects limitations in terms of permanent housing options. One- third of all respondents (36%) were permanently housed. Of those permanently housed, 52.0% were placed in public housing, 19.6% in community housing, 13.0% in private rentals and the remainder in other arrangements (eg, permanent supportive housing, aged care).
*Those with longer durations of homelessness are more likely to be permanently housed in public housing than those with shorter durations of housing. Two-thirds of permanent housing placements among those with over a year of homelessness were public housing placements. Among high acuity permanent housing placements, 56% were public housing placements. Over half of all Aboriginal and Torres Strait Islander permanent housing placements were public housing placements.
*A greater proportion of respondents under 55 years (20%), and of Aboriginal and Torres Strait Islander descent (24%), were placed in community housing, compared to older respondents (11%) and respondents of other descent (17%). A lower proportion of Aboriginal and Torres Strait Islander respondents were placed in private rental accommodation (7%) than other respondents (13%).
The CSI report concludes that it stands to reason that there needs to be a range of homelessness, housing, and complementary supports in place to effectively work towards ending homelessness. Preventative programs, early intervention programs, crisis support, and housing access and support models are all parts of the puzzle required to meet the needs of those experiencing homelessness at different points of the life course, exhibiting different combinations of needs.
Finally, the authors say that, while the Australian Government and state and territory governments bear the primary responsibility for housing and homelessness in Australia, in recent years, alternative methods of funding homelessness support have been explored, such as joint investment, impact investment, payment by results and social impact bond models.
The authors are all plainly encouraged by the Advance to Zero approach which seeks to change the system by focusing on a person-centred, Housing First approach in specific communities putting community-owned, near-to-real-time data about individuals' needs at the centre of decision making and the system itself.
The aim is to end homelessness, not live with it.
Can we do it? Let's hope so.
* By Michael Barker, Editor, Fremantle Shipping News
PLEASE HELP US TO GROW FREMANTLE SHIPPING NEWS
FSN is a reader-supported, volunteer-assisted online magazine all about Fremantle. Thanks for helping!
** Don't forget to SUBSCRIBE to receive your free copy of The Weekly Edition of the Shipping News each Friday!