1,900 public sector workers are already breathing new life into Freo.
Here are the key takeaways from a Media Statement to mark the occasion issued today by Simone McGurk MLA, Member for Fremantle in the State Parliament, and Minister for Child Protection; Women's Interests; Prevention of Family and Domestic Violence; Community Services; Peter Tinley MLA,
Minister for Housing; Fisheries; Veterans Issues; Asian Engagement; and Dave Kelly MLA, Minister for Water; Forestry; Innovation and ICT; Science; and Youth.
* Workers from the Department of Communities and Department of Transport's maritime business unit have relocated to new offices at Kings Square
* Modern workplace facilities to benefit clients and staff by offering new ways of working
* Overall project expected to inject more than $350 million into the Fremantle economy and help small businesses through a challenging period
About 1,900 public sector workers from the departments of Communities and Transport have moved into their new office at Kings Square in Fremantle.
Community Services Minister Simone McGurk, Housing Minister Peter Tinley, Youth Minister Dave Kelly and staff from both agencies today marked the official opening of the building at a smoking ceremony performed by respected Noongar elder Dr Richard Walley OAM.
A cultural narrative developed by Dr Walley is depicted throughout the new building, acknowledging the indigenous history of the site and the department's work with Aboriginal people in support of reconciliation and creating better outcomes for communities.
The new office is part of the Kings Square Renewal Project, which is the largest public-private infrastructure project in Fremantle's history. The development is expected to inject more than $350 million into the local economy, revitalising the heart of the port city.
Relocating the Department of Communities' head office to Fremantle will also help to alleviate traffic congestion by reducing the need to commute to and from the Perth CBD.
Public servants working out of Newman Court – the open space between the new office and commercial building and the City of Fremantle's new civic offices – have access to a variety of regular public transport options, with the Fremantle train station only a 600-metre walk away and the nearest bus stop within 100 metres.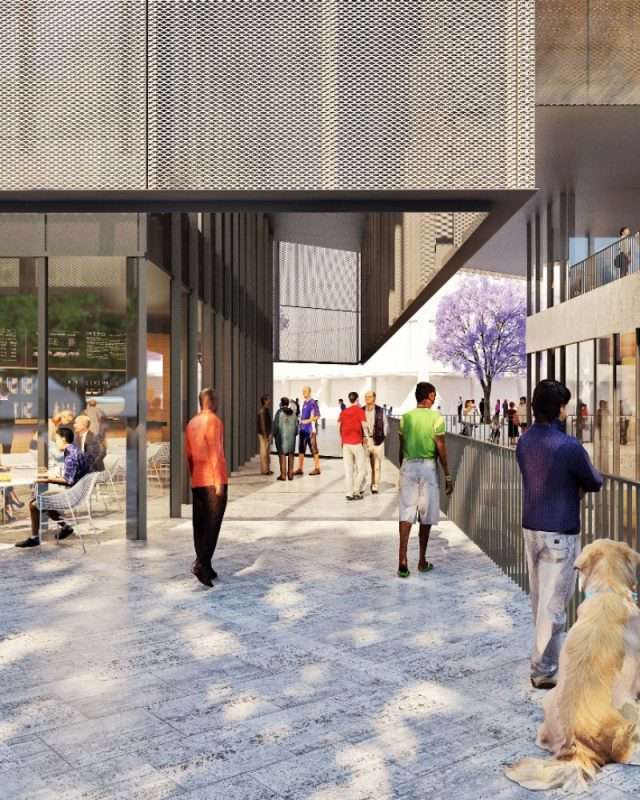 The building boasts modern end-of-trip facilities such as storage racks, showers and clothes drying cabinets to encourage staff to commute by cycling, or running or walking to work.
It also makes more efficient use of the available space, delivering better value for money for Western Australian taxpayers through consolidation of office accommodation.
Developed by the City of Fremantle, in partnership with Sirona Capital, the state-of-the-art complex has a five-star Green Star rating. Operational energy savings are already being realised as a result of the exemplary design.
The building's design includes a strong focus on creating an accessible and inclusive work environment, with a number of meeting rooms having 'push to assist' opening doors, hearing loops and height-adjustable tables.
The local Member, Simone McGurk, said –
As the Minister responsible for Community Services, as well as the Member for Fremantle, it's no surprise that I welcome the Department of Communities and its workers to Fremantle.
The impressive new building at Kings Square is an opportunity for different ways of working, with facilities that encourage collaboration and innovation.
"I'm confident that the staff will enjoy their new office and the experience of this vibrant community.
We are already starting to see flow-on benefits from bringing almost 2,000 workers into Fremantle's CBD, which is a game changer for local businesses.
Pop into Freo and have a look. It's all shaping up well, with the new Civic centre not far behind!
And while you're there, say Gidday and Welcome to the 1900 new Freo people!