Walga Rock is one of WA's most important Aboriginal heritage sites.
Last week was Reconciliation Week. Sadly, during the week, a series of explosions destroyed an ancient Aboriginal heritage site in the Pilbara.
There are less than a handful of known Aboriginal sites in Australia as old as the Pilbara one. Archaeological studies have proved that the Juukan Gorge rock shelters dated back 46,000 years. The site held signs and stories of the world's oldest living culture.
I was saddened by the destruction and lack of appreciation for our heritage. I remembered how I felt when I visited Walga Rock, a 10,000 year old registered Aboriginal heritage site. I felt connected with a longer-term view of the human experience, and being part of something much greater than myself.
Walga Rock and Cave are 48 km west of the town of Cue. If you drive northeast from Perth along National Highway 95 for seven hours, you'll arrive in Cue, pet Mt Magnet and near Meekatharra in the mid West region of WA.
Just after sunrise, we left Cue in search of Walga Rock. It was a typical outback winter morning, the cold night air lingered and the sky was tinged with pink.
Wildflowers had started to bloom – their colours contrasting with the red Pindan earth and golden spinifex grass. We saw blood red Sturt's desert pea, purple bush tomatoes and fluffy mulla mulla.
Walga Rock is the second biggest monolith in Australia after Uluru. The bright orange rock covers about 50 hectares and is 5 km in circumference and 1.7 km in length.
After finding the entrance gate to the reserve we drove along a gravel road that lead right up to the rock. We were the only visitors at the site. It was eerily silent and peaceful.
The climb to the summit was easy. A Nankeen Kestrel circled above us. From the summit, a 360-degree view stretched to the horizon. The red sand countryside was flat, apart from some distant rocky outcrops. Termite mounds and gnarled trees dotted the landscape.
The rock's surface reminded me of Tiger bread with its unique mottled and cracked crust. I was filled with a sense of awe at the isolation, vastness and beauty of this ancient place. Bleached animal bones lay scattered on the red earth.
Walga Rock was a meeting place for Aboriginal people coming from across Australia. The region is rich in Aboriginal culture with the largest Aboriginal rock art gallery in Western Australia.
The famous Dreamtime paintings are located in a shallow shady cave that is sheltered from the weather by a heavy granite overhang and thick shrubs. Over thousands of years, generations of aboriginal people created a visual message bank for those "walking country".
The paintings represent snakes, goannas, emus, kangaroos, footprints, boomerangs, spears and hand motifs. Radiocarbon tests by archaeologists estimate the gallery is 10,000 years old. The University of Western Australia estimate there are 988 motifs on the 100-metre panel.
One of the paintings depicts a 2-metre high sailing ship in white ochre with masts, rigging and portholes. There has been a great deal of speculation about this painting; especially considering its location is 300 km inland.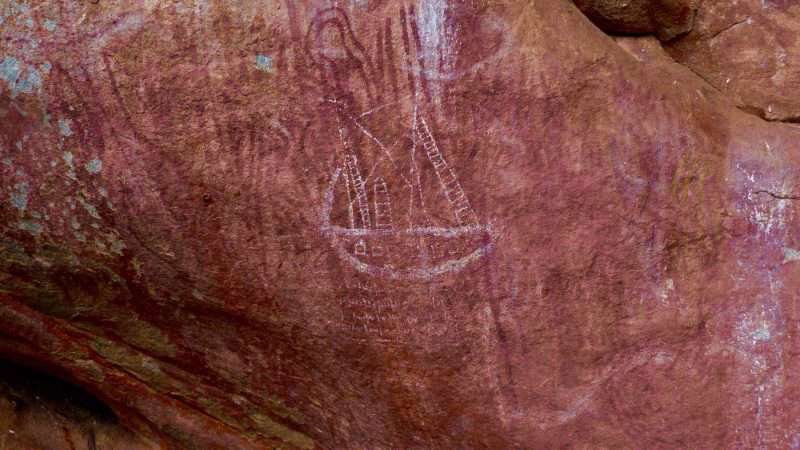 One theory is that a shipwrecked Dutch sailor painted the ship while being cared for by Aborigines. Another, that an Afghan camel guide created it. The painting of the ship has accompanying text thought to resemble Arabic script.
Walga Rock is a site of deep cultural and spiritual significance to the area's Wajarri Yamatji people. The Rock is on Aboriginal land and there are no restrictions to visit or enter.
Later, back in Cue, we climbed a quartz outcrop at Kintore Blow and looked over the timeless landscape and the near ghost town below. A sunset with mackerel clouds framed the sculpture of an Aboriginal Warrior.
Cue was once a bustling and wealthy gold mining town with a population of 10,000 and known as the "Queen of the Murchison". It all began in 1890 when an Aboriginal prospector named Governor found a ten-ounce nugget of gold nine miles west of Cue.
The boom and bust of the gold rush, World War 1 and the Great Depression caused the population to dwindle. Less than 300 people live in Cue today.
Launched on WA Day this week, the "Wander out Yonder" campaign encourages Western Australians to seek out new experiences across the State. So why not plan a trip into WA's golden outback, a living cultural landscape.