I've always painted on recycled bookcovers. My love really blossomed in Madrid in 2007 when I found ancient vellum and leather bookcovers tossed away by a bookbinder firm Encuadernación Jesus Cortes. I rescued them and made a series of work with another Australian artist living in Madrid at the time, Roc De Luca.
In Ireland during another residency I made small intimate paintings of holy water containers on plain cloth covered bookcovers from the 1950s. The humble books covered such topics as the Catholic Church's views on women's role in the family or on long lost Irish poets.
There's something about a book being a container or a metaphor for holding other ideas. The titles have also intrigued me. Often they are poems in themselves.
In the last three years since coming to live in Fremantle I have made a series of artworks on bookcovers and recording the names of ships berthing in Fremantle Harbour. At first I thought of the names as small poems delivered randomly by the universe as I passed the harbour on the train. Where did Viking Ocean or African Lark or Genius Ace come from?
Gradually I learnt that the names are often one of a series. They may be named after characters from Operas: Salome, Otello or Electra, or flowers or places; Primrose Ace or Durban Highway.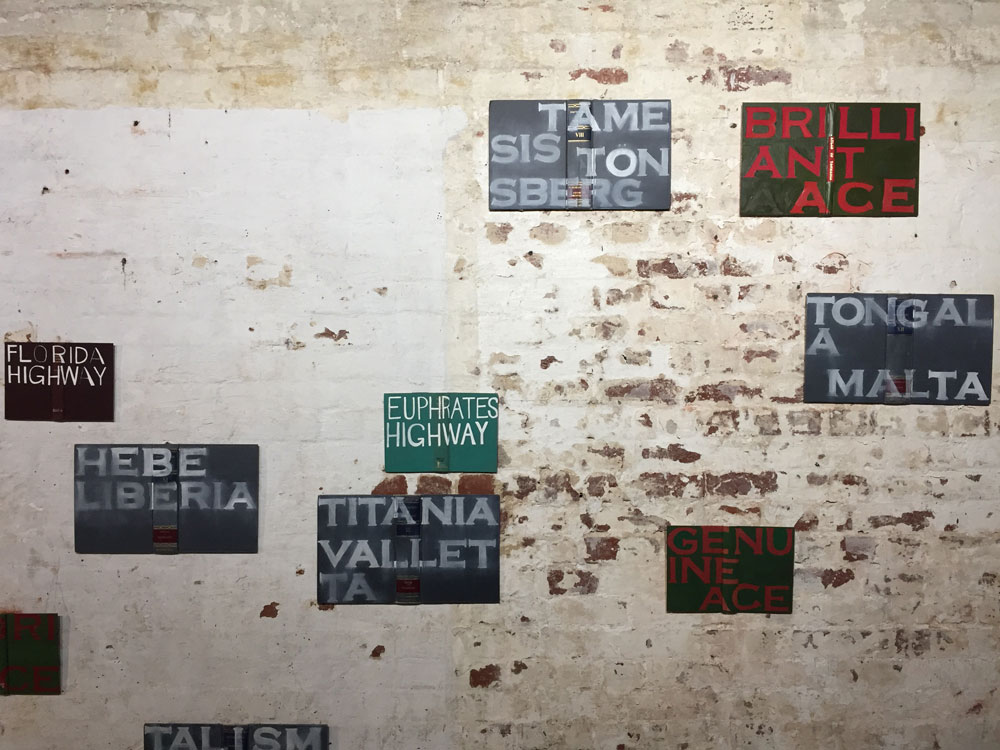 Lovely correlations between painting and commercial shipping lines also became more apparent, ships making lines going from one point to another, only on the ocean. The books I collected were covered in linen or cloth providing a surface similar to a blank canvas. Most of the ships I saw were container ships or vehicle carriers. Their utilitarian nature made a nice contrast to their largely romantic names.
So I began to collect bookcovers to match each shipping line series as I 'collected' the ship names. I matched the highway names with small cloth covered books saved from the State Library skip bin. Shanghai Highway is painted on a book titled 'Empire Club speeches 1919', a book that had not been borrowed since 1972 and was unlikely to be again. There is something romantic about giving life to an old book. What does Shanghai Highway have to do with the empire speeches? I don't know – that's left up to the viewer.
The Wallenius Wilhelm ships are frequent visitors to Freo port. A fellow artist offered a set of bookcovers from the 'Encyclopaedia of World Art', and I matched them with Wilhelmsen ship names as each incorporates the places the ship was registered. So you have the Undine Stockholm stencilled over an encyclopaedia cover dedicated to Byzantine art. I love the strangely mismatched and serendipitous pairings that can occur.
The little poems of the ships names offer a reminder of the random gifts of nature and culture, and especially working culture, that surround us everyday. They are a work in progress.