Time flies, no? yes?
I'm not sure time exists, but assuming it does, these photographs of South Beach, South Fremantle coming up 100 years ago just go to prove the more things change the more they stay the same.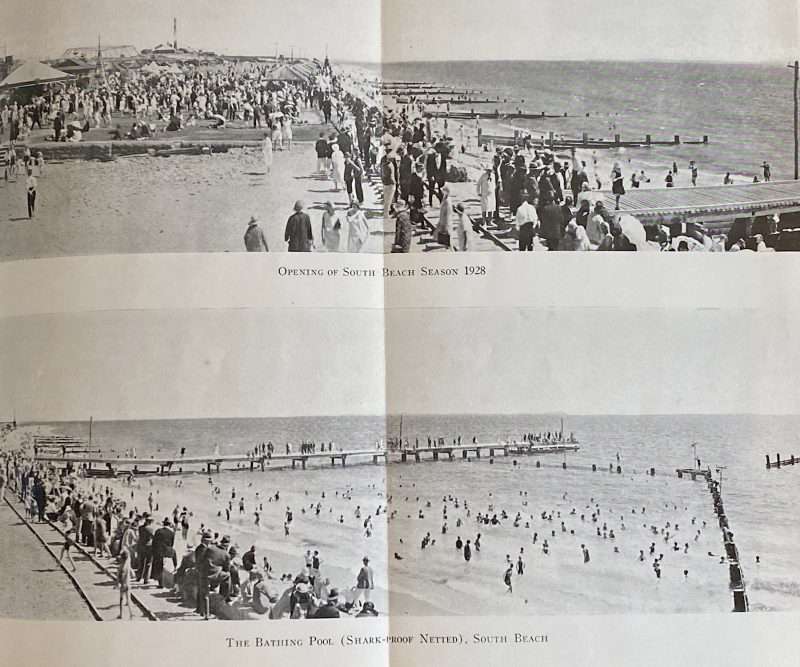 These pics were included in JK Hitchcock's History of Fremantle: The Front Gate of Australia 1829-1929, 'Published by the Authority of the Fremantle City Council'.
As you can see, South Beach was the centre of the local universe around 100 years ago. In those days, trams ran from central Freo to the beach. Much the same today, with the Blue Cat, plus bicycles and cars, some electric, making the journey regularly.
Also, it's plain folk were as worried about sharks then, as they are now.
Except that then, South Beach had a shark net area for swimmers to paddle in safely, when today they don't. Of course, Coogee Beach now does!
And you can see from the 1928 Season Opening, the punters certainly turned out then for the occasion, much as they do most days today.
And my word, there were even a few swimmers there then, perhaps more than we see today!
* By Michael Barker, Editor, Fremantle Shipping News
WHILE YOU'RE HERE –
PLEASE HELP US TO GROW FREMANTLE SHIPPING NEWS
FSN is a reader-supported, volunteer-assisted online magazine all about Fremantle. Thanks for helping!
** Don't forget to SUBSCRIBE to receive your free copy of The Weekly Edition of the Shipping News each Friday!