Homelessness Minister John Carey has today announced a major reform package aimed at assisting and transitioning rough sleepers on the State's streets to 100 social homes across the Perth metropolitan area and the South-West, and including the establishment of a single rough sleeping coordination group in Fremantle.
As part of the reform package, the State Government will invest $20.7 million as part of a landmark partnership with Housing Choices that will deliver 100 social homes between Perth, Peel, and Bunbury specifically for rough sleepers.
Housing Choices will provide property and tenancy management for 100 social dwellings through a supportive landlord model. In addition to securing access to 50 homes, the State Government will spot purchase an additional 50 properties, and these 100 homes in total will be prioritised for people who have experienced prolonged homelessness.
The supportive landlord model was piloted successfully for people sleeping rough in Bunbury. It assists people with complex needs, and this funding seeks to expand the pilot.
The Government is also prioritising investment in short and medium term supported accommodation, by providing $2.3 million for a partnership with St Bart's through their Future Homes and Brown Street Homelessness Accommodation facilities.
The funding will assist St Bart's in expanding the availability of homeless accommodation in Perth by 18 new beds, and enabling them to offer specialised case management and wrap-around supports. The service will operate using a coordinated referral process based on the successful Boorloo Bidee Mia facility, which continues to operate at capacity to accommodate and support people with very complex needs who have been rough sleeping.
Other homeless reforms to be further boosted by the McGowan Government include:
* $540,000 to improve the quality of data in the By Name List and the transfer of responsibility to run it to the Australian Alliance to End Homelessness, to help drive better coordination and information sharing among service providers.
* an additional $706,000 to extend the Safe Perth City Initiative.
* establishment of a single rough sleeping coordination group at key locations – including Fremantle, the Perth CBD, Geraldton, Bunbury, and Mandurah – which will assess individual case management for rough sleepers at each location.
* consolidation of a number of homeless working groups into a single Housing First Advisory Group to the Minister, focussing on Housing First approaches to reduce rough sleeping.
* ongoing work towards the consolidation of multiple outreach services into a single service.
Work has also progressed on the East Perth Common Ground project, with a new Request for Tender advertised last week via TendersWA, with the 100 homes supportive landlord initiative to provide an interim response to homeless accommodation during this process.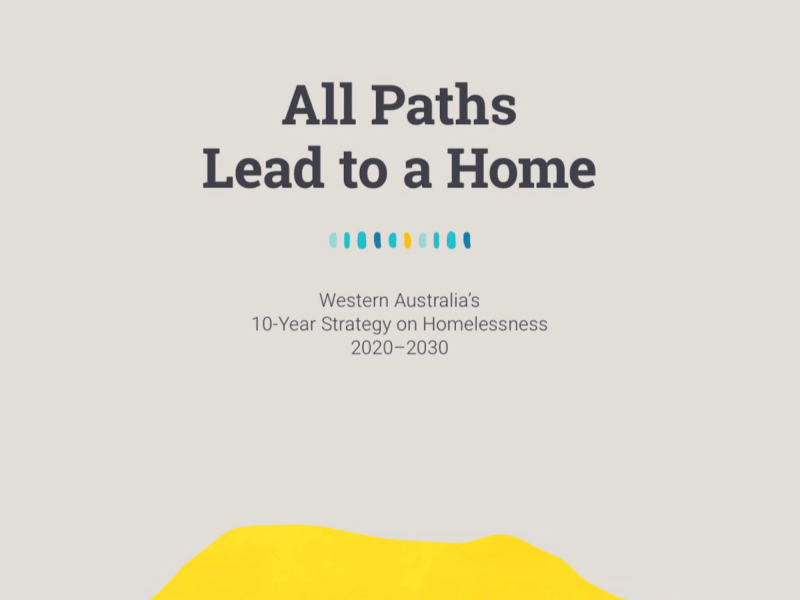 Mr Carey says the Government is committed to improving coordination and delivery of homelessness services, underpinned by effective implementation of All Paths Lead to Home: Western Australia's 10-Year Strategy on Homelessness 2020-2030.
Further information on the State Government's 10 Year Strategy on Homelessness and new reforms can be viewed here.
In launching these initiatives today, Minister Carey said –
"This reform package is about assisting rough sleepers through their transition from leaving the streets to moving into a home, with intense wrap-around supports.
"Our Government is focussed on delivering Housing First approach that is evidence-based and provides tangible long-term outcomes. Wrap-around supports for the 100 tenancies will be provided by leveraging existing support services provided through the Housing First Homelessness Initiative.
"Under the supportive landlord model, social outcomes will be prioritised over commercial objectives, with tenants linked to specific supports to assist with their individual needs.
"Our Government is continually looking at innovative reforms to boost accommodation options for rough sleepers.
"To achieve this, we have a plan – and are delivering significant reforms across the sector, while partnering with them to ensure the best possible outcomes.
"We're enhancing support networks, delivering more social housing stock, and boosting the availability of accommodation for people experiencing homelessness.
"This is all part of our Government's $2.4 billion investment over four years, to improve the quality and accessibility of social housing and homelessness services across the State.
"The McGowan Government is committed to supporting new initiatives that can strengthen the capacity of the community services sector, and expand the quality of service delivery."
The provision of adequate social housing in our communities is one of the great challenges of our times. We at the Fremantle Shipping News applaud Mr Carey, his Department and the State Government on this important initiative, clearly a major step in the right direction.
By Michael Barker, Editor, Fremantle Shipping News
WHILE YOU'RE HERE –
PLEASE HELP US TO GROW FREMANTLE SHIPPING NEWS
FSN is a reader-supported, volunteer-assisted online magazine all about Fremantle. Thanks for helping!
** Don't forget to SUBSCRIBE to receive your free copy of The Weekly Edition of the Shipping News each Friday!