This morning at 6am, while most of Fremantle slept, the Coral Princess sailed into Fremantle Harbour with 1800 passengers and 900 crew.
After a two-and a half-year hiatus, cruising is back. The Coral Princess is the first large cruise ship to return to WA since the State Government relaxed restrictions from 1 October, to allow vessels carrying more than 350 passengers to enter the State.
The Coral Princess departed from Sydney on 11 October, travelling around the top end of Australia and visiting Brisbane, Willis Island, Cairns, Darwin, the Kimberley Coast before arriving in Broome.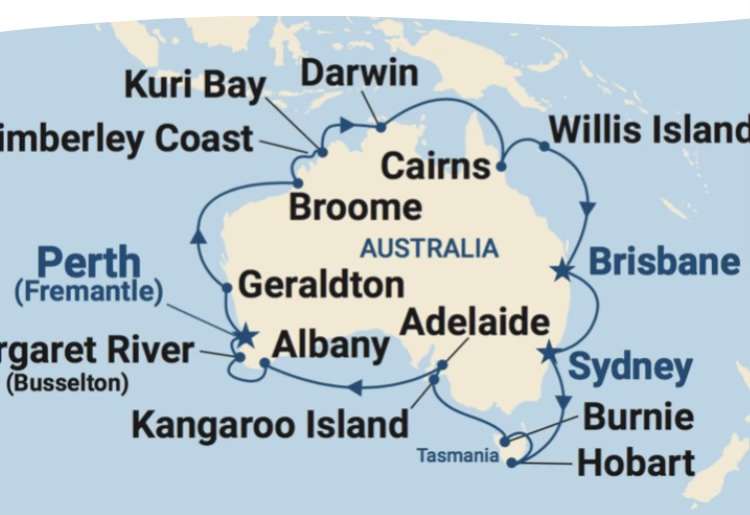 This 28 day, round-trip Round Australia will finish on 8 November.
This is a 'transit ship', which means that passengers will disembark for a day in Freo before continuing to the next port. On this trip she has 1,800 guests on board and a crew of 900.
The ship has been in the news since Monday with reports that up to 100 of her passengers and crew were confirmed COVID positive.
She docked in Broome as scheduled on Monday, then bypassed Geraldton due to weather conditions and sailed directly to Fremantle.
The Coral Princess was built in 2002, by Chantiers de l'Atlantique, France, at a cost of USD 360 million, refurbished in 2019, and sails under the Bermuda Flag.
She is one of the vessels in the Princess Cruises/Carnival Cruise Ship Line, and she can carry a maximum of 2390 passengers and 900 crew.
The Coral Princess is a large resort ship – length is 294m, beam 32m and height 62m with 15 decks and weighs in at 91627 gt. Her average speed is 22 knots (41 kph). She has 1545 cabins (1105 outside and 440 inside).
The Princess was custom built to navigate the historical Panama Canal. The boat has environmentally friendly engines – more silent, less vibrating and with lower emissions and increased fuel efficiency. The engines are mounted in the funnel, thereby freeing up more space.
Guests can sip and snack around the clock or indulge in fine dining. There are shops and a Vegas-styled casino with roulette and blackjack. At night musicals, magic shows, feature films and movies under the stars entertain the passengers.
If you like swimming – there are four swimming pools and five hot tubs to choose from: one pool allows you to swim against currents and another is adult only.
The Coral Princess will depart Victoria Quay at 7 pm today, Friday 28 October, to continue her trip around Australia. Her next port of call is Busselton.
She will be back again in March/April 2023, with a 10-day round trip to Broome and another 28-day round Australia voyage.
The 28-day cruise costs from $8,199pp.
Last weekend, the beautiful Coral Geographer visited Fremantle. After leaving Fremantle, she was forced to anchor off Busselton due to poor weather at sea. So, it hasn't exactly been smooth sailing for the first two cruise ships visiting WA this season.
Before the pandemic, the cruise industry was the major tourism contributor for WA. In 2019-20 there were 106 ship visits generating $262 million for WA's economy. During this time, the cruise industry sustained more than 18,000 Australian jobs – including travel agents, tour operators, transport workers, food and produce suppliers, farmers, entertainers, port workers and technical support providers.
At least 24 large cruise ships will visit Fremantle in the next eight months – today a Princess arrived and next week a Queen! Yes, the amazing Queen Elizabeth cruise ship arrives next Saturday.
* STORY AND PHOTOGRAPHS by our Shipping Correspondent, Jean Hudson @jeansodyssey. Jean is also a regular feature writer and photographer here on the Shipping News. You may also like to follow up her informative Places I Love stories, as well as other feature stories and Freo Today photographs, right here.
WHILE YOU'RE HERE –
PLEASE HELP US TO GROW FREMANTLE SHIPPING NEWS
FSN is a reader-supported, volunteer-assisted online magazine all about Fremantle. Thanks for helping!
** Don't forget to SUBSCRIBE to receive your free copy of The Weekly Edition of the Shipping News each Friday!