In the 1950s, the Blue Funnel liner, MV Charon sailed Singapore and north west WA ports to Fremantle.
Along with her sister ship, MV Gorgon, she carried passengers and general cargo to and from Singapore and Freo, including special Christmas-time trips for many unaccompanied Perth school children whose parents lived and worked in colonial Malaya.
My sister and brother and me were passengers from year to year on both ships during the 50s.
The voyages to and from Singapore and the many on-board adventures were a significant and memorable experience for many Western Australian school children of the era.
The voyages provided a crucial family link for Far East 'Empire' parents, separated by distance and the parental aspiration for a 'British' style education, somewhere not too far away, for their children.
For us kids, Christmas holidays had a specially exotic oriental dimension and flavour, punctuated by the week-long sea journey each way between Fremantle and Singapore.
PLEASE HELP US TO GROW FREMANTLE SHIPPING NEWS
FSN is a reader-supported, volunteer-assisted online magazine all about Fremantle. Thanks for helping!
My sister, Juliet (Ludbrook) wrote the story of the Schoolship Kids in her book of that name, published by Black Swan Press in 1998. Her story is an important chapter in the history of Fremantle, the ships and their sailors, and the multitude of children who crossed the quayside and clambered the gangways of pre- and post-war Blue Funnel liners.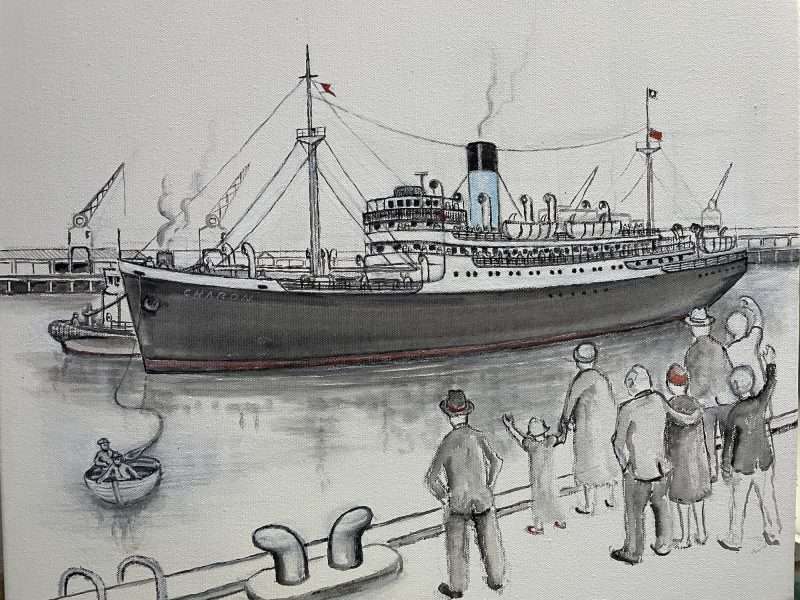 This is a picture I painted recently, of a memory of the Charon docking at Victoria Quay some time in the 1950s, decks crowded with squealing kids returning from Malaya in preparation for the new school term. My gran and grandad would have been there, patiently waiting in the warm sun and waving an anxious welcome to us from the quayside.
* By John Adderley
** Don't forget to SUBSCRIBE to receive your free copy of The Weekly Edition of the Shipping News each Friday!