Mention the name Chrissie Parrott and the words dance and theatre in the same breath to anyone in Fremantle, or indeed up and down the length and breadth of Western Australia who is interested in the performing arts, and they will immediately want to know what is Chrissie up to.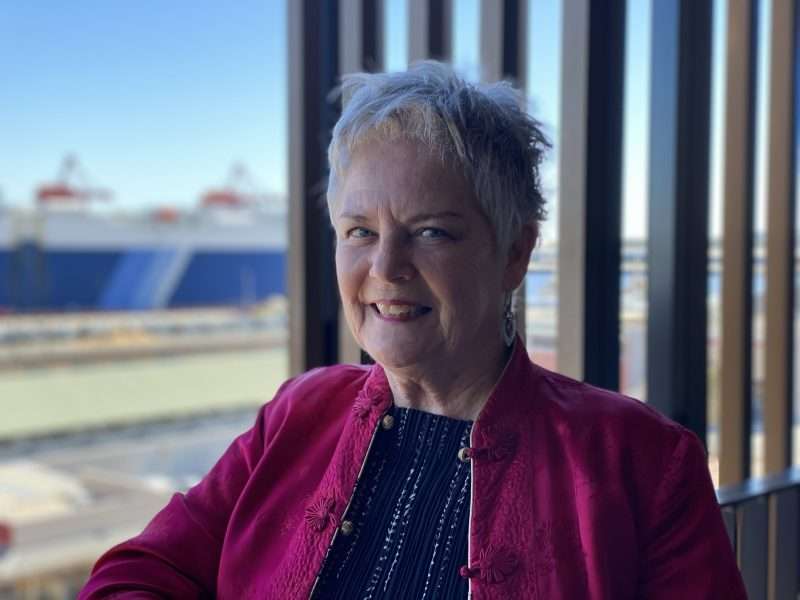 Chrissie Parrott is known to so many. She has dedicated herself to dance and theatre in so many ways since making her way to Perth as a ten year old. Amongst many awards, Chrissie has since been recognised as a WA Living Treasure and this year was awarded an AO for her distinguished service to the performing arts, particularly to dance, as a performer, choreographer and director, and through mentoring roles.
Well, having just mentioned Chrissie's name and the words dance and theatre in the same breath, we can tell you exactly what Chrissie is up to. She's soon to present or, in some ways, re-present at the Moores Building in Henry Street Freo, a production called Facade, which first had a life as a disruptive fringe event at the 1986 Perth Festival, not long after Chrissie had returned to Perth from a Chernobyl clouded Europe where she had then been advancing her dance career.
Facade is described in the flyer for the show as as 'A Brutal Baroque performance event – large scale installation, Dance, Opera & a Robotic Ballerina', a description that raises more questions than it gives answers to!
So, to find out more, our editor, Michael Barker, recently met with Chrissie to find out more and what we can expect from the 2021 Facade and you can listen to the podcast interview with Chrissie Parrott by clicking on it below. Fascinating woman, entertaining show, to say the least. Very ambitious. You won't want to miss it.
PLEASE HELP US TO GROW FREMANTLE SHIPPING NEWS
FSN is a volunteer-run organisation and we rely on the support of Freo people to keep making local news free. Thanks for helping!
As you might expect, the new Facade involves a imagining, re-scoring and re-scaling of the original. This one is bigger and longer with all sorts of artistic add-ons.
Featuring six virtuosic dancers: Stefan Karlsson who performed in the original Moores season; Claudia Alessi, David Mack, Nicola Wade, Ava Hart and Talitha Maslin. Along with performer extraordinaire, Opera singer and comic Paul Rowe; actor Bruce Denny and musician Elis Pearson. Facade invites the audience into this imaginary world filled with dance, puppetry and comedy as seen through the kaleidoscopic lens of this internationally acclaimed choreographer.
Dr Jo Pollitt, artist, dance scholar, and postdoctoral research fellow at ECU, who has documented Chrissie's work for the last 10 years, says of Facade: "The restaging of this work is timely and deeply relevant in contributing to questions about colonial histories, the prevalence of visual culture and the place of the body in society. Chrissie's unapologetic risk-taking results in visceral visual poetry that sparks rigorous conversation and keenly embodied experiences for audiences. Restaging this work at this time will enable a new audience to be impacted by a lineage of dance theatre that pitches audacious vaudeville scoring with satire, and humanness with the more-than-human."
A five by eight metre Baroque style "proscenium arch" created by Chrissie, clad with up cycled and found objects d'art including 1000 decorated pointe shoes, will fill the downstairs gallery and become the stage that showcases a series of outrageous short, snappy, vignettes.
An exhibition of 15 portraits created by Chrissie Parrott, celebrating performers who have worked closely with her, will adorn the downstairs gallery walls. The installations, costumes and artworks will combine to create a "Brutal Baroque" aesthetic perfectly suited to the Moores building.
The audience will also be coaxed to take a journey and discover one more unique feature of Facade, the Simulacra Lounge upstairs in Gallery 6 where artist Geoffrey Drake-Brockman has created a laboratory filled with curiosities including automata, figurative artworks, and a collection of vintage technological objects and among which human dancers perform and interact with a robotic ballerina.
Other collaborators working on Facade include artist and designer Deborah McKendrick and renowned set builder Janet Carter.
So, we suggest you rush out and get your tickets to the 8 performance nights right now, because they are bound to go quickly.
And call by to see the Exhibition at other times.
Here's all the detail of when, where and how.
Opening of 'Brutal Baroque' – an Exhibition of Portraits by Chrissie Parrott
Date: Friday 10 September, 6pm, Free event but bookings essential
Exhibition Continues daily to Monday 20 September, 10 am to 4pm
Facade performance season
Dates: Preview Sunday 12 September, Season continues 13- 20 September (no show Saturday 19 September), Exhibition open at the performance
Time: Doors Open 7 pm, Show 7.30 pm
Tickets: $40-$55 plus booking fee, Book here now
Venue for all events: The Moores Building Contemporary Art Gallery, 46 Henry Street Fremantle