Phoenix Reisen, the German tour company that charters the cruise ship Artania, reported on its website on 25 March 2020, that the Artania was on her way back to Germany from Australia with 832 guests and no reported virus cases aboard.
The same day, the Premier of Western Australia said that the ship, anchored off Fremantle, had requested help with testing of patients for the virus. But no passengers would be allowed off unless they had a life threatening situation.
Then, on Thursday night, 26 March, ABC News reported that 'The MV Artania cruise ship will berth in Fremantle Port after a male passenger had a serious medical emergency on board.'
She duly docked (in a near-empty Port) late Thursday at F Berth at Victoria Quay.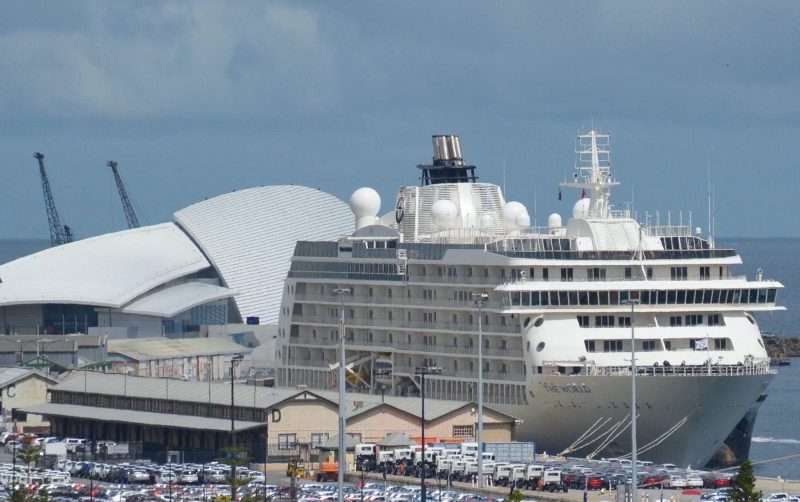 On Friday morning, 27 March, The West reported that passengers from the Artania are to fly home via Perth airport.
The situation remained clouded in confusion for some time. Then the full story slowly came out.
As reported by the Fin Review –
'The breakthrough on the remaining Artania passengers came after WA premier Mark McGowan took a hardline on letting it dock at Fremantle port. Lauren Pilat
'The ship's operator, German company Phoenix Reisen, has told passengers they will be transferred home from Australia on chartered flights leaving this weekend.
'Under the deal between Australia and the German embassy here, the flights will take the passengers to Frankfurt.
'Most of the passengers on board are German, but Austrian and Swiss passport holders will also travel to Frankfurt on the mercy flights.'
The Financial Review further reports that WA and the federal government appear at odds over the fate of the seven confirmed COVID-19 cases, with WA pushing for them to be transferred to the navy's base at Garden Island for treatment.
The Premier continues to demand that another cruise ship, the Magnifica, now in limbo off the coast after being denied entry by Dubai, leave WA waters.
There are no Australians on either the Artania or among the 1700 passengers on board the Magnifica.
During Friday morning one of our readers noted an Australian submarine appeared to be circling in local waters!
A third cruise ship, the Vasco da Gama, is off Fremantle with 950 passengers, including 798 Australians. There are no reports of illness on board.
The Vasco da Gama is expected to dock in Fremantle on Monday.
The ship has now been told it can dock at Fremantle on Monday, with WA residents to be quarantined on holiday island Rottnest for 14 days.
Mr McGowan said he was in talks with state premiers about direct flights home for other Australians on board.
Non-Australian passengers and crew, including 109 New Zealanders, will remain on board until there are arrangements for flights out of WA.
Talk about an evolving story!