In some cities and towns this would be called City Beach or Town Beach, because it really is at Fremantle's centre.
Local residents and visitors alike enjoy Bathers Beach for swimming, walking, and sitting watching the ocean and sunsets, especially in summer. But the more hardy can be found there in all seasons, including at first light in winter.
Near here is where early ships weighed anchor before ferrying people, livestock and goods ashore to the new British Colony in the years after 1829. Later came the Long Jetty.
The Indigenous Whadjuk people no doubt watched all this settler activity with degrees of bemusement. They called and still call the Fremantle area Walyalup.
Running along the top of the beach is an attractive timber boardwalk, viewing platform and steps. The white sand beach is sheltered, the waters usually clear and calm.
It wasn't always so, but you can now recline on a beach chair on Bathers Beach with a refreshing ale or a cooling wine. From the boardwalk, beach chairs and nearby restaurant tables you can watch the swimmers in the foreground as ships pass in and out of the harbour in the background. Most days you can also make out Rottnest Island in the distance.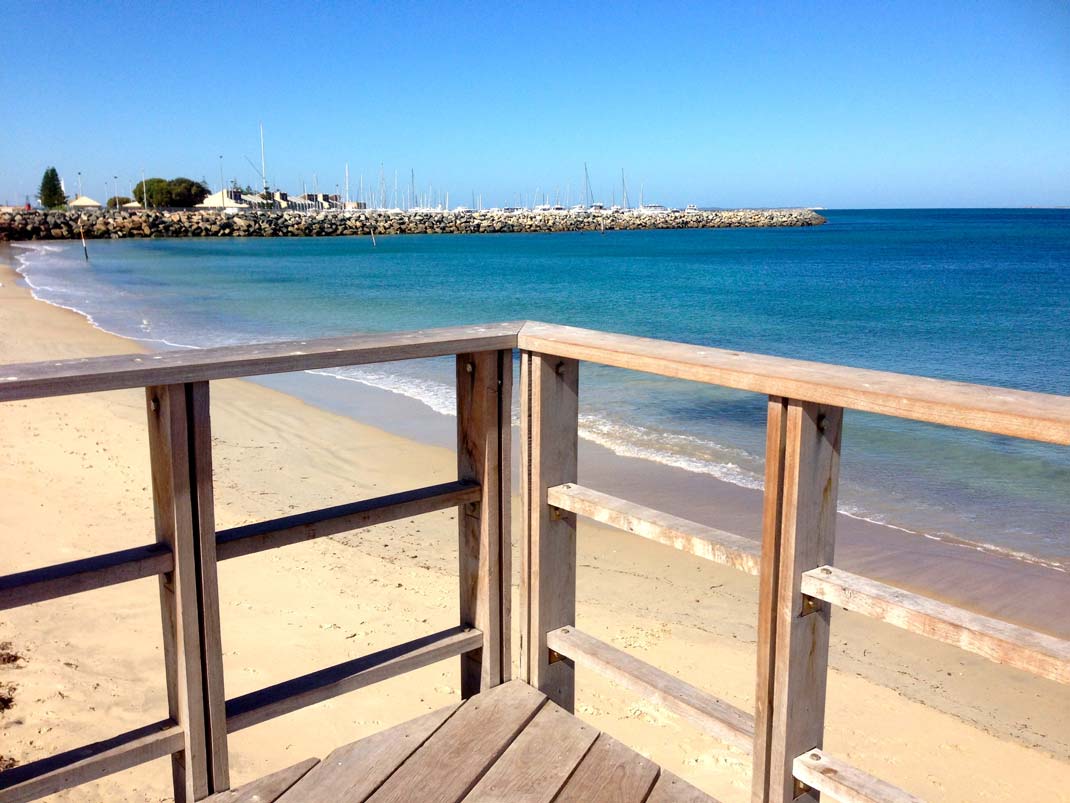 Sitting above Bathers Beach is Kidogo Arthouse. A short walk to the north, along the path through vegetation typical of the earliest times takes you past artists' studios (housed in the J Shed and nearby buildings), Walyalup Aboriginal Cultural Centre, and Whalers Tunnel and the Roundhouse (WA's oldest public building). A short stroll to the south takes you to Fisherman's Harbour, and stepping across the railway will see you at Esplanade Park.
If you are particularly indolent you could easily spend a whole day around Bathers Beach, swimming, sunning, walking a little and absorbing some history and culture, eating and drinking.