On 26 March this year, His Majesty's Canadian Ship (HMCS) Montréal, a Halifax-class frigate, departed its homeport of Halifax in Canada's Atlantic Maritime Provinces for the Indo-Pacific region to deploy on Operation PROJECTION.
Her mission was to participate in a series of operations delivering on a commitment in Canada's Indo-Pacific Strategy to annually deploy an additional frigate to the region, particularly in the Indian Ocean.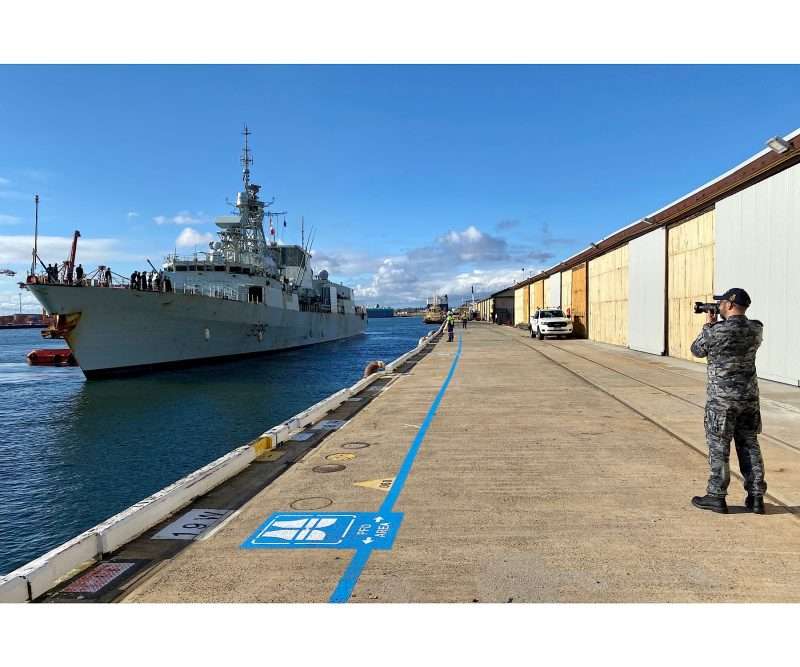 This afternoon, quite a contingent welcomed HMCS Montréal to Fremantle. You won't find her easily on any of the ship-tracking apps, but here she is arriving at Victoria Quay. She's here until 19 August. While her last port seems to have been Sydney her next port is not clear!
Recently, HMCS Montréal served as an escort vessel during what has been described as 'the largest massing of naval capability in Australian waters in recent years'. Exercise Talisman Sabre brought together more than 30,000 people from 13 nations in training activities carried out on land, at sea and in the air across Queensland, Western Australia, the Northern Territory and New South Wales, and in the waters off Queensland and the north-west coast of Australia between July 21 and August 4.
For the record, HMCS Montréal is a Halifax-class frigate. Halifax-class frigates carry extensive anti-submarine warfare and anti-surface warfare weapons and sensors to complement their substantial anti-air warfare defences. She also carries embarked CH-148 Cyclone helicopters. The combination of these weapons and sensor systems, coupled with state-of-the-art damage control and machinery control systems, make frigates one of the most advanced warship designs in the world.
If you see any Canadian sailors around Freo, do give them a friendly wave!
* Words and photographs (except where indicated otherwise) by Michael Barker, Editor, Fremantle Shipping News
WHILE YOU'RE HERE –
PLEASE HELP US TO GROW FREMANTLE SHIPPING NEWS
FSN is a reader-supported, volunteer-assisted online magazine all about Fremantle. Thanks for helping!
** Don't forget to SUBSCRIBE to receive your free copy of The Weekly Edition of the Shipping News each Friday!