Welcome to our new feature, a video podcast we have called View From The Round House – With Martin Drum.
It's all about the Federal Election, which of course is now in full swing.
And it's great to have Martin Drum, Professor of Politics and International Relations at Notre Dame University, Fremantle and a well know political pundit on board.
The polling day, 21 May, is just over three weeks away.
Have you decided how you'll cast your vote yet?
In Fremantle you are spoilt for choice, if the fact that 10 candidates have declared their intent on winning the seat means anything.
The Freo Candidates podcasts are also designed to let the candidates speak for themselves. Check them out. And there are more to come.
On the face of it, however, the incumbent MP, Labor's Josh Wilson, will be hard to beat. And Freo has been a pretty safe Federal Labor seat for decades now.
If there's a serious challenge to Labor, from where will it come?
What Freo doesn't have running, as the adjacent seat of Curtin does, is a so-called 'Teal' independent like Kate Chaney. By all accounts, the race in Curtin between the incumbent Liberal's Celia Hammond and Chaney is neck and neck, with Labor running a distant third.
With all that in mind, Professor Martin Drum has kindly agreed to engage in a weekly video pod with our editor, Michael Barker discussing just where the local and larger campaigns are at each week as the election approaches.
We will bring you View From The Round House each Thursday leading up to polling day.
Also, you won't want to miss the Freo Candidates Debate on 10 May. Here are the details.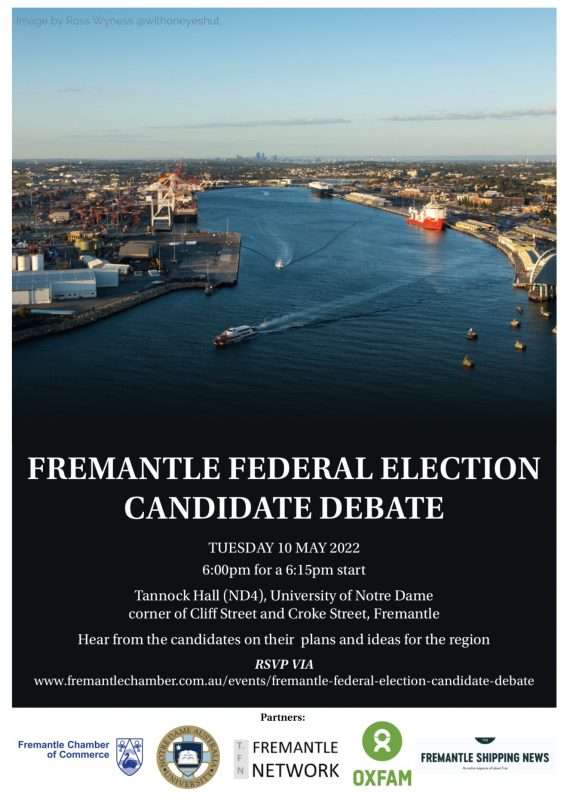 Now, here's the first video podcast of View From The Round House – With Martin Drum.
* By Michael Barker, Editor, Fremantle Shipping News
PLEASE HELP US TO GROW FREMANTLE SHIPPING NEWS
FSN is a volunteer-run organisation and we rely on the support of Freo people to keep making local news free. Thanks for helping!
** Don't forget to SUBSCRIBE to receive your free copy of The Weekly Edition of the Shipping News each Friday!