Who feels it? Who feels a great sense of impotence as events in Ukraine churn out a litany of daily horror? Not only a sense of impotence, for those of us who watch and read and listen from afar, safely removed from the action, but a deep sadness – a kind of pervading sadness that human evolution has not taken us out of a dark swamp where brutality and warfare arise as if by default, and lofty ideals around a global community whose members share and care for one another seem as frozen in time as the Siberian permafrost.
I'm sure I'm not alone in feeling this impotence. Those of us lucky enough to grow up in the convoluted and often frustrating arena we label 'Western democracy' have, by and large, been spared the agonies of persecution. We can moan and bitch about whatever, and slather our leaders without the fear we will end up in jail (or worse). We take for granted our access to food and shelter and opportunity. We can pretty much say what we like and inform ourselves from disparate sources about what is going on in the world around us. Though we might protest about restrictions that come under the rubric of 'public health', we are unlikely to end up in a cell or before a firing squad. Compared with those under the thumb of autocratic leaders, we have life on a platter.
Perhaps our outrageous good fortune explains why bad things that happen in other places often get screened out. We see pregnant mothers wounded and bleeding, evacuated from bombed hospitals, and it is too much to take in. There might be a flash of anguish, a gasp of disbelief, and a sense of numbness as we avert our eyes from the screen. I've felt this, as have most of us who try to keep abreast of the happenings around us. It's painful and disturbing and we don't know what we can do about it, impotent as individuals.
Then we see those who rise above and beyond inertia. Polish Samaritans ushering hundreds of thousands of Ukrainians across their border; kind souls from a range of countries driving across Europe to a far frontier, offering sanctuary to bereft and traumatised families. In our remote Antipodean island-continent, hearts are filled with the magnitude of such spontaneous generosity. At last, something to cheer about.
My wandering mind alights on the other edge of our vast land mass. An eastern Australia recently inundated with unprecedented floods. Both my sons and their families live there. For two or three days without Internet or phone access, they were out of contact. I worried, as parents do. Happily, they were safe, and had not lost their homes, unlike friends and many others in the region. In Murwillumbah, my eldest lives on a hill. I can't take credit, even though I've had a lifetime aversion to buying or building close to the water. Dorothy McKellar's poem begins with a sunburnt country and drought but the bit about 'flooding rains' must've seeped into my system. I won't settle in a hollow. However, it's Hobson's choice in Australia between fire and flood – and if I'm to be quite candid, I'll probably take my chances in a raging creek rather than being roasted alive in a bushfire. But I was glad my son and his mob were safe up the hill, able to help less fortunate folk whose homes down the slope began to disappear as the Tweed River rose and rose and continued to rise.
And, as has been well documented, local communities rose above themselves, helping others escape their flooded houses, ferrying people to safety in all manner of craft, taking strangers into their homes, feeding and clothing people who in normal times they may have passed on the street. Strangers became friends, united by disaster. Therein, rests one of life's ironies. More often than not, it takes a war or Nature's fury to bring us together. When faced with a common foe, we pitch in and do what we can to help. If we can't be there, we donate money. We recognise, there but for the grace of the God-who-may-or-may-not exist, we could be similarly afflicted. Weird, really. When the emergency passes, when the call for action is not immediate and compelling, when we slip back into our regular selves, this communal outpouring usually fades away. A kind of retreat happens, and the heroic and altruistic crucible is submerged under the weight of our day-to-day lives.
PLEASE HELP US TO GROW FREMANTLE SHIPPING NEWS
FSN is a volunteer-run organisation and we rely on the support of Freo people to keep making local news free. Thanks for helping!
Down south in Denmark, over a month has passed since the Big Fire. Scarred countryside acts as a reminder. Clean-up and repairs continue on many properties, while other owners contemplate when and how rebuilding can occur. For many of us, it's been a wake-up call. Any sense of complacency is gone. Fire plans are no longer recommendations in glossy brochures. Those who may have taken things for granted, are now focusing on how to prepare when – not if – the countryside erupts again. I'm in the process of joining the local volunteer brigade. Advanced age does not seem to be a barrier – bizarrely, I might be among the younger ones (which could be a bit of a worry).
Musing about differences between how we live in Fremantle and what is happening for us in our country hideaway, I reckon the latter provides an easier path into community activities. Perhaps this has something to do with having lived here before. We have contacts and old friends, and to some extent we know the ropes. But it also has to do with availability and logistics. Like many small rural towns, Denmark offers something for everyone. Unlike some obsessed compatriots, we are not interested in tennis or bridge and I'm far too hamstrung to kick a football. So, for starters, we are drawn to more elderly pastimes – the Denmark Bird Group for my beloved and the local Environment Centre for both of us. Within five minutes we can be at a meeting in the town centre; we can head off on excursions without having to extract ourselves from the suburban sprawl of metropolitan Perth; and although most getting around does involve a motor vehicle, driving is a breeze compared with the congestion of the city. None of this negates Fremantle's charm – and a certain simplicity where you can commute by foot, bicycle or Cat bus and leave the car in the garage. These are facets of a civilised life and need to be treasured and expanded. Yet I'm glad to be away from concrete and bitumen, nourished by the bush and the blue wrens, and lazy-eyed King George whiting that glide quietly on the sands of Greens Pool as I snorkel above. Glad also – in fact, a touch smug – to have missed the searing heat of this recent Perth summer, which has made it easier to bear the absence of weekly South Beach rambles and caffeine interludes at La Vespa with my mates.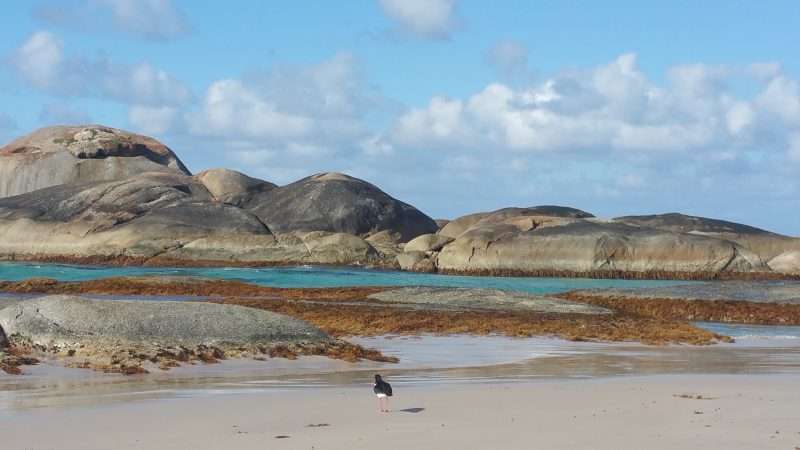 Of course, I've been cautioned not to get carried away in rhapsodising about this southern hamlet. The locals know they are on a good wicket. Tourists are welcome – for their money – but when they arrive in their thousands over the summer and at Easter, their presence can be intimidating. Suddenly, you need to get to William Bay at the crack of dawn if you want a parking spot. And heaven help you if you want a peaceful morning coffee – our meagre melange of cafés overflow before the clock strikes eight. 'Bloody terrorists,' mutters an uncharitable friend, as a fleet of fancy four-wheel-drive vehicles and a convoy of caravans rumble down Ocean Beach Road. 'There are just too many of them.'
Well, these visitors constitute our town's livelihood, and evidence suggests many spend more than a few moments in front of a real estate window. In the fifteen or so years since we returned to the Big Smoke, Denmark has been discovered, perhaps as an antidote to Margaret River. No longer are a couple of extra hours on the road a sizeable deterrent. People visit here and people buy houses. People build here and people breed here, if the splatter of youngsters at Greens Pool on a summer's morning is any indication. The times – and the neighbourhood – are a'changing.
Are we capable of wider, more fundamental, change? My mind flips back to Ukraine. Surely Europe can't absorb so many refugees. As yet there has been little publicity about countries further afield. I guess most of those who have left Ukraine still harbour hope the war ends soon and they will be able to return. Let us keep fingers and toes crossed that will happen. But, if not, what role will Australia play? Our track record in recent times is not great. Despite the obvious success of Afghani resettlement in our southern region, the Taliban victory last year saw a response from the Australian Government that was arguably a small step above pusillanimous. We could do better, much better. Perhaps the calamity in Ukraine will be seen as an opportunity, not as a distraction. Our neighbourhood, no matter how secure and serene, cannot remain a realm and refuge for isolationist mindsets. Whether we are in Fremantle or Denmark, we have the chance to actively embrace and welcome those who are not so lucky.
In saying this, my level of impotence subsides. (Odd image, I know.) Turning words into meaningful action remains the challenge. Could we hope, merely hope, that the plight of a pulverised people rather than the price of oil might gain traction as a certain election looms large.
* Based in Fremantle, most of the time, Bruce Menzies is the author of three novels, a family history, and a recent memoir. Details at ‪BruceJamesMenzies.com
** Don't forget to SUBSCRIBE to receive your free copy of The Weekly Edition of the Shipping News each Friday!