We all know that Fishing Boat Harbour in Fremantle is a vibrant and popular visitor destination. It's also a great place for local Freo People!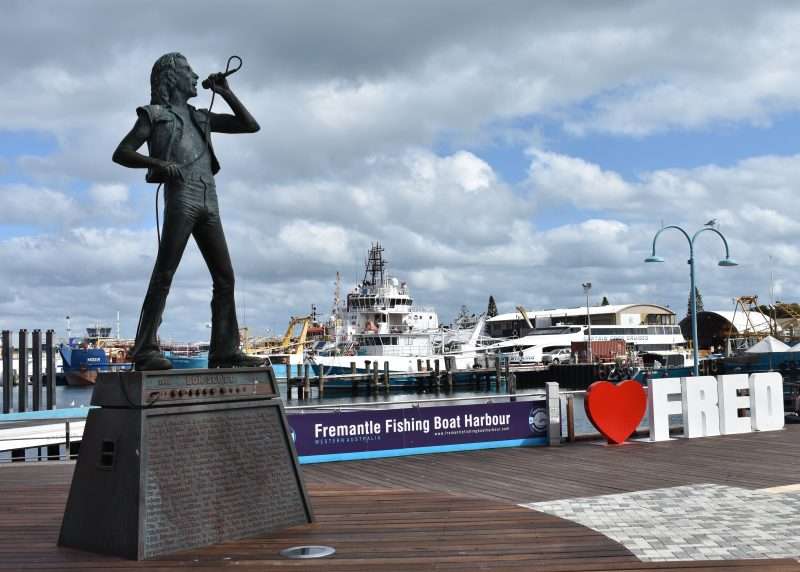 But did you know that it is the largest working port in Western Australia?
There are now more than 400 fishing boats in Fremantle's Fishing Boat Harbour Precinct, including Success Harbour. There's also nearby the outer Challenger Harbour.
It wasn't always as bright and colourful as it is today.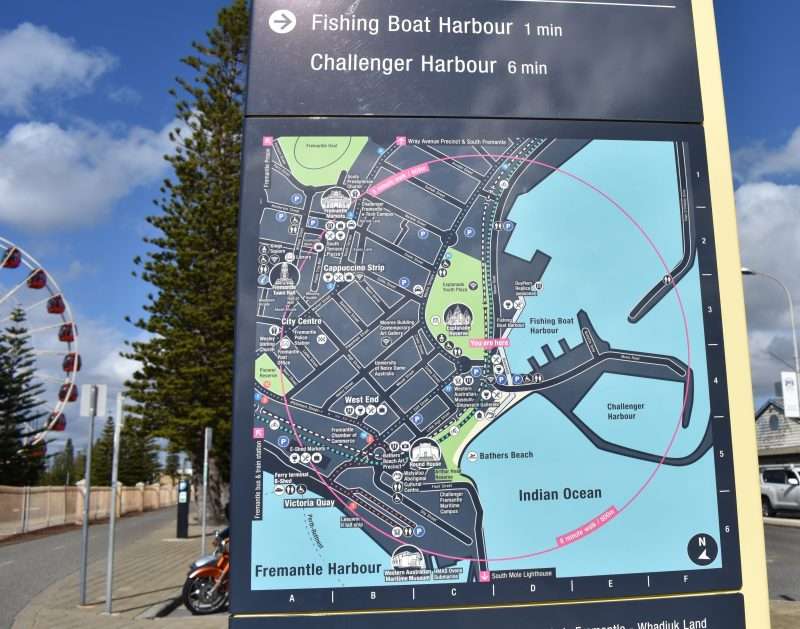 The State Heritage inventory tells us this about the history of Fishing Boat Harbour as we know it today.
Fishing Boat Harbour occupies the area originally named South Bay when Europeans landed their boats there in 1829. The original shoreline of the pretty, sweeping, fairly sheltered and shallow bay south of Angelsea Point was along what is now Marine Terrace.
One of the colony's first pieces of infrastructure, a stone jetty or landing place, was built in South Bay under the direction of Henry Reveley in 1831. Built in the lee of Angelsea Point, it soon deteriorated. Meanwhile, Captain Daniel Scott built a private jetty at the end of Essex Street. The wreck of the Marquis of Angelsea, located near the later South Jetty and Fish Markets, was in fact probably the first European structure in South Bay. From 1829, it was used as a government store and offices, temporary accommodation for officials, office of the Harbour Master and post office. Part of it was also used as a prison and/or asylum.
In the mid-1850s, South Jetty was built on the site of Reveley's earlier jetty. The 484 foot long jetty was Fremantle's main berthing facility until the 1870s. Ships anchored in Gage Roads and lighter boats transported goods to South Jetty, which stood in only 9 feet of water at high tide; 6 feet at low tide.
Fishermen landed and moored their boats in the natural harbour of South Bay, where they would also sell their catch. However, after the Esplanade and Owen Anchorage Railway Line south of Fremantle were developed in 1902-03, facilities for landing fish and the safety of the bay deteriorated. South Bay and South Jetty remained the place for fishermen to sell their catch, but there was no capacity to store or preserve the product. It was also becoming increasingly difficult for the ship builders along Fitzgerald Terrace (Marine Terrace) between Essex and Arundel Street, which had been there since the first days of European settlement, to launch their boats across the railway line. Boat building yards and slipways were needed.
In 1904, the WA Government resumed control of South Bay from the Fremantle Harbour Trust and South Jetty was handed over to the Fisheries Department. A wooden breakwater was soon built off the jetty and timber fish markets were built on the jetty in 1908. After this, South Jetty became known as Fishermen's Jetty. Prior to this, a Naval store had been built at the shore end of the jetty.
However, the timber breakwater soon fell apart and Fremantle's fishermen (most of whom were Italian) faced a long, hard struggle for safe anchorage and suitable fish market arrangements. Although promised in 1907, work on a stone breakwater (or groyne) did not start until 1921. Work was hampered by a shortage of stone, labour problems and debate about the form and was not completed until 1923.
On 30 July 1924, Fishing Boat Harbour was proclaimed under the Ports and Harbours Act of 1917. In the late 1920s, the fish markets were moved to an area behind South Jetty. By 1930, the area comprised South Jetty, a boat harbourage breakwater, and swimming baths at the end of Arundel Street.
However, the development of Western Australia's fishing industry was slow until the unprecedented expansion of the rock lobster industry after World War II. With the accompanying growth of the fishing fleet, the Western Australian government began developing Fishing Boat Harbour. A new harbour was commenced in 1946.
A $200,000 jetty was built in 1971. In 1973, Fishing Boat Harbour provided safe anchorage for 150 craft and moorings for another 150. It covered an area of 40 acres and was restricted to commercial fishing.
In 1974, there were 640 licenced fishing vessels registered in Fremantle (approximately one third of those in the State). Vessels operating from Fremantle were engaged in fishing rock lobster for export, prawns for export and wet fishing for the local domestic market.
The new anchorage was built at a cost of £440,000 in the late 1970s. It provided safe anchorage for about 400 vessels. At this time, about a quarter of the fleet were moored in the river because of the congested conditions at the Fish Markets. Mooring pens were also built for smaller craft and all anchorage and mooring was used exclusively by fishermen. A curving breakwater groyne sheltered the new harbour from the south-west winds and approximately 80,000 tons of rock was used to build the new groyne (this is the southern groyne between today's Fishing Boat and Success Harbours). The reclaimed land at the eastern end of the anchorage allowed for buildings directly associated with the fishing industry – slipway, boatyards and maintenance stores. At the southern end, the land was reserved for buildings owned by the Harbour and Lights Department, Harbours and Rivers Works and the Fisheries Department.
In 1985, the area comprised the Northern Boat Harbour (outer harbour), Fishing Boat Harbour with a seafood processing factory, Marine & Harbour Office, trawler berthing, Fish Market, Cicerellos, Lombardos and Fremantle Boat Lifters.
By the 1980s, Fremantle's fishermen had been urging the authorities for a long time to upgrade the facilities at Fishing Boat Harbour. Then, in the 1980s, the Government and private enterprise finally stepped up. However, the works were not motivated by the need to upgrade the area for local fishermen, but to provide facilities for the defence and challenge of the America's Cup and to improve the civic amenity of the area.
Government-funded America's Cup projects in Fremantle included Success Harbour Railway Station, South Beach Railway Station, Challenger Harbour (outer harbour; formerly Northern Harbour) and Fishing Boat Harbour.
In 1993, Fishing Boat Harbour comprised the Fremantle Yacht Club facilities, fishing industry support facilities, marine related industry and Government requirements (depot for government purposes for harbours along the coast).
Cicerello's at 44 Mews Road, has been a Fremantle landmark since the late 1950s, when Steve Cicerello started a fish market and small fish and chip shop at Fishing Boat Harbour. Steve was the son of Salvatore Cicerello, who had arrived from Cap d'Orlando in Sicily in the early 1900s and pioneered the crayfishing industry in the Abrolhos Islands. Steve worked as a boot maker for 20 years, but in 1958 he left his job to design and build a fish market. Cicerello's was built on thousands of cement filled bags to reclaim the sea. The market began as a retail outlet with a small fish and chip shop on the side. It soon grew into a Fremantle icon.
Cicerello's was sold in 1996 and the modest building demolished to make way for a new restaurant development facing the harbour. The $3 million redevelopment was completed in 1997. In 2003, a boardwalk was built along the front of Cicerellos. Today it's a vibrant place.
Lombardos, at 42 Mews Road, was developed in the 1980s during the lead up to the America's Cup. The development cost $13 million and including three restaurants, three bars and a nightclub. Lombardos was refurbished in the late 1990s. Today though, Lombardo have been replaced by other businesses.
Not the least of them is Kailis'.
Fremantle Boat Lifters opened their boat maintenance and repair facility on the western side of Fishing Boat Harbour in 1982. This later became a crocodile farm and then a boutique brewery – the fabulous Little Creatures of today.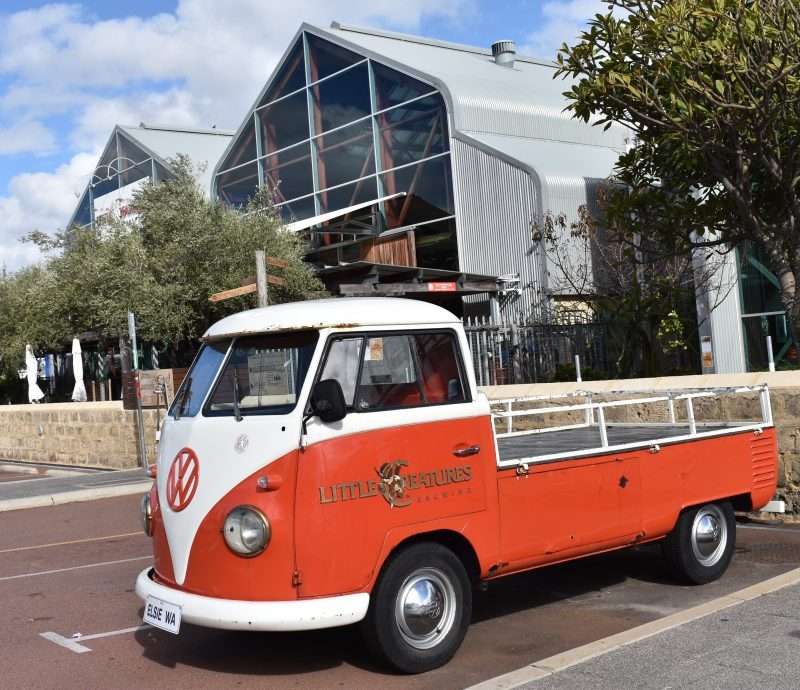 Fremantle Fishermen's Co-Operative Society, at 47 Mews Road, was formed in 1947 (following a strike by fishermen) and was largely made up of migrant families from Molfetta and Capo d'Orlando in Italy and Funchal in Portugal. The Fishermen's Co-Op was located behind the Fremantle Fishmarkets. The building was constructed c. 1950.
The worldwide focus following Australia II's win of the America's Cup in 1985, put Fremantle on the map. There was huge development over a very short period of time.
By 1993, Fishing Boat Harbour comprised the Fremantle Yacht club facilities, fishing industry support facilities and marine industries. It has a commercial marina in Success Harbour with sheltered moorings for vessels up to 60 metres.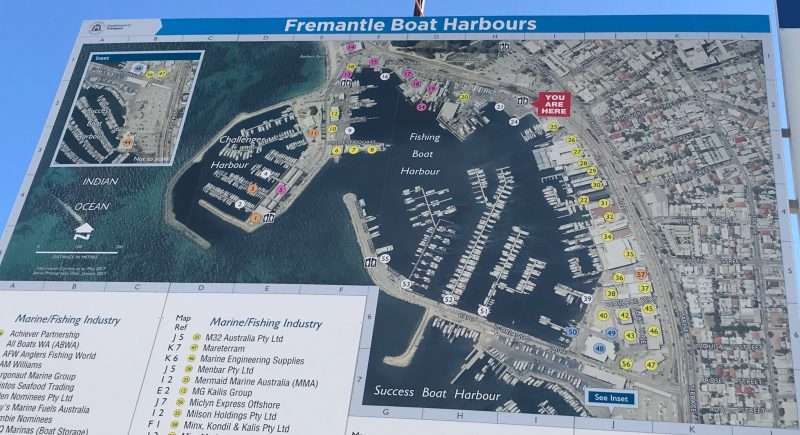 Today, this busy working port for fishermen is blended beautifully with all types of eateries.
There are over a dozen restaurants – several selling fish and chips, the nearby Shipwreck Museum, a fresh fish market, accommodation and the brewery.
Keep an eye out for Fremantle's Fisherman's Monument, a memorial jetty and two life-size bronze sculptures of fishermen. It is situated near the site of the original south jetty.
There is also a map of the coastline showing traditional fishing grounds, plus a short history of the fishing industry.
'The Jetty' has twelve timber columns with the names of 608 fishermen who pioneered the fishing industry at Fremantle. The jetty acknowledges and pays homage to the fisher-men and -women who began what is now a billion dollar industry.
Fisher folk led this project. They wished to honour their forebears and ensure their names were remembered and honoured for their pioneering spirit and hardships endured. Local artists Jon Tarry and Greg James designed and sculptured the monument.
You'll find several other sculptures and artworks around the harbour. The bronze statue of the famous AC/DC singer Bon Scott was cleaned up and relocated last year to a more prominent and higher location at Fishing Boat Harbour.
During the Easter Holidays, April 10-18, Fremantle will become THIS IS FUNMANTLE – a seaside wonderland adventure for children. There will be eight carnival rides at four seaside locations. Mermaids, unicorns and giant flamingos will be found near Fishing Boat Harbour.
This is a ticketed event – so don't miss out – tickets cost $5.Get your tickets here.
Fishing Boat Harbour is a great place to visit, to stroll around and take in the harbour views. It is the best place in Perth to enjoy locally caught fish.
It will be packed on Good Friday!