It is impossible to write about the land on which we live without acknowledging the Aboriginal people who have cared for it and with whom we now share this responsibility.
In 1978, Nyoonar Elder, Tom Bennell described his People's relationship with the land as this:
Ngulla boodjar…nitcha ngulla kool Nyinniny – this is the ground we came and sat upon.
This excerpt is from Denise Cook's book, That Was My Home: Voices from the Noongar Camps in Fremantle and The Western Suburbs, published by UWA Publishing in 2019. It is a description that denotes a gentle interaction with the land, expressed here as 'ground' – more immediate and personal. Imagine if we all just sat upon the ground, what a difference that would make!
Perhaps the quiet and gentle way people interact with the parklands of North Fremantle is guided by this spiritual influence, unseen yet felt. It certainly feels as though a greater force is at work amongst the streams and creeks; the reeds and sadly decaying melaleuca – their roots hanging precariously over eroding banks of sand and rock.
However, even the crumbling limestone cliffs hold a majesty, an ancient cavernous awe – caves and pillars incongruously fragile despite their magnificence. Guardians tread lighter than the wind and the tides in these very special places.
My editor asked me to write about Fremantle parks. It was a massive relief when he added – 'Just one suburb, North Fremantle'. A relief because each of the eight suburbs within the City of Fremantle boast up to 15 recreational spaces. For example, according to the City's website, North Fremantle has eight 'playgrounds' and seven barbecue, skate and basketball facilities within the locale. Multiply that by eight and we're looking at many.
With a narrower brief, the challenge became matching the parkland to its gazetted name, as few parks in the peninsular suburb of North Freo have signage. As a result, I am pleased to advise local residents: the name of the park they frequent on the corner of Thomas Street and Foundry Court, is the State Engineering Works Park or SEWP!
Duane Smith, a local of ten years, now spends more time working in this Park since the coronavirus made it possible. He says while he has always visited the Park, it is now an extension of his workplace as well. A psychologist, Duane can appreciate the benefits of green spaces on mental wellbeing. Indeed, they are essential for the health of any community. Today, he is precepting a final-year psychology student, Claudia – a Subi girl – and her dog, Otis. Why do dogs always have the best seat?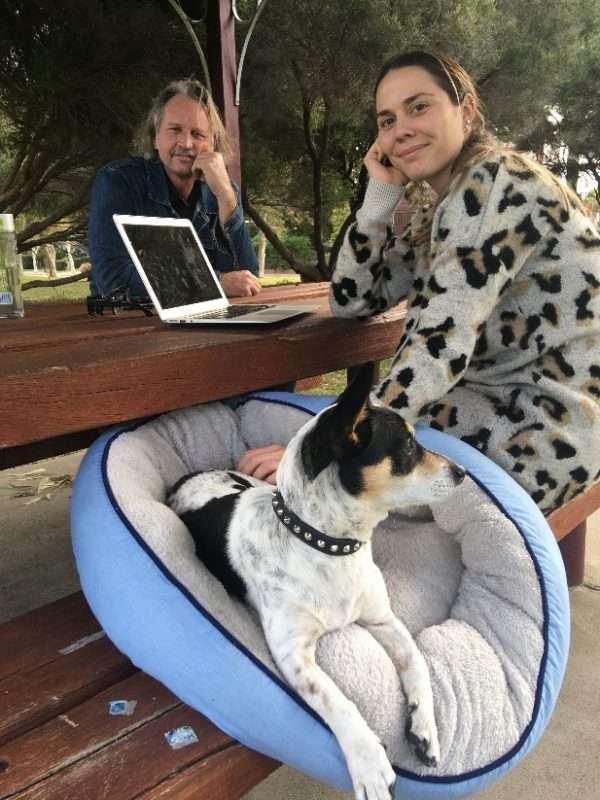 The Burford Place Park, which is where I thought I was, is the smallest park I have ever seen. It's practically ornamental and just a block south of SEWP. Despite Burford's slight stature, it boasts play equipment and established trees – though small, highly functional. This sweet little patch of green is on the corner of Thomas Street and Burford Place, North Fremantle.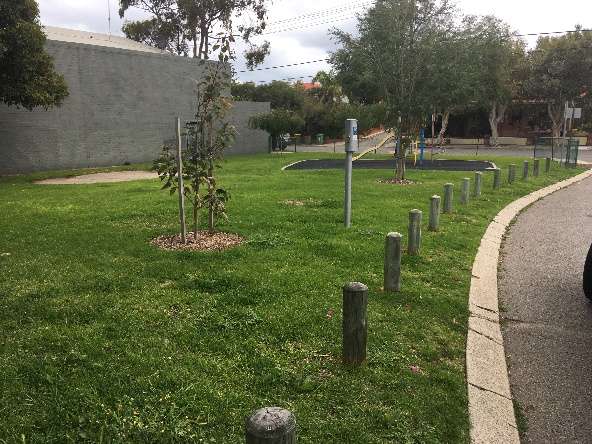 Alfred Road Park on the corner of Alfred Road and Rule Street has a sign – a plaque – it's unreadable, but a start.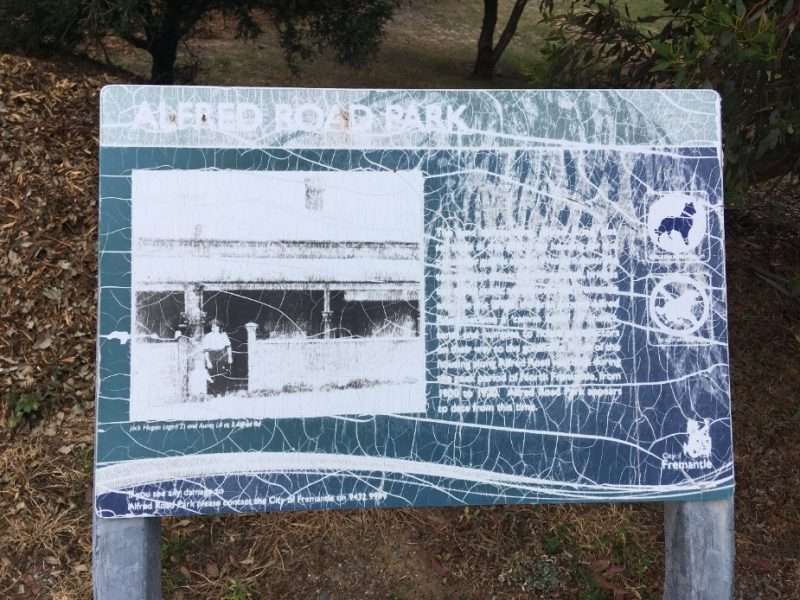 From what I can ascertain, the Park appears to date from 1900, the sign certainly could. North Fremantle was a bustling center for business by the turn of the century and remained independent until November 1961 when it amalgamated with the City of Fremantle. It is possible Alfred Road Park existed at the time North Fremantle declared its independence on the 13th of September, 1885. It is a sunken garden of undulating grass surrounded by gum trees, some in full, bright-yellow bloom during this Spring season Noongar people call djilba.
A curious little park across the highway, the ambition of a local resident perhaps, is Our Park (everyone's park), which abuts the railway line on the corner of Jackson and Pearse Streets. A lovely dirt path guides you through shaded groves and an eating area built into the trees. If you don't mind trains and local traffic and like a spot of basketball, Our Park is a secret garden of sorts.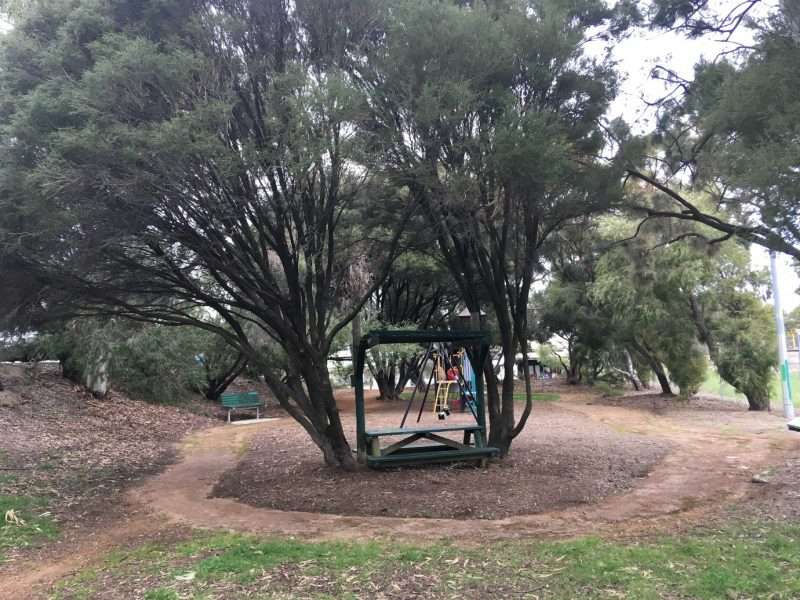 Other Parks include the Gordon Debman and McCabe Park, but my favourite has long been the stretch between Sorrell Park, beside the old "Sticks" bridge, past the Gilbert Fraser Reserve all the way to Garungup Park above the Rocky Bay limestone cliffs.
There is something bordering on divine about this stretch of land, Walyalup – the "lungs" –as Derbal Yerrigan, the mouth of the Swan River rises and falls, breathes.
Even as C Y O'Connor's port and emergency vehicles spew 100 decibel sound into prevailing winds, serenity and community blend harmoniously here.
The array of flora and fauna is staggering in this one-kilometer stretch; the views breathtaking and the promise of sighting dolphins, eagles, crows nests and bees draining  the nectar from flowers dripping from trees, bushes and shrubs, never disappoints. And then, there is the river – ever changing – yet comfortingly predictable, flowing day in and day out by our side.
Sally says it's "the best place in the hemisphere for dogs." Her dog, Jessie, seems to agree and the sticks are certainly better. Dwerda, dingo spirit, is the Noongar totem for the Walyalup area (Fremantle on both sides of the river). Maybe it is no coincidence dogs love it here.
The setting sun casts its burnished glow upon the palm trees, boronia, grevillia and outcrops of grasses and river daisies growing between rocks. Birds of many types nest and feed. There are so many hidden gems along this glorious strip; purple starfish, blue snails and plump round jellyfish; stunning rock formations; and old rickety jetties; not to mention some rather lovely boats.
No matter how frequently I walk the shore and its well-kept paths, the native plantings; changing tides; dramatic weather; and the lovely local community of people and dogs are constant companions. The morning northerlies and the afternoon gulamwin, sea breeze, shape this part of ngulla boodjar – and us.
In truth, the gardens and many pockets of green spaces and thoughtful design throughout North Fremantle are worthy of park status. The care and imagination people put into their gardens have made this suburb such a beautiful one to live in and certainly a pleasurable one to walk around. It is clear there is a shared love and respect for the river and its flora and fauna, all,its hidden gems.
There is also a shared love and respect for the wardan – the sea – the most spectacular park of all.